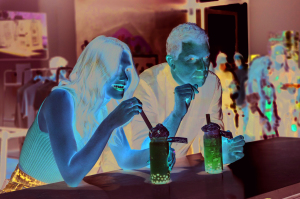 Sophie and Bobby Flay in "Bobby and Sophie on the Coast"
Working with family members can be a tough situation to navigate, but that doesn't seem to be the case for father-daughter duo Bobby and Sophie Flay.
Over the years, Sophie has popped up in some of her dad's shows, such as "Beat Bobby Flay" and "The Flay List," and even hosted a miniseries for Food Network's Snapchat Discover. Just last year, the young Los Angeles-based journalist and the New York restaurateur joined forces to launch their "Always Hungry" podcast, proving once again that Sophie has inherited her dad's deep love of food.
This week, the pair hopes viewers will want to tune in to their latest joint project, "Bobby and Sophie on the Coast," which premieres Monday, Aug. 22, on Food Network. New episodes will also be available to stream weekly on discovery .
The aptly titled series is essentially a food crawl across Los Angeles. In each episode, Bobby and Sophie crisscross the city to check out the most creative, drool-inducing dishes they can find, from smash burgers to "farm-fresh" French toast.
"Sophie and I have always loved to use food to explore the neighborhoods we visit," Bobby said in a statement. "Now, we have the opportunity to visit the local establishments on the West Coast and get to know the talented chefs who continue to utilize the local ingredients that reflect what L.A. cuisine is all about."
In the premiere, Bobby and Sophie head to some old favorites and discover a few new hot spots that are part of Hollywood's eclectic food scene. One of their stops is at Jitlada, where they prepare Thai green curry with James Beard-nominated chef Jazz Singsanong.
After that, they head to Bobby's favorite bakery in the city, Tartine, followed by a coffee break at a cat café in West Hollywood. They'll end the day with dinner at The Barish, located inside the famous Roosevelt Hotel.
"'Bobby and Sophie on the Coast' is entertaining and feel-good summer programming at its best," said Jane Latman, president of HGTV and streaming home content for Discovery, in a statement. "Bobby's adventurous spirit and culinary expertise mixed with Sophie's West Coast savvy as a local reporter who has her pulse on what's happening, plus delicious food, equals an irresistible series."
Don't miss "Bobby and Sophie on the Coast" when it debuts Monday, Aug. 22, on Food Network.