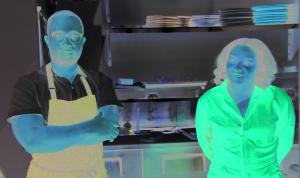 James Martin and Jessica Neal from "Me or the Menu"
According to a recent LendingTree study, military and health-care support are the only two fields of work that had higher incidences of divorce than the food service industry.
Low wages and unpredictable shifts help explain why bartenders and wait staff topped the list of occupations with the highest divorce rates in the U.S. (4.34% and 3.40% respectively, compared to the national rate of 1.6%), but with roughly 60% of independent restaurants failing within the first three years of business, restaurant owners are also under a lot of pressure. That stress often spills over into their personal lives — especially if their business partner and their life partner are one and the same.
A topic not often explored on TV, save for an occasional episode of a "Kitchen Nightmares"-type show, this lifestyle stress is front and center in a new docuseries premiering Thursday, June 30, on Food Network and discovery .
From the producers of TLC's "90 Days Fiancé," "Me or the Menu" is an intimate look at the lives of four couples trying to beat the odds while chasing their dreams in the hospitality industry. Their stories shed light on some of the obstacles, conflicts and stressors that can affect relationships inside and outside the kitchen.
Finances have caused friction between rising culinary star James Martin and wife Jessica Neal, the latter of whom has been keeping them afloat by working two jobs. Food truck operator Kathleen Murray, meanwhile, needs the support of fiancé Nate Albert to make her restaurant plans a reality, but his mistakes during an event end up driving a wedge in their relationship.
Other contestants Randi Lee and Jeanette Zinno hit "pause" on their life plans to focus on the restaurant, but now that Jeanette can step back, Randi wonders what he'll do without her. Finally, Nicole Baldwin and boyfriend Alan Yuhanna struggle with power dynamics while planning a pop-up to test their vegan restaurant concept.
Regardless of their stage in the restaurateur journey, all four couples feel the stress of juggling two partnerships at once. Sadly, such tales of struggle, sacrifice and success are all too common in the industry; by bringing these stories to the forefront, "Me or the Menu" may better prepare would-be couple-preneurs for that tough, but potentially rewarding, startup period.
"Me or the Menu" premieres Thursday, June 30, on Food Network and discovery .