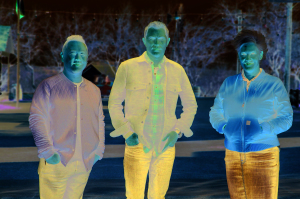 Jet Tila, Bobby Flay and Anne Burrell star in "BBQ Brawl"
After two seasons of "BBQ Brawl," Bobby Flay still reigns supreme as the undefeated team captain and mentor to Master of 'Cue. But with Season 3 about to get underway, two team captains are ready to try their best to knock that crown off Flay's head.
A new season of "BBQ Brawl" begins Monday, May 9, with a special 90-minute episode airing on Food Network and discovery . The supersized premiere introduces the new batch of competitors, all rising stars in the barbecue world. It also introduces two new celebrity mentors, since Flay's longtime pal Michael Symon isn't in the lineup this time around.
Instead, count on Anne Burrell and Jet Tila to shake things up as fellow mentors (and Flay adversaries) this season. Throughout eight episodes, Flay, Burrell and Tila will mentor and coach the contestants through barbecue battles designed to test their individual skills as well as their ability to work together as a team.
Barbecue master Rodney Scott, chef Brooke Williamson and lifestyle personality Carson Kressley are back as the judges, collectively deciding which team was least successful and which competitor will be eliminated at the end of each episode. They also ultimately determine which competitor is worthy of the Master of 'Cue title.
The Season 3 winner will also be crowned Food Network's official "BBQ expert" for 2022 and will appear across Food Network's digital platforms, where they'll offer tips and tricks to help make you a grill master, too.
In Monday's episode, the competitors arrive at the Star Hill Ranch in Austin, Texas, where they each introduce themselves by preparing a signature skewer that packs a lot of flavor into a tiny bite. Once the celebrity mentors have picked their teams, the competitors face off in the first brawl, and Food Network promises there will be "a major competition-changing twist."
Over the next few weeks, the remaining competitors will be tasked with creating a dinner party in two hours using only the ingredients provided to them, and they'll also have to prove that they can connect with barbecue lovers across social media. The final challenge involves a barbecue feast, complete with a whole suckling pig prepared in just six hours.
New episodes of "BBQ Brawl" air Mondays on Food Network and are available weekly on discovery .