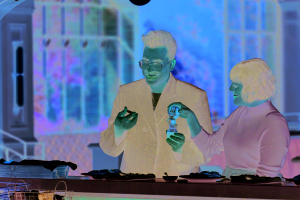 Dan Levy and Sohla El-Waylly in "The Big Brunch"
It's not breakfast and it's not lunch, but for some, it's the most anticipated meal of the week.
An inherently social experience, brunch combines lively conversation with the breakfast foods (and mimosas) you've been craving all week long. For chefs, however, preparing an extended midday meal that runs between the busiest dinner rushes is quite a feat, one that diners often take for granted. A new cooking competition now aims to give these breakfast heroes their due.
From "Schitt's Creek" star Dan Levy comes "The Big Brunch," a new series premiering this week on HBO Max. The first three episodes will be available for streaming beginning Thursday, Nov. 10, with three more episodes arriving Nov. 17 and the final two Nov. 24.
Toronto-born Levy is both the creator and host of "The Big Brunch," which, according to the news release, "celebrates the most inspiring undiscovered culinary voices from every corner of the country." While the competing chefs attempt to redefine brunch through their innovative new menu items, Levy, chef Sohla El-Waylly and restaurateur Will Guidara will judge and (constructively) critique each dish.
While the ultimate winner will be awarded a "life-altering" $300,000 prize, "The Big Brunch" also spotlights each chef's story and business dreams.
"I think the stories that we will tell — that our 10 chefs will tell — will really warm people's hearts," Levy, who previously hosted the first two seasons of "The Great Canadian Baking Show," said in an interview with Entertainment Weekly. "The whole thing is just like a nice, warm hug."
In a separate statement, Levy explained: "I've been lucky enough to come across many of those people in the culinary world — friends working out of cafes or food trucks, revolutionizing the menus at local diners — those special humans who create communities around their cooking, hoping to take their skills to the next level. I created this show for them, the local culinary heroes of America who deserve a spotlight. Well, that, and who doesn't want to watch maple syrup being poured slowly over a golden stack of perfectly cooked, creme-brûlée-inspired French toast?"
Feeling hungry yet? "The Big Brunch" debuts Thursday, Nov. 10 on HBO Max.