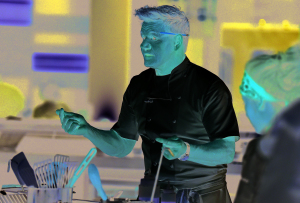 Gordon Ramsay hosts "Hell's Kitchen"
Viewers can expect more fast-paced challenges, more cooking blunders and, of course, more blunt takedowns delivered by Gordon Ramsay as a new season of "Hell's Kitchen" kicks off Thursday, Sept. 29, on Fox.
Season 21 of Ramsay's flagship series has been dubbed "Battle of the Ages," which means the initial men vs. women team division has been replaced by a veterans vs. up-and-comers format — or "Oldies vs. Newbies," according to a tweet from the show's official Twitter account. The contestants will be split into two groups according to their age, with 40-somethings on the blue team and 20-somethings on the red team.
The last time "Hell's Kitchen" took this approach was in Season 18. Kitchen veteran (and former Season Six competitor) Ariel Contreras-Fox beat out rookie Mia Castro to win the executive chef position at the Hell's Kitchen Restaurant inside Caesars Palace in Las Vegas. She turned down the gig, but don't assume there's any bad blood: released just last month, Fox's "Spice Kitchen: Healthy Latin and Caribbean Cuisine" cookbook includes a foreword from Ramsay.
Season 20 ("Young Guns") winner Trenton Garvey was the youngest in the show's history. For his efforts, he was awarded a $250,000 cash prize and a job as head chef at Gordon Ramsay Steak in the Paris Las Vegas Hotel.
What kind of prize will be awarded to the winner of "Hell's Kitchen: Battle of the Ages?" According to Fox, the show's home network, "at stake is a life-changing grand prize, including a head chef position at the new Hell's Kitchen Restaurant" in Caesars Atlantic City. It is the third Hell's Kitchen restaurant, but the first one located in Atlantic City, where Ramsay has already had success with two other restaurants: Gordon Ramsay Steak and Gordon Ramsay Pub and Grill.
Season 21 is the first of two new seasons ordered by Fox earlier this year, so viewers can look forward to a 22nd season sometime in the near future. But let's focus on the now: enjoy all the action and culinary chaos when "Hell's Kitchen: Battle of the Ages" premieres Thursday, Sept. 29, on Fox.