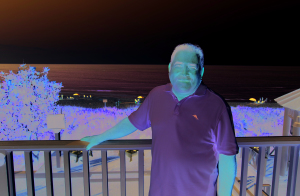 Emeril Lagasse hosts Roku's "Emeril Tailgates"
Is Roku poised to become the next popular streaming go-to for food lovers? Roku and its content partners certainly hope so.
Next month marks the fifth anniversary of The Roku Channel, the ad-supported streaming gateway to movies and shows. Roku made a big move last year when it acquired Quibi's content library and folded it into its slate of Roku Originals. Now, in its efforts to further expand its reach of more than 62 million subscribers — and to keep those viewers on its platform longer — Roku has partnered with a few culinary powerhouses to bring audiences more new content.
One of the more recent additions to Roku's growing roster of originals is celebrity chef Emeril Lagasse's new show, "Emeril Tailgates," which became available Thursday, Sept. 8.
Here's how Roku describes its new food series: "Football fans are notoriously competitive ... and not just in stadiums cheering on their teams, but at tailgate parties, too. There's always a fight over who makes the best chili, who brought the best wings, whose barbecue beef brisket reigns supreme. Well, now Emeril is going to help one lucky football fan win that fight at his next gathering. Each week on 'Emeril Tailgates,' we will profile a different football-obsessed city and a home team super fan. We'll surprise the fan with a trip to Emeril's New Orleans kitchen to learn a new tailgate dish that will make their friends and family proud."
It's not the only all-new Emeril show landing in 2022, though — look for "Emeril Cooks" to arrive Friday, Nov. 18. Complete seasons of Lagasse's Food Network shows "Essence of Emeril" and "Emeril Live" are also available on The Roku Channel.
Martha Stewart, whose Martha Stewart Living Omnimedia has held the rights to all Emeril products since 2008, referred to Lagasse as one of her "foodie friends" at Roku's NewFronts presentation in May, when the programming was unveiled to marketers. Stewart, who described herself as a content creator "for every screen imaginable," has three of her own Roku series in the works, while "Milk Street" founder Christopher Kimball has two new series coming Friday, Oct. 28.
This trio alone — Lagasse, Stewart and Kimball — is responsible for adding at least 3,000 free-to-watch episodes to Roku's growing roster.
"Emeril Tailgates" is now streaming on Roku.