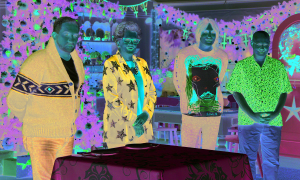 Paul Hollywood, Prue Leith, Noel Fielding and Matt Lucas from "The Great British Baking Show Holidays"
The holiday season is synonymous with traditions, and in the TV world — or at least on CBC Gem — one of those traditions involves "The Great British Baking Show" (otherwise known as "The Great British Bake Off" in the United Kingdom).
Hosted by Noel Fielding and Matt Lucas and judged by Prue Leith and Paul Hollywood, the popular baking competition launched its 12th season on CBC's Gem streaming service in July of this year.
Running nearly one full year behind the English version, Canadian viewers can be sure that plenty of content is yet to come on this side of the pond. (In fact, based on past release dates, Gem subscribers can expect the current season, Season 13, to drop during the summer of 2023.)
Similar to the regular series, the show's holiday specials run a year later in both the U.S. and Canada as well — they aired on the U.K.'s Channel 4 in November 2021, so you might want to resist the temptation of looking up spoilers online.
"The Great British Baking Show's" Season 12 Christmas Special features an hour-long episode as a part of the CBC streamer's Holiday Collection and invites Olly Alexander, Nathaniel Curtis, Lydia West and Shaun Dooley from the hit drama series "It's a Sin" to join in the festivities. Naturally, the four actors compete against one another for the coveted "Christmas Star Baker" title.
Once the competition has wrapped, the stars of the special join the London Gospel Choir for a spirited performance of the classic holiday song "All I Want For Christmas."
A second special of the holiday season is the franchise's New Year's special, in which "Paul Hollywood, Prue Leith, Matt Lucas and Noel Fielding see in the new year with 2018 'Bake Off' runner-up Kim-Joy and fellow baker Jon, and Hermine and Rowan from the 2020 'Bake Off' bubble." While this instalment airs in conjunction with the "It's a Sin" special on Netflix in the U.S., it's more likely that it will be released on CBC Gem closer to the New Year. That said, an official release date has yet to be announced.
So, why not deck the halls with sugary goodness and get into the festive spirit with "The Great British Baking Show's" Season 12 Holiday Special? It begins streaming on CBC Gem Tuesday, Nov. 29.