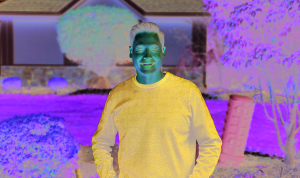 Jeff Mauro hosts "Kitchen Crash"
The Sandwich King wants to crash your cookout.
In truth, Jeff Mauro has already crashed all the neighborhood block parties featured in the second season of Food Network's "Kitchen Crash," which premiered last week, but that's no reason not to get excited. A new episode, one of just four hourlong episodes that make up Season 2, airs Tuesday, July 19, on the Discovery-owned network.
In each episode, three professional chefs (and a full production crew) head to a neighborhood, where they have only 10 minutes to convince homeowners to hand over food items from their pantries and refrigerators. Once they get their ingredients, the chefs move to curbside kitchens, where they'll be judged throughout three rounds of challenges.
The show has been described as a cross between "Supermarket Stakeout" and "Chopped," but unlike "Chopped," there's no magical pantry with a seemingly endless supply of ice cream ingredients. In fact, there is no shared pantry at all. The chefs are limited to what they're given by the homeowners, and all items must fit into a single bin, including essentials such as salt and oil.
"No two pantries or fridges in America are alike, making the ingredients in the bins as varied as they can possibly be," Mauro said. "The chefs must be able to communicate effectively with the family to get everything they need, and they need to be creative and resourceful with what they get. It really is difficult, but fun and exhilarating, to watch."
In Tuesday's episode, the "Kitchen Crash" crew travels to Malverne, New York, where Mauro and the chefs crash a garden block party. Special guest Marc Murphy ("Chopped") assists Mauro in selecting the winner from this batch of contestants after they've each prepared a cheesy Mexican-inspired dish, some surf-and-turf and a dessert with a surprise filling. The winning chef will be awarded a $10,000 cash prize to share with the family who provided the ingredients.
New Jersey and New York natives may even recognize their own neighborhoods this season, as most of the filming took place across those two states this time around. On Reddit, Mauro explained that Season 1 filming had been limited to "a contained area/state because of COVID restrictions and quarantine laws." That may have also been a factor while filming "Kitchen Crash's" latest season.