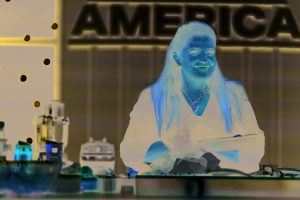 Alex Guarnaschelli hosts "Alex Vs America"
After 15 years of being both a contestant and a judge on several Food Network shows, it's clear Alex Guarnaschelli relishes a good food challenge.
The longtime "Chopped" judge and co-host of "The Kitchen" has made plenty of appearances on other Food Network shows and has launched a few new series of her own, including "Supermarket Stakeout" and the digital series "Fix Me A Plate." The latest Guarnaschelli-led series is the dramatically titled "Alex vs America," which is now into its second week on Food Network. (Discovery subscribers got an advance look on Dec. 25.)
If you haven't had a chance to tune in, "Alex vs America" invites chefs from across the United States to take their best shot at beating Guarnaschelli in the kitchen. It's a concept that naturally invites comparisons with "Beat Bobby Flay," but the format is fairly different.
Hosted by Eric Adjepong, each episode features three chefs and two rounds (and one Guarnaschelli). The competitors all share the same mastery of a specific dish or ingredient -- for example, in the series premiere that aired Jan. 9, all three chefs were shellfish experts. At the start of the battle, the competitors have to work together to decide on a few variables, such as the time they'll have to prepare their dish, which will undergo a blind tasting. The chef who prepared the least impressive dish, as determined by the judges, will be sent home "Chopped" style -- even if it's Guarnaschelli.
"Truth is, I have loved competitive cooking for as long as I can remember -- first watching, then judging and competing myself," Guarnaschelli said. "Now, I finally have the opportunity to invite other adrenaline junkies to join me in doing what we love, cooking our butts off. ... That said, what I have learned the hard way is, while I love winning, I hate losing more."
The next three competitors will have to turn up the heat if they want to beat Guarnaschelli in the Jan. 16 episode.
Three chefs -- one from Arizona, one from California and another from Washington, D.C. -- will be asked to present their take on cooking with spice, but their decision to select the ingredients in Round 1 may not pay off in the long run. Antonia Lofaso and Bricia Lopez are the judges for this instalment of "Alex vs America," airing on Food Network.