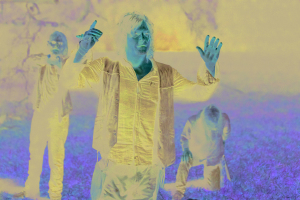 Norman Reedus in "The Walking Dead"
Good things come to those who wait, as the saying goes, but the wait for new episodes can test even the most dedicated of TV fandom. Luckily for zombie fans, one of television's most successful horror series is about to return.
Following the end of the Whisperer War, the survivors scatter and struggle to find the strength to go on as they face past traumas and deal with new threats in "The Walking Dead," airing Sunday, Feb. 28, on AMC. The mid-season debut kicks off the final six episodes of Season 10, each of which will focus on small groups of the show's characters in the lead-up to TWD's 11th and final season. Subscribers to AMC's streaming service AMC will get to watch the new episodes even earlier as they premiere on Thursdays, beginning Feb. 25.
Based on the comic book series of the same name by Robert Kirkman, Tony Moore and Charlie Adlard, "The Walking Dead" follows a group of people trying to survive a zombie apocalypse. Over the course of several seasons, they have banded together to battle all kinds of threats from both the undead and the living.
When the most recent episode of "The Walking Dead" aired in October, the characters had finally triumphed over the Whisperers and Daryl (Norman Reedus, "The Boondock Saints," 1999) killed their leader, Beta (Ryan Hurst, "Sons of Anarchy"). The episode also featured the return of Maggie (Lauren Cohan, "Whiskey Cavalier"), who had been gone since Season 9, her whereabouts unknown. Originally scheduled to air on April 12, 2020, the episode was supposed to be the Season 10 finale, but it was announced during San Diego Comic Con's Home Stream event that an additional six episodes would air between February and April 2021. In January, Cinema Blend revealed that "The Walking Dead" showrunner Angela Kang had explained that each of the six remaining episodes would focus on what is going on with specific characters, rather than moving the story forward as a whole.
"There [are] some other things that we're doing deep dives into, like Daryl and Carol and Negan, Gabriel, and Aaron has some really cool stuff," Kang said.
Fans can expect to meet some new characters as Season 10 winds down, too. Viewers who caught the October episode would have gotten a glimpse of Maggie's new masked ally, Elijah, who is played by Okea Eme-Akwari ("Greenland," 2020). Robert Patrick ("Terminator 2: Judgment Day," 1991) will also appear in Season 10 as Mays, a "rough-looking survivor" who encounters Father Gabriel (Seth Gilliam, "The Wire"). One of the six new episodes will focus completely on Negan (Jeffrey Dean Morgan, "Supernatural") and give viewers some insight into his backstory with an appearance by his wife, Lucille, namesake of his trademark baseball-bat-turned-weapon. Incidentally, Morgan's real-life wife, Hilarie Burton Morgan ("One Tree Hill"), will portray Lucille.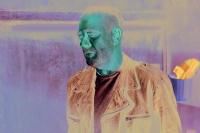 Jeffrey Dean Morgan stars in "The Walking Dead"
Other storylines featured in the new bonus episodes include Maggie and Daryl battling an unseen and unknown threat, Negan's safety once again in jeopardy, and Daryl and Carol (Melissa McBride, "Dawson's Creek") coming across an old cabin that makes Daryl think of the time he left the group. Gabriel and Aaron (Ross Marquand, "Avengers: Infinity War," 2018) are put to the test while on a scouting mission, while, elsewhere, Eugene (Josh McDermitt, "Last Comic Standing"), Ezekiel (Khary Payton, "Young Justice"), Yumiko (Eleanor Matsuura, "Utopia") and Princess (Paola Lázaro, "Lethal Weapon") are captured. Also, Daryl and Carol appear to go their separate ways.
The remaining six episodes of Season 10 will surely be bittersweet for fans of the series who know that the next season will be the show's last. It's been an unlikely hit in the sea of typical comedies and dramas that air on prime time. The show premiered in 2010 to solid ratings, attracting an average of between four and six million viewers. The show's popularity grew, and in 2014 "The Walking Dead's" Season 5 premiere attracted more than 17 million viewers, making it one of the most watched cable series in history. The show's ratings have slowly declined since then, but it has earned its share of industry accolades, including a Golden Globe nomination for Best Television Series — Drama and a Writers Guild of America Award nomination for Best New Series. "The Walking Dead" won a Primetime Creative Arts Emmy Award for Outstanding Prosthetic Makeup for a Series, Limited Series, Movie or Special in 2011.
Even though the beginning of the end may be near for the original "The Walking Dead," its legacy will live on in various spinoffs. "Fear the Walking Dead," which looks at a totally different group of survivors earlier in the apocalypse, has been going strong since 2015. More recently, AMC premiered "The Walking Dead: World Beyond," which focuses on a group of mostly younger survivors. It premiered in October and is slated for two seasons. Much to the delight of fans, favorites from the original show, Daryl and Carol, will get their very own as-yet-unnamed series, tentatively scheduled to premiere in 2023.
So there is hope for TWD fans. And while the subject matter is undeniably steeped in fear, many fans assert that "The Walking Dead" is ultimately about hope. Even as monsters surround them, the survivors come together to forge a future for all of humanity. Find out whether their efforts pay off in the return of "The Walking Dead," airing Sunday, Feb. 28, on AMC.