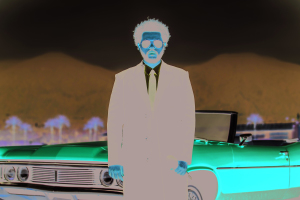 The Weeknd to create, star in HBO's "The Idol"
Weeknd TV: The Weeknd had the biggest hit of 2020 with "Blinding Lights," which is now the all-time No. 1 single on the Billboard charts -- a feat that makes his 2021 Grammys shutout all the more baffling.
For 2022, the Canadian singer-turned-global-megastar has teased a new album, and his long-delayed "After Hours" world tour should kick off this summer. But The Weeknd (real name Abel Tesfaye) isn't limiting himself to the music industry: he also has a big TV project in the works.
HBO has officially picked up "The Idol," a scripted drama series co-created by the recording artist, his producing partner Reza Fahim and "Euphoria" creator Sam Levinson. Reportedly, the story is about a self-help guru and sect leader who develops a complicated relationship with a rising female pop star.
Now that the project, in development since last summer, has landed a series order, the cast is quickly coming together.
The Weeknd, who previously appeared in "Uncut Gems" (2019) and co-wrote/lent his voice to an episode of "American Dad," is also starring in "The Idol," along with Lily-Rose Depp ("The King," 2019), Troye Sivan ("X-Men Origins: Wolverine," 2009), Steve Zissis ("Togetherness"), newcomer Juliebeth Gonzalez and Suzanna Son ("Red Rocket," 2021). Other additions to the cast include Elizabeth Berkley Lauren ("Saved By the Bell") and Anne Heche ("Chicago P.D."), both in recurring roles.
Joseph Epstein ("Health and Wellness") will serve as showrunner and Amy Seimetz has been tapped to direct all six hour-long episodes of the series, which is already generating a lot of buzz -- not only for The Weeknd's involvement, but also for its exploration of the dark side of fame.
"When the multitalented Abel 'The Weeknd' Tesfaye, Reza Fahim and Sam Levinson brought us 'The Idol,' HBO programming VP Francesca Orsi said in an official statement, "it was clear their subversive, revelatory take on the cult of the music industry was unlike anything HBO had ever done before."
'Mayfair' moves forward: With "Better Call Saul," "Killing Eve" and "The Walking Dead" all ending in 2022, AMC's lineup may look very different in the near future, but don't worry: the basic cable network is already working on new programming to ensure there won't be any gaps. In fact, it just recently greenlit a TV adaptation of Anne Rice's "Lives of the Mayfair Witches" novels.
An eight-episode series, "Anne Rice's Mayfair Witches" will focus on an intuitive young neurosurgeon who discovers she's the heir to a family of witches. While grappling with her newfound powers, she must also contend with a sinister presence that's haunted her family for generations.
The series order comes just a few months after reports first surfaced that it was in development. Things moving so quickly could be attributed to the quality of the source material, but it also signals AMC's eagerness to expand its Anne Rice universe (look out, Marvel). Its adaptation of "Interview with the Vampire," starring Jacob Anderson ("Game of Thrones") and Sam Reid ("The Newsreader"), should premiere later this year, and "Mayfair" will likely follow, though no premiere date has been announced yet.
"[This year] will be the biggest year for original programming in the history of our company," Dan McDermott, president of entertainment at AMC Studios, said. "We are ... over the moon that it will now include the first two series in an expanding Anne Rice universe built around stories and characters that have captivated millions of fans around the world."
'Saturdays' alright: With "Black-ish" now in its final run, series star Marsai Martin is wasting no time prepping her next TV gig.
Martin, who founded production company Genius Entertainment at the age of 14, has partnered with writer-executive producer Norman Vance Jr. ("Girlfriends") to bring his new coming-of-age comedy series to life. After ordering it to pilot last March, Disney Channel has now handed "Saturdays" a full series order.
Written by Vance, the comedy centers on Paris Johnson (Danielle Jalade, "Yes Day," 2021), a 13-year-old who considers roller skating to be part of her soul -- she breathes it in and makes it a lifestyle.
Per Deadline, Paris lives for the weekends because that's when she gets to go to her neon-lit sanctuary: a seemingly magical wooden-floor roller rink where the impossible often manifests. In this place, Paris can hang out with her friends (the We-B-Girlz skate crew), choreograph routines on wheels, banter with rivals, navigate life with her DJ brother, and work on becoming a member of the skating elite chosen by The Duchess, a former '90s hip-hop-backup-dancer-turned-rink owner.
Other members of the cast include Omar Gooding ("Family Time"), who plays Paris' dad, Cal Johnson, and Golden Brooks ("Girlfriends") as mom Deb Johnson; Jermaine Harris ("The Map of Tiny Perfect Things," 2021) as Paris' brother, London Johnson; Daria Johns ("Nappily Ever After," 2018) and newcomer Samantha A. Smith as best friends Simone and Roxy; and Yolanda "Yo-Yo" Whitaker as The Duchess.
Filming is set to begin in May 2022.