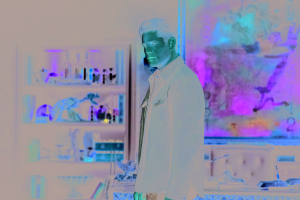 Jensen Ackles stars in "Supernatural"
If you're caught up with all 15 seasons of "Supernatural," you've spent more than 300 hours with the Winchester brothers and their friends, family and associates. It may be hard to say goodbye, but no television series can last forever, and this horror/drama show has outlasted most (it's the 18th longest-running TV series ever, in fact).
Many long-running serialized shows like this one succumb to the curse of outstaying their welcome, but "Supernatural" seems to have avoided that fate. The iconic series may be halfway through its 15th and final run, but fans are being treated to a satisfying conclusion, and the showrunners have taken the time to do things right. Though the series' viewership has never been the highest on its network, it has remained remarkably consistent across the decade and a half that it's aired -- a feat that proves how loyal and dedicated "Supernatural" fans are. The boys may be almost done with saving people, hunting things and the family business, but the Winchester brothers will be sorely missed. You can watch "Supernatural" Thursdays on CW.
I was half the age I am now when "Supernatural" premiered on Sept. 13, 2005, back when CW was still called The WB. Fifteen years is a long time to be working on a single project, and both Jared Padalecki, who plays Sam Winchester, and Jensen Ackles, who plays Dean Winchester, have dedicated their careers to the series and its fans.
Prior to "Supernatural," Jared Padalecki was known for his role in another beloved TV classic, family drama "Gilmore Girls," in which he played the character (ironically) named Dean. You can find some hilariously cheesy clips from Jensen Ackles' time as a soap opera hunk on "Days of Our Lives," but he also had roles in many early 2000s hits, including the decade-defining teen drama "Dawson's Creek," which aired in more than 50 countries worldwide. All of the proud nerds out there, however, know him as the voice of Batman's second Robin, Jason Todd, in animated DC Comics films featuring Red Hood.
Though they were still young, up-and-coming actors when they started, both Padalecki and Ackles have focused solely on "Supernatural" and related projects since the first time they sat in the seats of the Winchester's iconic '67 Impala (chosen because "you can fit a body in the trunk"). For 15 years, the troubled Winchester brothers have spent their lives fighting demons, ghosts and monsters, and have lost family, friends and even each other (a few times) along the way. While the show has seen some great character arcs, none but these two central characters have lasted the whole series.
Castiel was introduced in Season 4, and by the fifth, Misha Collins' ("24") angel character had become just as popular as Sam and Dean; the not-always-angelic angel gained such a following, in fact, that his death has been reversed five times throughout the series.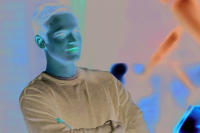 Alexander Calvert as seen in "Supernatural"
Mark Pellegrino ("13 Reasons Why") is one of the busiest men on television, with more than 150 credits to his name, and he has starred as the tantrum-prone, wise-cracking Lucifer since Season 5. Throw in the show's newest cast member, Alexander Calvert ("Arrow"), as Belphegor, Lucifer's son (also known as Jack), and Samantha Smith ("Transformers," 2007) as the recurring and compelling Mary Winchester, and you've got the kind of quality cast that can carry a show for 15 seasons. I'm not forgetting about Sam and Dean's dad, played by "The Walking Dead" actor Jeffrey Dean Morgan, or the important role Jim Beaver ("Deadwood") played -- you would have to be a complete idjit to forget about them -- but talking about John and Bobby is so darn emotional.
Now that the final season is well underway, "Supernatural" fans are twiddling their fingers à la Mr. Burns trying to figure out just how the series will end. Padalecki has his own hopes for the finale. He said he wants both Sam and Dean to die like the titular characters in "Butch Cassidy and the Sundance Kid" (1969), then clarified to E!: "I want them to be at peace. Somehow, somewhere. They don't have to be dead, but I felt for many years that they have to die to be at peace. So I'm not committing to whether they're dead or alive, but I feel like I want the brothers to be at some form of peace."
If you haven't watched "Supernatural" before, you may find it tough to jump in now. I suggest going back to the beginning, to the Woman in White, the yellow-eyed demon and monster-of-the-week episodes. Learn how to tell what season you're watching from the length of Padalecki's hair, and then tune in to the finale when it airs in 2020 on CW. The ending of "Supernatural" is a historic television event, and those who have made the journey alongside Sam and Dean are in for a satisfying conclusion.
The final season of "Supernatural" continues Thursdays on CW.