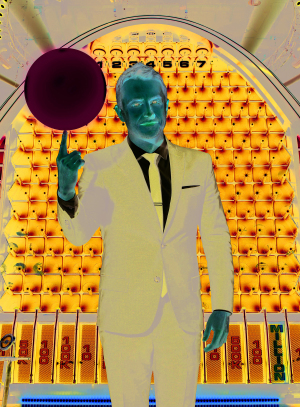 Chris Hardwick hosts Red Nose Day on "The Wall"
No pandemic can stop the annual charity telethon Red Nose Day. It returns to the United States for the seventh time in a celebrity-studded episode of "The Wall," airing Thursday, May 27, on NBC.
The show is a partnership between charity group Comic Relief USA and the network, who together have raised at least $240 million over the past six years.
The brainchild of U.K.-based comedy scriptwriter Richard Curtis ("Love Actually," 2003) and comedian Lenny Henry ("Penelope," 2006), the pair first organized the Red Nose Day fundraiser in 1985 in response to the famine in Ethiopia. The fundraiser, which occurs every two years in the U.K., eventually caught on in the U.S. and officially launched in 2015.
This year, Comic Relief is raising money for COVID-19 patients and their families, especially hoping to fund initiatives that promote the health, safety, education and the empowerment of impoverished children.
Hosted by American comedian Chris Hardwick ("At Midnight"), "The Wall: Red Nose Day Edition" shines the spotlight on a community-driven family from Houston trying to turn their world around by bagging cash prizes and winning the game. Hardwick will be cheering them on from the sidelines and will later try out The Wall himself.
Those watching the show will also get the chance to help raise cash for underprivileged children while learning more about how these children benefit from the campaign.
Red Nose Day 2021 is expected to positively impact children and provide hope for life in the face of the pandemic. Kids living below the poverty line are faced with greater challenges during COVID-19 and are more likely than ever to fall behind those with better access to resources.
Year after year, NBC works with Comic Relief to help spread the word about its noble cause, and Doug Vaughan, executive vice president for special programs, doesn't stop short of showing his pride in Red Nose Day.
"Each year, without hesitation, our company looks forward to participating in this effort by bringing visibility and entertainment to support this incredibly worthy cause," Vaughan said in an interview. "We are truly honored to be the home of Red Nose Day."
An American nonprofit, Comic Relief USA relies on the lure of entertainment to promote good change that draws it closer to its vision: a just world without poverty.
In realizing this dream, it partners with corporate, media and nonprofit organizations to boost public awareness of the world's most important issues. It also raises funds required to address them -- funds that may be used to issue grants to local or international nonprofit partners to combat the symptoms and origins of poverty and injustice.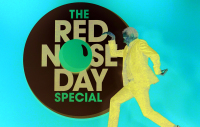 Craig Ferguson on a past "Red Nose Day Special"
In 2017, the group raised more than $62 million for the victims of Atlantic hurricanes Harvey, Irma and Maria. The campaign culminated in a show dubbed Hand in Hand Benefit for Hurricane Relief, wherein many of the country's biggest stars came together and devoted one night of performances in the name of hope and strength for affected families.
The organizers later reported that the generous donations made to the fundraiser had more than served their purpose.
It's important to note that Red Nose Day is one of Comic Relief USA's most successful campaigns. In honor of the late comedian Andy Kaufman ("Taxi"), comedian Bob Zmuda ("Man on the Moon," 1999) founded the American branch of the not-for-profit just a year after Curtis and Henry began theirs in the U.K.
The maiden fundraiser show in the U.S. ran for more than four hours and boasted a star-studded hosting crew that included Robin Williams ("Jumanji," 1995), Whoopi Goldberg ("Ghost," 1990) and Billy Crystal ("When Harry Met Sally...," 1989).
While Comic Relief is constantly working to provide charity services, its fundraisers are televised, usually by HBO, at random intervals. Different genres of entertainment are showcased during these events -- from standup comedy and speeches to live music, and so on. Documentary segments air occasionally and show the day-to-day lives of their beneficiaries.
In 2007, the group partnered with American Idol and Fox for America Gives Back (then called Charity Projects Entertainment Fund) for a two-night show that aired on April 24 and 25 and brought attention to young people's health and education needs in the U.S. and overseas.
Another ongoing Comic Relief project is Flying Start, a joint effort between British Airways and Comic Relief USA and Comic Relief in the U.K. The fund here continues its aim but with a focus on the areas to which British Airways flies and with aid going to the Boys and Girls Clubs of America.
But perhaps the most asked question about Comic Relief and NBC's most prestigious event is, "What's with the Red Nose?"
The iconic Red Nose is a quick and simple way to inspire people to unite to improve life for less fortunate children. It works especially well, even online. By showing their support with #NosesOn, people unlock the Digital Red Nose, and with every donation to Red Nose Day, a digital Red Nose is distributed so donors can take a photo, share it socially and encourage others to do the same.
Produced by Universal Television Alternative Studio, SpringHill Entertainment and Glassman Media, this year's Red Nose Day is filled with hope and fun in the face of a global trauma.
Don't miss Red Nose Day, airing for the seventh time in an all-new, celebrity-studded special episode of "The Wall," this Thursday, May 27, only on NBC.