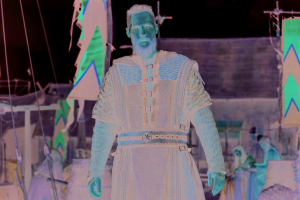 Jordan Patrick Smith stars in "Vikings"
Wrapping up a series is a whole art in itself. From the completion of character arcs to the balancing of thematic through-lines and the dismantling of entire worlds, there are few things that can define the legacy of a show as much as its last season. Add a rabid fan base to this and you have the kind of final-episode stakes that can either cement a series as an utter masterpiece (see "Breaking Bad") or completely alienate its viewership (see "Game of Thrones").
It's an enormous amount of pressure that either brings out the best or the worst in both a show's production team and its audiences, and we are only weeks away from witnessing another such ending. On Wednesday, Dec. 4, fans can begin their own journey to Valhalla as the last season of "Vikings" premieres on History. The sixth and final season kicks off with an action-packed, two-hour premiere.
"Vikings" is the kind of television that needs to be seen to be believed. In term of its quality, its historical scope and its overall epic natures, this is a show that shouldn't work, yet truly, absolutely does. The overall series is centered on an icon of Nordic lore, the Viking Ragnar Lothbrok (Travis Fimmel, "Dreamland," 2019); his first wife, Lagertha (Katheryn Winnick, "Wu Assassins"), their eldest child, Bjorn (Alexander Ludwig, "Swerve"), and Ragnar's second son, Ubbe (Jordan Patrick Smith, "Neighbours"). The series thus far has chronicled their collective journey from their lives as farmhands in Kattegat, Norway, on to battle, glory and greatness.
The series combines family drama and ancient heroic hymns to produce a fast-paced and compelling story full of interesting characters with great depth. It's a show that spans multiple generations, countries, alliances and myths, and its complex storylines create a kind of family tree in motion. In other words, "Vikings" is not the kind of show you stumble upon every day, a fact that is reflected in the loyalty of its fans.
Its fifth season brought in more than 30 million total viewers, landing it in the top 10 cable dramas among all key demographics. The "Vikings" cast and crew have held a panel at every Comic Con since the show's debut, and the show's social media accounts are constantly hounded and monitored by fans for news on their beloved Norse warriors. Though it seemed to many that History was being too ambitious, even foolish, when it embarked upon such an epic journey -- History was not known for its scripted dramas, after all -- "Vikings" quickly found its niche and has become appointment viewing for a broad range of fans that includes history buffs, fantasy fans, action lovers and drama seekers.
But how in the world do you end such a beloved saga? In perhaps the most reassuring of answers, creator and writer Michael Hirst said he has never worried about it, saying: "I always knew how 'Vikings' would end and, after 89 episodes, I truly believe the saga of Ragnar Lothbrok and his sons has been told, and we are leaving our beloved fans with the proper and definitive ending they so deserve."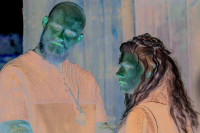 Alexander Ludwig and Katheryn Winnick in "Vikings"
It's a statement that both confirms the veteran showrunner's ability to reconcile his bird's-eye view of the "Vikings" universe and the fans' hopes for what Season 6 should be. This season will head in a more stable, less chaotic direction than the last, but first, the characters need to pick up the pieces of last season's fraught storylines.
Throughout the entirety of Season 5, we were treated to some serious family drama. Ragnar died at the end of Season 4, and, since then, his youngest son, Ivar (Alex Hogh Andersen, "Tvillingerne & Julemanden") -- known as Ivar the Boneless because of birth defects that deprived him of the use of his legs for most of his life -- has become brutal, sadistic and tyrannical. He leaves Kattegat after being defeated by his brother Bjorn's forces, leaving the elder son to take their father's place, fulfilling the prophecy made when he was a boy.
Season 5 was about an abhorrent, barbaric ride to power and the disintegration of relationships, but Season 6 focuses on what happens when the frenzy can't sustain itself anymore -- it's about a Viking warrior turning into a Viking leader.
This is not to say that Season 6 of "Vikings" is giving the characters an easy ride to the finish line. Ivar will return. There's a new player on the board in the form of Prince Oleg (Danila Kozlovsky, "Dubrovsky"). And an attack from the Rus Viking army is on the horizon. With all that coming at him, Bjorn will have to focus first on keeping the crown and then on learning how to wear it.
Tune in to the sixth and final season of "Vikings" when its two-hour premiere airs Wednesday, Dec. 4, on History.