Kate Winslet and Guy Pearce in "Mare of Easttown"
Needless to say, television sleuths have evolved over the years. Gone are the days when hard-nosed investigators doggedly pursued criminals and wrapped up cases week after week. Today's TV detectives are often portrayed as complex and vulnerable, and an acclaimed actor is set to bring one such character to life this spring.
Kate Winslet ("Titanic," 1997) stars as Mare Sheehan, a small-town Pennsylvania detective who struggles to keep her own life from falling apart as she investigates a shocking murder in "Mare of Easttown," premiering Sunday, April 18, on HBO. The seven-episode series exposes the dark side of the close-knit community as Mare searches for the killer while facing her personal demons.
Mare is well known in the community for a fateful championship-winning shot during a basketball game 25 years earlier, but she obviously does not feel like the hero everyone seems to think she is.
"Doing something great is overrated," Mare says in the official trailer, "because then people expect that from you — all the time."
It is clear that her character is dealing with some heavy stuff from her past, but if anyone has the acting chops to tackle the part, it's Winslet. However, that doesn't mean she would ever want to take on such a role in real life. The actor reportedly worked with Pennsylvania police departments, including the real Easttown's, for months in preparation for the series. According to Indiewire.com's Ben Travers, during a virtual presentation promoting the new series during this year's TCA winter press tour, Winslet admitted that she wouldn't make a great detective, though she did joke that she would be good at the coffee breaks and the after-work beers.
"I don't think I have the mental stamina that is required," Winslet said.
Playing a tortured modern-day detective might be against type for Winslet, who is well known for her period pieces. At the age of 20, she earned her first Academy Award and Golden Globe nominations for "Sense and Sensibility" (1995). Global stardom soon followed, thanks to her role in the blockbuster "Titanic" (1997), which she followed up with critically acclaimed period pieces "Quills" (2000) and "Iris" (2001). Winslet's other credits include the contemporary science-fiction romance "Eternal Sunshine of the Spotless Mind" (2004), the romantic drama "Revolutionary Road" (2008), the biographical drama "Steve Jobs" (2015) and the Divergent film franchise.
Her role in "Mare of Easttown" is Winslet's first television role in a decade. During her last prime-time outing, also for HBO, she portrayed a divorced mother who goes into the restaurant business and strives to win her daughter's respect in the 2011 miniseries "Mildred Pierce." Her work on the project netted her both an Emmy and a Golden Globe. Interestingly, her "Mare of Easttown" co-star Guy Pearce ("L.A. Confidential," 1997) also won an Emmy for his role as dashing playboy Monty Beragon in "Mildred Pierce."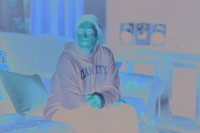 Kate Winslet stars in "Mare of Easttown"
Winning combination Pearce and Winslet team up again in "Mare of Easttown" as Pearce takes on the role of creative writing professor Richard Ryan.
Those familiar with Winslet's work might also recognize James McArdle, who recently co-starred with the actress in the film "Ammonite" (2020). McArdle plays Deacon Mark Burton in "Mare of Easttown."
Other high-profile stars in the cast include multi-Emmy winner Jean Smart ("Fargo") as Mare's mother, Helen. In a departure from typical on-screen mother-daughter relationships, Helen and Mare do not get along. Young Australian actress Angourie Rice ("The Nice Guys," 2016) plays Mare's teenage daughter, Siobhan, while David Denman ("The Office") stars as Mare's ex-husband, Frank. Neal Huff ("The Wire") portrays Mare's cousin, Father Dan Hastings, while Julianne Nicholson ("The Outsider") appears as Mare's best friend, Lori, and Joe Tippett ("Rise") appears as Lori's husband, John.
Evan Peters of "American Horror Story" fame portrays county detective Colin Zabel, who is brought in to help Mare with the case, though they often butt heads. Acclaimed stage actor John Douglas Thompson also makes a few appearances as Mare's boss, Chief Carter.
Cailee Spaeny ("Pacific Rim: Uprising," 2018) appears as Erin McMenamin, a lonely teen living with her volatile father, Kenny, who is portrayed by Patrick Murney ("Seven Seconds"). Sosie Bacon ("Here and Now") also appears as Carrie Layden, a recovering addict.
The new series boasts a veritable television dream team in front of and behind the camera. While Winslet's career thus far has allowed her to show her range as an actor, she'll still be navigating new waters in "Mare of Easttown." The series marks her first project as an executive producer, and she's in good company as just one of many executive producers involved in the project. "Mare of Easttown" creator and writer Brad Ingelsby ("The Way Back," 2020) will also be an executive producer as well as the project's showrunner. The program's director, Craig Zobel ("The Hunt," 2020), will be an executive producer, too. Other executive producers include Paul Lee ("Dickinson"), Mark Roybal ("Stoker," 2013), Gavin O'Connor ("The Accountant," 2016) and Gordon Gray ("Secretariat," 2010).
Boasting a cast and crew with proven track records, HBO's latest dramatic offering has the potential to make its mark in the prime-time realm. As the murder mystery unfolds, watch Mare do her best not to unravel in "Mare of Easttown," premiering Sunday, April 18, on HBO.