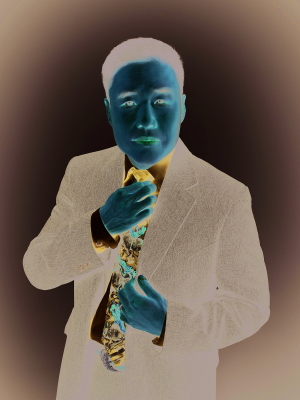 Randall Park to star in Blockbuster Video workplace comedy
TV rewind: If you've watched the 2020 documentary "The Last Blockbuster" (it's on Netflix), you know the story of Blockbuster's demise and how a lone store in Bend, Oregon, is the last vestige of a once-mighty video rental empire.
Those with fond memories of movie rentals are really rooting for the Bend Blockbuster and its hard-working staff, and it seems its story has inspired a new TV series that's coming soon.
The 10-episode series "Blockbuster" is set in the last Blockbuster video store and stars Randall Park ("Fresh Off the Boat"). Billed as a workplace comedy, the series will explore what -- or rather who -- it takes for a small business to succeed against all odds. And producers are going all out in their attempt to tap into our nostalgia: they've acquired the rights to use the Blockbuster name and logo, and you can count on seeing the familiar polo shirt uniform.
There's some irony to this story, given the fact that "Blockbuster" will be airing on Netflix. The streaming giant was just a fledgling DVD-by-mail rental service in 2000 when co-founders Marc Randolph and Reed Hastings sought to keep it afloat by selling it to Blockbuster for $50 million. Executives rebuffed their offer, but whereas Netflix's fortunes soon turned around, Blockbuster's debt load forced it into bankruptcy protection in 2010 and operations ceased in 2014.
Given its history, Netflix had some fun announcing "Blockbuster" and tweeted, "Netflix and Blockbuster are finally working together -- well, sort of."
Jim Donnelly, head of comedy at Universal Television (the company producing the series), also included a humorous reference to the past in his statement: "We're so happy to be strolling the aisles of a Blockbuster once again, with Vanessa [Ramos], David [Caspe], and Jackie [Clarke] leading the way. We're also thrilled to be continuing our partnership with Netflix, where we never have to worry about late fees."
Court of opinion: True crime stories and legal documentaries have become streaming staples these days, but discovery recently commissioned a new legal documentary that offers a celebrity twist.
The streamer has greenlit "Johnny vs. Amber," a two-part documentary that will tell the story of how the relationship between actors Johnny Depp ("Pirates of the Caribbean: The Curse of the Black Pearl," 2003) and Amber Heard ("Aquaman," 2018) broke down and resulted in an explosive legal battle.
According to Discovery, Inc., each of the series' two parts tells the story from Depp and Heard's "polarized perspectives." Depp's episode will talk about how he felt he was "married to a Machiavellian liar who would stop at nothing to protect her image," while Heard's film explores how she felt she had "married the man of her dreams, only to see him turn into a violent, drug-fuelled monster."
"Johnny vs. Amber" will include video footage and audio recordings provided by the couple, as well as testimony from lawyers on both sides and sources reportedly "close to the pair."
While discovery touts the documentary as an honest look at the celebrity court case of the decade, the announcement was met with mixed reactions online.
Many feared the project could be biased towards one side, with some wondering if it might redeem or further condemn Depp in the court of public opinion. Others accused discovery of cashing in on the high-profile case. Either way, "Johnny vs. Amber" appears to be moving ahead, with a likely release date in 2022.
He's back: Good news if you're a fan of "Chucky." The TV revival of the Child's Play horror film franchise recently wrapped its first season on USA Network and Syfy (on Showcase in Canada), and it seems NBCUniversal is pretty pleased with its reach of 9.5 million viewers across all platforms: "Chucky" has been officially renewed for a second season.
In a statement released by the network, creator/showrunner/executive producer Don Mancini stated, "We're thrilled to start pulling the strings on a second season of puppet mayhem with 'Chucky.' Many thanks to our partners at USA, Syfy and UCP for their incredible support and guidance bringing 'Chucky' to the small screen, bigger than ever. And to the fans, Chucky sends his still-undying thanks, and a message: 'This isn't over, not by a long shot. You better watch your backs in 2022!'"
If you haven't seen this TV adaptation, the murderous Chucky doll has turned up at a yard sale in the quiet town of Hackensack, New Jersey, where a series of grisly murders soon ensues. Actor Brad Dourif ("One Flew Over the Cuckoo's Nest," 1975) voices Chucky once again, and the series also brought back franchise star Jennifer Tilly as Tiffany.
The second highest-rated new cable series among viewers aged 18-49, "Chucky" was picked up to series just a few months before the pandemic hit in 2020, after being in development for a year. It was originally intended for Syfy, but after some restructuring at NBCUniversal, executives opted to share the series with USA Network in order to reach a broader audience -- a decision that has seemingly paid off, given "Chucky's" ratings, and now, its renewal.