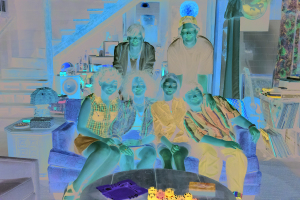 Sam Morelos, Mace Coronel, Ashley Aufderheide, Callie Haverda, Maxwell Acee Donovan and Reyn Doi in "That '90s Show"
Millennial TV viewers may remember watching the Fox sitcom "That '70s Show" as their parents looked on with fondness and nostalgia from the opposite couch, possibly reliving their teenage years alongside the show's main characters. Today, these same millennials have grown up to start families of their own, and so a new blast-from-the-past sitcom is born.
On Thursday, Jan. 19, Netflix premieres its newest series spinoff, "That '90s Show," but no need to worry; it won't be "the same old thing [they] did last week." While not quite a reboot, as everything from the leading cast to the show's era has been changed, "That '90s Show" does play off of the original "That '70s Show" plot, following a group of teens who hang out and face the best and the worst of their formative years together.
Entertainment audiences of all ages may generally associate the term "period piece" with film and TV set during the time of Shakespeare, Jane Austen or fictional detective Sherlock Holmes. Both "That '90s Show" and its predecessor technically fall into the "period" category, since the term simply denotes that a production takes places during a specific time period in the past. And while the '90s certainly aren't as far back as, say, the Victorian era, there is no denying just how much has changed in over three decades.
On the note of change, it only makes sense that the show's central characters hail from a new generation. And so "That '90s Show" no longer follows Eric Forman (Topher Grace, "Home Economics") and friends, but instead, the similar antics of his and Donna Pinciotti's (Laura Prepon, "Orange Is the New Black") daughter, Leia (Callie Haverda, "The Lost Husband," 2020). Now 1995, 15 years after the original series' finale, Leia has traveled to Point Place, Wisconsin, to spend the summer with her grandparents, Kitty (Deborah Jo Rupp, "Big," 1988) and Red Forman (Kurtwood Smith, "RoboCop," 1987).
Both a main fixture of the series' official Netflix trailer, Kitty and Red are a testament to the fact that not everything changes with time. The pair continue to act as a perfectly balanced pair, as Kitty is shown offering cookies to each of Leia's new friends before Red locks them out of the kitchen between grumbles and grunts.
Also returning for the spinoff is one of the biggest original characters: the basement. The aforementioned trailer shows Leia and her new friends settling in on the same old tan couch as Red lays down the rules for them: "Lights on, shirts on and no dancing" — all rules that appear to be almost immediately broken. (It's also a pretty safe bet that neither Red nor Kitty would be OK with the teens discovering Eric's sneaky, two-decade-old stash of marijuana, but what happens in the basement...)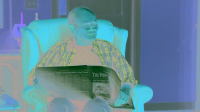 Kurtwood Smith returns as Red Forman in "That '90s Show"
While other returning cast members include Grace, Prepon, Wilmer Valderrama ("NCIS"), Tommy Chong ("Up in Smoke," 1978) and real-life couple Mila Kunis ("Black Swan," 2010) and Ashton Kutcher ("The Ranch"), each in a guest-star capacity, one missing actor will be Danny Masterson ("Dracula 2000," 2000), who played stoner-rocker Steven Hyde in the original series. Masterson was charged in 2020 with allegedly sexually assaulting three women at his Los Angeles home between 2001 and 2003.
New cast members, meanwhile, consist of Ashley Aufderheide ("Emergence") as Gwen, a kindhearted but rebellious riot grrrl; Maxwell Acee Donovan ("Gabby Duran & The Unsittables") as Nate, Gwen's upbeat little brother; Mace Coronel ("Colin in Black & White") as Jay, a charming teen with videographer aspirations; Reyn Doi ("Barb and Star Go to Vista Del Mar," 2021) as Ozzie, an openly gay teen with marvelous insight; and relative newcomer Sam Morelos ("Forgetting Nobody," 2022) as Nikki, Nate's very intelligent girlfriend.
Given the popularity of shows like "The Wonder Years" reboot (set in the '60s), "The Goldbergs" (set in the '80s) and other period hits like AMC's "Mad Men" (set in the early '60s), audiences may wonder why "That '70s Show" creators Bonnie and Terry Turner opted to set their spinoff in the '90s rather than during the '80s or using it as a sort of prequel to the original '70s iteration. In truth, the pair had twice rejected the project in its entirety before agreeing to Netflix's proposal. After a few failed plot suggestions, the parties — which now also included "That '70s Show" and "3rd Rock from the Sun" writer Gregg Mettler and the Turners' daughter, Lindsey — agreed on a way forward.
"The thing that Gregg said that I really loved, and I know mom and dad did, too, was, the '90s was the last time that people were looking up, they weren't looking down at their phones," Lindsey Turner said in an interview reported by Variety. "It was that last place of a real kind of engagement, having to make your own fun and really connecting with each other."
Mettler notes this is where the heart of the show lies: in this interpersonal connection that only existed prior to personal technology and social media.
"['That '70s Show'] had a very special tone," Mettler reminisced in the same interview. "It was playful, it had a heart, it was sarcastic, it was filled with love within this family, within the friend group. I missed being in the basement with those kids."
Season 1 of "That '90s Show" premieres Thursday, Jan. 19, on Netflix.