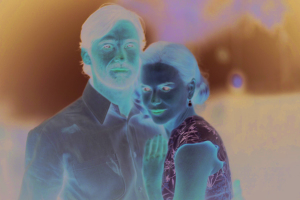 Hugh Jackman and Nicole Kidman in "Australia"
TV down under: Movie fans are likely to know Australian director Baz Luhrmann for his thrillingly bohemian 2001 film, "Moulin Rouge!," his decadent 2013 roaring '20s revival in "The Great Gatsby" or, most recently, his three-act musical biopic "Elvis" (2022). Die-hard fans of the Academy Award nominee may also remember his 2008 epic "Australia" — a piece which is now getting a unique television expansion.
The film, which starred fellow Aussies Nicole Kidman ("Big Little Lies") and Hugh Jackman ("The Wolverine," 2013) in the leading roles, was Luhrmann's take on a "sweeping, 'Gone With the Wind'-style epic," but one that was "turned on its head" (per Luhrmann).
The film centers on Lady Sarah Ashley (Kidman), a Brit who travels to Australia on the cusp of World War II to inspect a cattle ranch she recently inherited. Upon discovering some major flaws in the property, she reluctantly joins forces with the Drover (Jackman), who helps her drive her cattle across the country to Darwin. When they arrive, they have a new threat waiting for them in the Japanese forces who just bombed Pearl Harbor.
Those concerned about the 14 years between the film and the upcoming series, due to be titled "Faraway Downs," need not worry. Luhrmann's TV production is particularly unique in that he plans to use only pre-existing footage gathered while shot during the making of the film. This means the series will be less of an adaptation and more of an expansion.
Noting that while the film used "romance and epic drama to shine a light on the roles of First Nations people and the painful scar in Australian history of the 'Stolen Generations,'" the director said he has a slightly different plan for "Faraway Downs."
"While 'Australia' the film has its own life, there was another telling of this story; one with different layers, nuances and even alternative plot twists that an episodic format has allowed us to explore," Luhrmann said in a statement. "Drawn from the same material, 'Faraway Downs' is a new variation on 'Australia' for audiences to discover."
The theatrical version of the film runs two hours and 45 minutes — and originally had three possible endings — so there is no telling yet which direction the six-episode series will take.
What we do know is that the Disney 20th Television-produced show will be released later this year on Hulu in the U.S. and on Disney and Star internationally.
Unmasking Spacey: Less than two weeks after actor Kevin Spacey ("House of Cards") appeared in a London court to face multiple accusations of sexual assault, a new docuseries is in the works. "Spacey Unmasked" (working title) is a two-part series from the U.K.'s Roast Beef Productions.
Per The Hollywood Reporter, "Spacey Unmasked" "promises to take a forensic look at one of the most powerful and respected actors in the world, from his childhood to his emergen[t] success on Broadway and his meteoric rise to stardom, to his spectacular fall from grace as he now faces accusations from multiple men of grooming, sexual harassment and abuse."
Spacey, known to many for his roles in "The Usual Suspects" (1995), "American Beauty" (1999), "L.A. Confidential" (1997) and as U.S. President Francis Underwood in the American adaptation of "House of Cards," was first publicly accused of sexual assault on a minor in October 2017. That first declaration of abuse, made by actor Anthony Rapp ("Rent," 2005), traces Spacey's alleged behavior back to a party in 1986 when Rapp was 14 years old and Spacey was 27.
Since Rapp's accusation, several other men have come forward with accusations of their own.
While there is no official release date as of yet, prospective viewers can expect the docuseries to air shortly after Spacey's court cases have been resolved, given that executive producer Dorothy Byrne noted the show will "follow the unfolding story of the allegations of abuse against him and the resulting court cases."
"Spacey Unmasked" will premiere on Channel 4 in the U.K. Stay tuned for news regarding a North American release.
Dangerous planet: Move over, Jurassic film franchises! NBC is getting into the dino game now.
The major television network recently announced its new dinosaur-related docuseries, "Surviving Earth," an informative, eight-episode series that will explore mass extinctions from Earth's various stages of history, delving into the creatures that managed to survive against all odds (and, of course, those that did not).
The aim of the production, said Toby Gorman, Universal Television Alternative Studio president, is to bring "to life the rich history of our planet to shed light on its future," ultimately digging deep within our planet's past to find lessons we can learn from going forward.
Tim Haines, creative director of Loud Minds production company added: "In an age when there is so much concern about our changing climate, if we want to know our future we have to understand our past. We're delighted to bring to NBC this spectacular story that celebrates the power of life on our ever-changing Earth."
"Surviving Earth" will feature "cutting-edge digital effects" to bring past events to life on screen for viewers. A release date has yet to be announced.