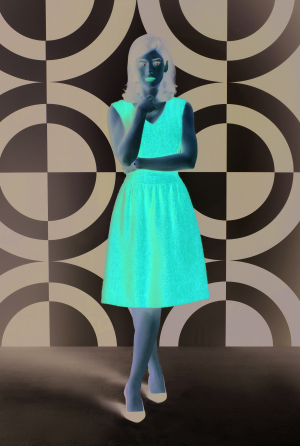 "Masters of Sex's" Lizzy Caplan to star in "Fleishman is in Trouble"
In 'Trouble': This year may be a busy one for Lizzy Caplan ("Masters of Sex"). In the past few months, the actress's name has been linked to a number of upcoming projects, and one of them is the limited series "Fleishman Is in Trouble."
As first reported by Variety, Caplan has been cast as the female lead in the nine-episode series about a recently separated, 40-something dad whose successful foray back into the dating world is interrupted by his ex-wife's disappearance (hence the "Trouble" in the title).
So, who is the titular (Toby) Fleishman? That would be actor Jesse Eisenberg ("The Social Network," 2010) in one of his few TV roles to date. He'll star opposite Caplan, marking a reunion for the two former "Now You See Me 2" (2016) cast mates. Caplan will reportedly play Libby, the show's narrator and Toby's friend.
"Fleishman Is in Trouble" is based on the identically titled bestselling novel by Taffy Brodesser-Akner, who is on board as writer and executive producer. Though originally touted as an FX on Hulu original, Disney announced last month that it was scrapping that moniker, meaning the project will now fall under the FX brand.
As for Caplan, the former "Castle Rock" actress recently voiced the lead character in the Netflix animated series "Inside Job." She's also tapped to play Alex -- a role originated by Glenn Close -- in Paramount 's planned remake of the 1987 film "Fatal Attraction."
But with all of these projects on the go, something had to give, and that something was Starz' revival of the 2009-10 cult comedy "Party Down." Caplan was one of several original cast members set to return for the new installment, but given her commitment to "Fleishman Is in Trouble," Caplan's busy schedule couldn't accommodate "Party Down's" mid-January production start.
Offerman, the survivalist: HBO series "The Last of Us" has finally found its Bill -- or rather, a replacement for the first actor cast to play Bill.
HBO's upcoming adaptation of the PlayStation game is set 20 years after a deadly virus has wiped out modern civilization.
The "Mandalorian" himself, Pedro Pascal, plays survivor Joel, who's been hired to smuggle 14-year-old Ellie (Bella Ramsey, "Hilda") out of a quarantine zone. The "small job" turns out to be a harrowing cross-country journey, and they must depend on each other (and others) for survival.
"Parks and Recreation" star Nick Offerman has joined the cast of "The Last Of Us" and will play the role of Bill, one of two post-pandemic survivalists who live alone in their isolated town.
This is reportedly more of a guest-starring role for Offerman, who has earned two Emmy nominations to date for his co-hosting role on NBC's "Making It." Offerman replaces Con O'Neill in the role of Bill; the English actor had previously worked with showrunner Craig Mazin on HBO's "Chernobyl," but according to Variety, O'Neill bowed out of "The Last of Us" due to a scheduling conflict.
Offerman will next appear in Hulu's limited series "Pam & Tommy," which premieres Feb. 2. Meanwhile, "The Last of Us" doesn't have an official release date, but production is already well underway with scenic Canmore, Alberta, standing in for the Jackson, Wyoming, settlement featured in the video game.
Dowdy life: There won't be a "Schitt's Creek" movie any time soon, according to co-creator and David Rose himself Dan Levy, who recently told Us Weekly that any film adaptation would require "a really good idea, and until that happens, we're leaving it as is." So, you can't fault the show's cast and crew for moving on to new projects, including Levy, who has a few series in the works, including HBO Max's upcoming food competition, "The Big Brunch."
Co-creator Eugene Levy will reportedly host travel show "The Reluctant Traveler" on Apple TV , which happens to be where another "Schitt's Creek" alumnus, executive producer David West Read, is headed.
The Emmy-winning producer is currently working on a small-screen adaptation of M.O. Walsh's novel "The Big Door Prize," which tells the story of a small town forever changed by the sudden appearance of a mysterious machine in the local grocery store -- a machine that discloses each person's true potential. Apple ordered the 10-episode series from Skydance TV, and Read will serve as writer and showrunner.
Read's version of "The Big Door Prize" has even landed its first cast member: actor Chris O'Dowd, best known as Roy from "The IT Crowd."
O'Dowd, whose turn in "State of the Union" earned him a 2019 Emmy, will star good-natured teacher and family man Dusty, who has never strayed from a safe and predictable path in life. Dusty bemoans the day-to-day mundanity of his life, but when the machine reveals his true purpose, he further questions his own happiness and life choices.
No word yet on an official release date.