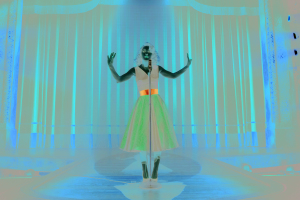 Rachel Brosnahan in "The Marvelous Mrs. Maisel"
If there is one word to describe Prime Video's "The Marvelous Mrs. Maisel," (other than "marvelous," of course), it would have to be "colorful." Filled with colorful costumes and even more colorful jokes, the series has captured the attention and admiration of streaming audiences and critics alike. Now, after releasing 43 episodes across six years, the Rachel Brosnahan ("House of Cards") -led series comes to an end with a fifth season.
Get your front-row seat to see Midge (Brosnahan) take her final bow when the fifth and final season of "The Marvelous Mrs. Maisel" premieres, with three episodes arriving Friday, April 14, on Prime Video.
Created by Amy Sherman-Palladino, the fast talk-loving mind behind "Gilmore Girls," "The Marvelous Mrs. Maisel" boasts an impressive 95% average rating between critics and audience members on the popular review-aggregation site RottenTomatoes.com. This uncommonly high rating is further backed up by 20 Primetime Emmy wins, including multiple wins for Outstanding Period and/or Character Makeup (Non-Prosthetic), Outstanding Cinematography for a Single-Camera Series and Outstanding Music Supervision, in addition to its wild success in the acting categories.
The series stars Brosnahan as Miriam "Midge" Maisel, a young woman from an affluent Jewish family in New York City who, upon her divorce in Season 1, decides to take her penchant for comedy to the stage under the now-ironic moniker "Mrs. Maisel" (her married name). As the seasons progress and Midge becomes increasingly popular, her success causes a myriad of problems in her family life, romantic life and social life. At times, her outspoken brand of humor even threatens to upset the shifting (but still strict) fabric of 1950s and '60s societal standards.
Beginning in the fall of 1958, "The Marvelous Mrs. Maisel" has followed its titular heroine through thick and thin as she fought restrictive entertainment laws; her ex-husband (later turned husband again), Joel (Michael Zegen, "Boardwalk Empire"); manager Susie Meyerson's (Alex Borstein, "Family Guy") gambling addiction; the intricacies of civil rights laws, and more.
Now headed into Season 5 and fresh on the heels of the pandemic-delayed fourth season, "Mrs. Maisel" picks back up at the dawn of 1961, as Midge gets closer than ever to her dream following last season's burlesque club detour. And while Midge is now mostly back on her feet following the Shy Baldwin (LeRoy McClain, "Respect," 2021) fiasco of Season 3, this last season still has plenty of material to mine — and not just Midge's (spoilers ahead for those not yet caught up).
Returning to the screen for the final season with all their own drama in tow are Susie, accompanied by her secrets, debts and shady business partners; Abe Weissman (Tony Shalhoub, "Monk"), whose career as a writer/reporter has since taken a backseat to his wife, Rose's (Marin Hinkle, "Two and a Half Men"), prolific yet controversial matchmaking career (Rose is also returning); Midge's complicated ex-husband Joel and his partner, Mei (Stephanie Hsu, "Everything Everywhere All at Once," 2022), the latter of whom just met Joel's parents, Moishe (Kevin Pollak, "The Usual Suspects," 1995) and Shirley (Caroline Aaron, "Edward Scissorhands," 1990), but has yet to introduce him to hers; and, of course, Midge's mentor-meets-love interest, comic Lenny Bruce (portrayed by Luke Kirby, "The Deuce"), who seems poised for more screen time in the final season.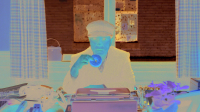 Alex Borstein in "The Marvelous Mrs. Maisel"
Also returning for the farewell installment are "Gilmore Girls'" Kelly Bishop as Rose's cutthroat business rival, Benedetta; "This Is Us" (and also "Gilmore Girls") star Milo Ventimiglia as Midge's unnamed and married one-night stand from Season 4; Alfie Fuller ("Platonic") as Susie's assistant, Dinah; and Brosnahan's real-life husband, Jason Ralph ("The Magicians"), as late-night booker Mike Carr.
The cast is full and the crew has big plans to tie up loose ends (and there are many), but creator Sherman-Palladino has made it abundantly clear in interviews that, while Season 5 is "Mrs. Maisel's" last, the show has not been cancelled. It is simply time to go.
"We don't want to overstay our welcome," Sherman-Palladino said during a 2020 Q&A. "Midge has a journey she has to take. It's the struggle that is fun. … We know emotionally where we want to end her and at what point we want to cut it off; we just don't know how many episodes it's going to take to get there."
At the end of the day (or series), it's most important that the book is consciously and carefully closed on Midge. What that looks like, exactly, remains to be seen.
Leading lady Brosnahan also weighed in on the end of an era via her Instagram account (@rachelbrosnahan), writing, "That's a series wrap … The thing was lightning in a bottle. A cast, crew and creators who got to time travel for 5 years together. It changed my life. I'm eternally grateful."
In true Midge fashion, Brosnahan's closing remarks were raw and honest: "I'll have more words later, but for now … Thank you and goodnight."
Don't miss the fifth and final season of "The Marvelous Mrs. Maisel," the first three episodes of which premiere Friday, April 14, on Prime Video.