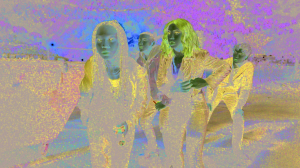 Kaci Walfall, Camila Moreno, Daniel Puig and Will Myers as seen in "Naomi"
Look up to the sky and you just might see a brand-new superhero in the Arrowverse. "Naomi," the latest series in the DC Comics television universe, premieres Tuesday, Jan. 11, on CW, and tells the story of the titular Oregon teenager (Kaci Walfall, "Army Wives") whose journey begins en route to an incredible Superman-related event happening in her small hometown.
In a series teaser trailer that was released by CW at the October 2021 DC FanDome event, fans see Naomi race out of her class presentation on a skateboard as soon as she receives a text from her friend telling her Superman is involved in something happening in the town square. Naomi glides into the center of town just in time to see someone zip across the sky overhead — unfortunately, the superhuman appearance also seems to emit a force that gives Naomi a crippling headache as she falls to the ground.
DC Comics' original Naomi character will be familiar with the young superhero's origin story, but the uninitiated will soon learn that — without dropping any spoilers — Naomi has more in common with Superman than an appearance in her hometown.
Walfall, the actress portraying the titular heroine, is best known for her performance as eight-year-old Nyah in Season 7 of "Army Wives," though she has also appeared in episodes of the drama "Power," the CIA procedural "Person of Interest" and the Queen Latifah-led ("Last Holiday," 2006) action series "The Equalizer."
Her co-stars this time around include Daniel Puig ("The System," 2019), Barry Watson ("7th Heaven"), Will Meyers ("Bad Education," 2019) and newcomer Camila Moreno, but some of the biggest names attached to the new series are among its creators.
"Naomi" hails from big- and small-screen legend Ava DuVernay and behind-the-scenes Arrowverse member Jill Blankenship, the latter of whom is known for executive producing CW's "Arrow." Before joining the Arrowverse, Blankenship wore many different hats, including those of writer and co-executive producer of the thrilling TNT drama "The Last Ship" during its five seasons on air.
DuVernay, meanwhile, is best known for directing the Oscar-winning film "Selma" in 2014, before going on to produce the 2016 documentary "13th," chronicling the systemic issues in the United States prison system. DuVernay then executive produced and directed a few episodes of Netflix's limited series "When They See Us" and OWN's Louisiana-set drama "Queen Sugar."
With respect to "Naomi," however, likely only comic book/graphic novel fans would know the touching story behind the leading character's surname: McDuffie.
Dwayne McDuffie was the groundbreaking writer who created the animated series "Static Shock," the first animated superhero series to feature a Black lead. The show aired for four seasons in the early 2000s, after McDuffie had already co-founded Milestone Media in 1993, a publishing company focused on producing work by and about underrepresented minorities in American comics.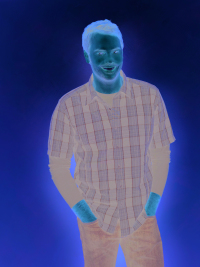 Barry Watson stars in "Naomi"
Sadly, McDuffie died suddenly in 2011, so Naomi McDuffie now serves as a brilliant tribute to the real-life hero's trailblazing work — so, too, does the Dwayne McDuffie Award for Diversity in Comics, which has been awarded to a person or collective at the Long Beach Comic Expo every year since 2015.
For fans who can't wait to sink their teeth into some superhero action ahead of the "Naomi" premiere, CW has created an expansive universe of shows to discover (or rediscover) in the meantime. The universe, of course, includes the show that started it all (and for which the "Arrowverse" is named), "Arrow." The eight-season series, which wrapped up in early 2020, sees good-guy billionaire Oliver Queen (Stephen Amell, "Heels") don his disguise and fight crime in the fictional metropolis of Star City with — you guessed it! — a bow and arrow.
Fellow Arrowverse series "Supergirl," starring Melissa Benoist ("Whiplash," 2014) as Superman's cousin and National City savior Kara Zor-El, aired its series finale much more recently, in November 2021. Last year also welcomed "Supergirl" spinoff series "Superman & Lois," led by Tyler Hoechlin ("Teen Wolf") and Elizabeth Tulloch ("Grimm") as Clark Kent and Lois Lane, now back in Smallville.
"Black Lightning," meanwhile, which stars "Prison Break" actor Cress Williams as Jefferson Pierce, a school principal and retired superhero who picks up his super-suit to face a new danger in Freeland, Georgia, returns to CW for Season 5 sometime in 2022. And "Batwoman," which just recast its lead with "The Family Business" star Javicia Leslie, began its third season this past October.
Of course "Glee's" Grant Gustin also landed his own wildly popular origin series, "The Flash," which began in 2014. It follows the super-fast crime fighter Barry Allen (Gustin), whose day job as a crime scene investigator gives him an inside look at the underbelly of Central City.
Finally, for fans of ensemble series, "Legends of Tomorrow" follows a rag-tag group of timeline-hopping heroes and villains.
Don't miss "Naomi" when she flies onto a screen near you starting Tuesday, Jan. 11, on CW.