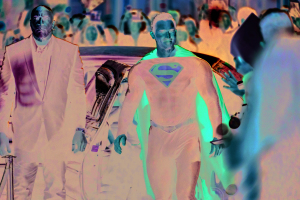 Tyler Hoechlin in "Superman & Lois"
After one last hiatus of the season (this one just one week long), fans are excitedly waiting for "Superman & Lois" to return; the series' second-season finale airs Thursday, June 28, on CW. Aptly titled "Waiting for Superman," fans are hoping the finale will answer a few questions and give a few hints for what's next in store for the Man of Steel and his family.
Already renewed for a third season by its CBS-owned home network, "Superman & Lois" follows the titular couple, played by Tyler Hoechlin ("Teen Wolf") and Elizabeth "Bitsie" Tulloch ("Grimm"), as they move back to Clark Kent's, aka Superman, hometown of Smallville, Kansas, to continue raising their family. When Clark loses his job and his mother on the same day, the Kents take over the farmhouse where Clark grew up, hoping it will be the perfect place for their sons to grow up, too.
While Clark and Lois first keep their secret from their sons, Jonathan (Jordan Elsass, "Little Fires Everywhere") and Jordan (Alex Garfin, "The Peanuts Movie," 2015), it becomes clear that Jonathan is developing powers of his own. As a result, it isn't long before Clark must tell his own children that he is Superman and train them to be prepared for their own futures has half-alien humans.
Season 1 proved an immense success — which should come as no surprise to anyone who is familiar with the current slate of superhero TV shows, the 2001-2017 series "Smallville," led by Tom Welling ("Lucifer") or, indeed, the '90s TV sensation "Lois & Clark: The New Adventures of Superman," starring Dean Cain ("Masters of Illusion") and Teri Hatcher ("Desperate Housewives") — and through threats both human and otherworldly, the Kent/Lanes always managed to come out on top.
Now, in Season 2, relationships evolve on all fronts as Lois runs the Smallville Gazette alongside Editor-in-Chief Chrissy Beppo (Sofia Hasmik, "All the Bright Places," 2020), secrets threaten Jordan and Sarah's (Inde Navarrette, "13 Reasons Why") blossoming relationship, and Jonathan grapples with inconsistent powers as he plays for his high school football team. To make matters worse, Clark and Lois are going through some troubles of their own.
Other troubles plaguing the Kent/Lanes and the citizens of Smallville range from Ally Allston (Rya Kihlstedt, "A Teacher"), whom Superman followed through a portal, and the Inverse Society to which she has connection. (Lois vowed to look further into their dealings as a part of an investigative piece with Chrissy for the paper.)
But without a doubt the most concerning issue across this season has been Clark's visions.
Beginning in the Season 2 premiere, Clark started seeing frightening flashes signaling an unspecified event, presumably in the future (or Earth-Prime's future, anyway). And while his visions, confirmed to be connected to an onslaught of recent earthquakes, were first thought to indicate the arrival of the supervillain Doomsday, this season's third episode revealed another threat entirely: Bizarro.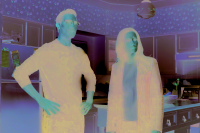 Tyler Hoechlin and Bitsie Tulloch in "Superman & Lois"
Since then, Superman has been fighting Bizarro (also played by Hoechlin) while encountering doppelgängers as well as alternate timelines and universes — all in a way only CW's Arrowverse can.
As of writing, there has been no sign of the previously expected Doomsday, though just because he hasn't shown up yet, it doesn't mean he never will.
Thanks to a comment made early on this season by "Superman & Lois" showrunner Todd Helbing ("The Flash"), many fans are still expecting an appearance from the deadly prehistoric Kryptonion. While some speculate that he may be brought forth by Bizarro himself, others foresee an alliance between Bizarro and Superman should the villain appear this season (or next) in Smallville.
"There's so much lore [and] mythology in the Superman universe that we feel it's our obligation to tell a unique story," Helbing said of the show's process. "We take inspirations from the comics as much as possible, and then we try to twist it. We did the same thing here."
While, at the time, that comment seemed only to signal one thing — the imminent arrival of Krypton's chaotic creature — the events of this season to date have proven that there is rarely just one option when it comes to pending doom and danger.
"In a way, there are certain rules with Superman," Hoechlin said in an interview with EW.com. "There are certain rules with Clark. ... With [Bizarro], there aren't really any rules."
Hoechlin's comment is perhaps a scary prospect to the townsfolk of Smallville, but to viewers, it may well serve as a beacon of hope for a great finale. In a land where no one knows what to expect, the potential outcomes are, essentially, limitless.
If only fans had some of Clark's visions to help them out ...
Don't miss the Season 2 finale of "Superman & Lois" when it airs Thursday, June 28, on CW. Who knows, it could mark the arrival of a new villain.