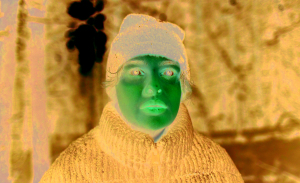 Miriam Ingrid stars in "Beartown"
If you like hockey, Swedish backdrops, shocking twists and inspiring stories about small communities, then you're in luck. The five-part series "Beartown" takes all of these qualities and turns them into a new series that is set to premiere Monday, Feb. 22, on HBO.
It isn't every day you see a hockey drama hit the mainstream, and this one is certainly a far cry from the Mighty Ducks movie franchise. As Beartown, a small community in Sweden, prepares for its junior ice hockey team to win in the Swedish national semifinals, it is clear that, for all intents and purposes, this particular group of teenage boys is the forest town's last beacon of hope. Hockey is no joke in Beartown, as is proven by the events to come — beware: some sensitive/potentially triggering event details to follow.
The intense pressure of the impending game has been weighing heavy on one of the team's star players, Kevin (new actor Oliver Dufåker), and at a party he sexually assaults 15-year-old Maya Andersson (Miriam Ingrid, "Day Trip," 2020). As she tries to heal from the trauma caused by the crime, the series turns from an intense hockey showdown to a domino-effect, he-said-she-said drama. The event's turmoil leaves no resident untouched and Beartown, known for its reputation as a hockey town, is left to deal with the ripples of the act of violence.
Meanwhile, Benji (budding actor Otto Fahlgren), a sensitive, troubled character who lost his father when he was young, is used to getting himself into trouble. While Kevin's entitlement goes so far as to have the charges against him dropped, his friendship with Benji goes through major changes as Benji learns the truth of what happened that fateful night with Maya.
Maya is an artistic and ambitious young girl who does not care for hockey, despite her father's position as the team's general manager. Unfortunately, she's up against Kevin's glowing reputation and the community's love for him, putting her at a loss with her case. How she handles this struggle remains to be seen, though footage from the trailer shows her fixing a rifle on a perceived off-screen threat.
Also appearing in "Beartown" is Ulf Stenberg ("Love Me") as Maya's father, Peter Andersson, and Aliette Opheim ("Thicker Than Water") as her mother, Mira. The two are joined by Opheim's "Thicker Than Water" co-star Tobias Zilliacus as Mats Erdahl. The series stars actors that may be unfamiliar to U.S. audiences but are well known in Europe, particularly in the Scandinavian countries. But for actors Otto Fahlgren and Oliver Dufåker, who play Benji Ovich and Kevin Erdahl, "Beartown" is their first production.
It's obvious "Beartown" is not your typical feel-good story. The Swedish drama explores more than just the quaint and welcoming things that bring a community together. It dives into the secrets that can tear communities apart, the consequences of how we raise our boys and what it takes to go against a group.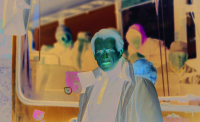 Tobias Zilliacus in "Beartown"
Based on the book "Beartown (Björnstad)," the show is the brainchild of its author Fredrik Backman. The novel was not only a New York Times Bestseller when it was published in 2018, but it was also put up for several awards, including an Audie Award, the Goodreads Choice Award and Book of the Year Award in its home country of Sweden. This wasn't the first time Backman's writing has garnered international attention, either. Producers made a film adaptation of Backman's 2012 debut novel, "A Man Called Ove," which went on to receive two Oscar nominations in 2017.
Looking to the novel for clues about what the series will bring, we know that it's shocking. Shocking enough for a North Carolina school to remove it from its reading list for being too vulgar. So, U.S. audiences can only imagine how the show will approach such a sensitive subject (it does have a rating of TV-MA). But producers chose Backman's story for a reason; it isn't just shock value. The characters are multi-dimensional, the plot is unique and it dares to venture into culturally relevant, moral territory.
As the #MeToo movement holds strong and millennials and Gen Zs largely tear apart the elements of "toxic masculinity," the scope of "Beartown" goes beyond an audience looking for a new bingeable series, and it does so without pushing any agenda. The relationships and interactions between characters are commentary enough — and the outcome of the ruling against Kevin decries how people treat women when their attacker is a popular public figure. Despite the incredible downs and darkness of the story, Backman injects an overarching theme of hope: hope for the town, hope for recovery and hope that we can do better as a society.
In charge of transforming the novel into a series are showrunners Anders Weidemann ("30 Degrees in February"), Antonia Pyk ("Blue Eyes") and Linn Gottfridsson (the Arne Dahl franchise). Filmlance International produced the series which was then distributed by HBO's Max and Nordic divisions and was overseen by Bonnie Skoog ("Eternal Summer," 2015) and Mattias Arehn ("Para knas" 2017), and executive producers Hanne Palmquist ("Beforeigners"), Steve Matthews ("Beforeigners") and Antony Root ("Tuff Money"). If fans of the novel have any concerns, they can rest easy knowing Filmlance is one of Scandinavia's leading production companies, responsible for numerous Swedish hits, including the Netflix series "Caliphate," the 2011 drama "Stockholm East" and the Torgny Segerstedt biopic "The Last Sentence" (2012).
Each episode of "Beartown" may have you reading subtitles, but it will keep you engaged every step of the way. The only perceivable problem with the series is that it's only five episodes long. Don't miss the first episode of Frederik Backman's "Beartown" when it premieres Monday, Feb. 22, on HBO.