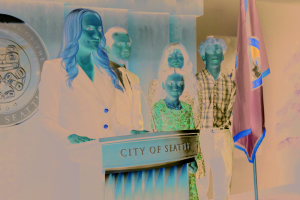 Toni Collette, John Leguizamo, Pietra Castro, Auli'i Cravalho and Gerrison Machado in "The Power"
What if the power balance of the world shifted, seemingly overnight, and your fate was suddenly in the hands of a teenage girl?
Premiering Friday, March 31, on Prime Video, the highly-anticipated sci-fi thriller "The Power" explores a reality where young women all over the world suddenly gain life-altering, supernatural abilities and must learn to grapple with their newfound strength.
Based on the award-winning novel of the same name by Naomi Alderman, "The Power" stars Toni Collette ("The Staircase") as Mayor Margot Cleary-Lopez and Auli'i Cravalho ("Moana," 2016) as her daughter, Jos, who are two of the many people impacted when young girls mysteriously start developing the ability to electrocute others at will.
Margot, described as a "genuine, progressive politician" and a mother of three, is thrust into the spotlight as the "power balance of the world around [her] is flipped on its head," and her own teenage daughter starts experiencing tinglings of this new, shocking phenomena.
What was once an average, modern-day civilization with a patriarchal society is transformed by the emergence of The Power. The status quo is questioned as the strength of these young women – both supernatural and otherwise – brings forth the possibility of a new order: a matriarchy.
In a voiceover from the show, Margot explains: "We never dared to imagine it: a world that was built for us, where we made the rules. That world was at our fingertips all this time. All we had to do was burn down the world that was."
But, of course, no great power comes without great sacrifice (or responsibility). We've all (likely) seen enough superhero movies to know that.
Collette's performance is mirrored by that of "The Good Wife" alum Josh Charles, who was first tied to the role of Gov. Daniel Dandon in mid-2022. Dandon, both a Liberal and a Democrat, is poised to be Collette's greatest foil. He is the governor of Washington and a "skilled political animal" who is always poised with a snide remark.
Rounding out this all-star cast are "Ted Lasso's" Toheeb Jimoh as Tunde, an aspiring young journalist from Nigeria; Ria Zmitrowicz ("Misbehaviour," 2020) as Roxy, the frustrated daughter of a British mobster; newcomer Halle Bush as Allie, a foster child and victim of abuse; and John Leguizamo ("The Menu," 2022) as Rob Lopez, Margot's longstanding, devoted husband.
Alderman worked alongside an all-female writers' room while adapting her novel — a trend that continued through production, with all 10 episodes later directed by women. Ulga Hauksdóttir ("Hanna") and Shannon Murphy ("Killing Eve") are both credited for directing multiple episodes through the series, alongside a slate of talented creatives including Lisa Gunning ("Tigerman," 2020), Neasa Hardiman ("Happy Valley") and Logan Kibens ("Snowfall").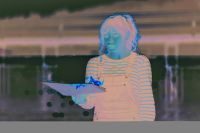 Auli'i Cravalho in "The Power"
Colette highlighted the importance of working with such a strong, female-led team in an interview with Variety, where she noted that it "contributed so much in terms of vision and collaborating," which proved essential during a long, arduous creative process.
"The Power" was originally slated to start filming in February 2022 with stars Leslie Mann ("Knocked Up," 2007) and Rainn Wilson ("The Office") at the helm, as Margot and Daniel, respectively. Unfortunately, only a month into production, "The Power" experienced a myriad of delays due to COVID-19 and its associated lockdowns. With production shuttered for the remainder of the year, Wilson faced scheduling difficulties and was forced to drop out of the project.
In early 2021, the role of Daniel Dandon was then offered to Tim Robbins ("The Shawshank Redemption," 1994), but a year later, Dateline reported that both he and Mann had exited the series. While neither the actors nor the outlet have made an official statement, it is widely believed these departures were also due to production delays.
With the eventual casting of Collette and Charles in 2022, "The Power" found its footing and took off running, having returned to production late last spring.
Along with new casting, it was announced that Raelle Tucker ("True Blood") would stand as both showrunner and executive producer of "The Power" as part of a multi-project deal with Amazon Studios. She is joined by Jane Featherstone ("Chernobyl") and Naomi de Pear ("Flowers") of Sister Pictures, Claire Wilson ("Gangs of London") and Emmy winner Reed Morano ("The Handmaid's Tale").
As Colette said, "It's a story about women having agency, feeling safe and confident, and having some sense of sovereignty, so it's very empowering to be a part of and to watch."
"The Power" premieres with four episodes on Friday, March 31. The remainder of the season's 10 episodes will be released weekly, on Fridays, exclusively on Prime Video.