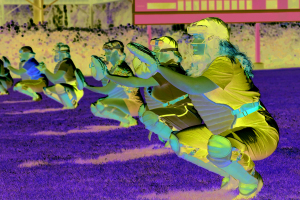 Abbi Jacobson in a scene from "A League of Their Own"
One of the most iconic sports film classics now has its own series adaptation. Friday, Aug. 12, Prime Video premieres all eight episodes of its much-anticipated baseball comedy-drama, "A League of Their Own." Based on the 1992 film of the same name, this updated version retells the story of the formation of the Rockford Peaches and the World War II-era all-female baseball league.
Series co-creators Abbi Jacobson ("Broad City") and Will Graham (executive producer of "Mozart in the Jungle") announced the project in an August 2020 statement, causing fans of the original film to eagerly await the premiere date.
Acknowledging a popular obsession with the source material and appreciation for the film's director, Penny Marshall's ("Laverne & Shirley"), impact, Jacobson and Graham noted that "with the help of an enormously talented team of collaborators, an amazing cast and the devoted support of Amazon to this project, we feel beyond lucky and excited to get to bring these characters to life."
Jacobson does double duty in "A League of Their Own," acting behind the scenes as co-creator and co-writer and stepping in front of the camera as series lead Carson Shaw. Rounding out the roster are Chanté Adams ("A Journal for Jordan," 2021) as Max Chapman, Gbemisola Ikumelo ("Famalam") as Clance, D'Arcy Carden ("The Good Place") as Greta, Roberta Colindrez ("I Love Dick") as Lupe, Priscilla Delgado ("Julieta," 2016) as Esti and Kelly McCormack ("Killjoys") as Jess.
The original film version of "A League of Their Own" is responsible for, inarguably, one of the most memorable lines in film history, as performed by Tom Hanks ("Elvis," 2022) in the role of the Rockford Peaches' luckless manager Jimmy Dugan: "There's no crying in baseball!"
The role is a big one for any actor to step into, but Amazon Prime has cleverly cast another beloved actor to manage these new Peaches.
After bringing the stern man of few words Ron Swanson to life in the award-winning sitcom "Parks and Recreation," Nick Offerman is on Dugan duty, portraying the man who helps the Peaches settle into the titular league of their own.
Jacobson, meanwhile, while discussing the challenges of creating a unique adaptation while remaining true to the real-life All-American Girls Professional Baseball League and paying homage to the film, told The Hollywood Reporter, "I think it's as original as we could make it being based on that real league."
"I don't think any characters are really mapped on anyone," she continued before going on to explain in the same interview that "in the pilot, we nod to the movie the most, and there are nods as you keep going."
A trailer released by Amazon in June may include one of the nods to which Jacobson was referring — specifically, a recreation of the scene where Geena Davis' ("GLOW") character, Dottie, runs to catch the train to the league tryouts in Chicago, only this time with Jacobson's Carson chasing the train.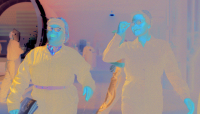 Gbemisola Ikumelo and Chanté Adams in "A League of Their Own"
There is, of course, also a literal nod in the original film that Prime's "A League of Their Own" aims to expand upon.
For a brief moment in the film, a Black woman attending a Rockford Peaches game throws back a foul ball, making eye contact with Dottie before she is never seen again, despite having a killer arm. In a news release, Amazon Prime states its intention to develop the backstories of the series' characters, saying, "the show takes a deeper look at race and sexuality, following the journey of a whole new ensemble of characters as they carve out their own paths towards the field, both in the league and outside of it."
Amalgamating three real-life Black female baseball players into the character of Max is one such way "A League of Their Own" further develops the Rockford Peaches. Series writers found inspiration for Max in Connie Morgan, Toni Stone and Mamie Johnson, the first three Black women to play major league baseball, all of whom competed alongside men in the Negro American League.
In an interview transcribed on RogerEbert.com, Adams, who plays Max, discussed the history of Black women in major-league baseball.
"I think the fourth woman to ever do it [play major-league baseball] was Kelsey Whitmore, one of our coaches during this process," Adams said. "That was this year, 2022. These women did this back in the '50s. We should know their names and we should know their stories."
Speaking of legacies, there is one particularly fun cameo in "A League of Their Own" for fans of the original film.
Joining the series as a guest star is Rosie O'Donnell ("I Know This Much Is True"), who played Doris in the film. While not returning as Doris, Entertainment Weekly reported that O'Donnell will take the screen as Vi, "a local bar owner" and "fan of the Rockford Peaches," who "crosses paths with Jacobson's catcher, Carson, and soon welcomes her into her orbit."
Grab your peanuts and Cracker Jack; it's time to settle in for the premiere of "A League of Their Own." All eight episodes of the series drop Friday, Aug. 12, on Prime Video.