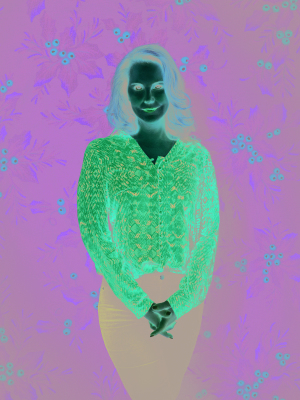 Elizabeth Perkins stars in "The Moodys"
Perkins in prime time: Christmas has come early -- literally -- for actress Elizabeth Perkins ("Sharp Objects"), who will be celebrating the holidays on-screen this week.
Perkins stars in "The Moodys," a three-night holiday "event" that begins Wednesday, Dec. 4, on Fox and continues on Dec. 9 and 10. She plays the role of Ann opposite Denis Leary ("Rescue Me") as Sean Sr. -- the Moody mom and dad -- while Jay Baruchel ("How to Train Your Dragon: The Hidden World," 2019), Chelsea Frei ("Sideswiped") and Francois Arnaud ("The Borgias") star as their adult children.
The series, which filmed in Montreal, Quebec, throughout the month of October, is a humorous look at a less-than-perfect family trying to enjoy their less-than-perfect holidays together. And while "The Moodys" is based on an Australian comedy series, expect this American adaptation to mix holiday hijinks with some all-too-relatable moments, like parent-imposed holiday cheer.
Perkins' name also came up in the news recently when it was revealed that a followup to "Weeds" -- the Starz series that earned her multiple award nominations -- is in development. The storyline will pick up 10 years after the events of the series finale. While series lead Mary-Louise Parker is set to return, it looks like Perkins may not (you'll recall she left the series after five seasons).
But don't shed a tear for Perkins, because she has another project premiering this week over on Apple TV , though it has a far more serious and decidedly less Christmas-y tone than "The Moodys."
"Truth Be Told" casts a critical eye on our obsession with true-crime podcasts and the dangers of trying cases in the court of public opinion. Octavia Spencer ("Mom") stars as podcaster Poppy Parnell, who begins to think she mistakenly put an innocent man behind bars. And Perkins stars as Melanie Cave, mother to convicted killer Warren Cave (Aaron Paul from "Breaking Bad"). The first three episodes will be available to stream on Dec. 6.
No more 'Nightly': It's been a PBS staple since 1979. But right now, it looks like 2019 might be the final year for "Nightly Business Report."
Although it has produced the longest-running business news broadcast, since 2013, CNBC recently announced that it was ending its involvement with the show, as reported by Variety.
In a prepared statement, CNBC explained that it had "made the difficult decision to stop producing 'Nightly Business Report' at the end of this year. We would like to give a special thanks to the loyal viewers as well as our partners, American Public Television, and WETA, our presenting station."
"NBR" will cease production on Dec. 27 and there have been preliminary reports of discussions with BBC News to fill the time-slot.
There's a lot of history behind this show, which predates CNBC and even its predecessor, FNN (Financial News Network). It started out as a WPBT (now South Florida PBS) production based in Miami, with anchor Paul Kangas and guest commentator Alan Greenspan. Greenspan only left in 1987 when he became chairman of the Federal Reserve.
For a long time, "NBR" was the only evening broadcast dedicated entirely to business news. It aired in all 50 states and was carried by 183 public stations.
But this decade has brought a lot of changes behind the scenes – first with the show's sale in 2010, then funding cuts and several rounds of layoffs before relocating to Englewood Cliffs, N.J., under CNBC.
The end of its run is a sign of the times, since stock information and market news are instantly accessible, and 24/7 instead of summarized in a nighty wrap-up on TV. Still, it leaves behind a great legacy, as per APT president and CEO Cynthia Fenneman: "This is smart television which will be deeply missed."
Golden Gervais: He's funny and irreverent. And he's back to roast Hollywood A-listers once more (oh, and introduce a few awards, too).
Comedian Ricky Gervais ("After Life") has been tapped as host of the 77th annual Golden Globes, which airs Jan. 5, 2020, on NBC. This will be his fifth turn as the ceremony's emcee, having hosted in 2010, 2011, 2012 and 2016.
The news came as a surprise to those expecting NBC and the Hollywood Foreign Press Association (HFPA) to follow the Oscars' lead and go hostless, as it did for most years prior to 2010.
And it probably came as a shock to some celebrities and critics, because Gervais ruffled quite a few feathers with some of his past barbs, with some of his sharpest comments reserved for stars like Mel Gibson ("The Beaver," 2011). Despite being a three-time winner, he even sent up the awards in his 2016 monologue, when he told nominees, "If you do win tonight, remember that no one cares about that award as much as you do."
The announcement included a statement from HFPA president Lorenzo Soria, who said, "When Ricky Gervais is at the helm of the Golden Globe Awards, we can always expect the unexpected." And that's probably why they invited Gervais back for more – they're hoping Gervais will say something that will get people talking.
This year's hosts were Andy Samberg ("Brooklyn Nine Nine") and Sandra Oh ("Killing Eve"), who channeled Gervais in an opening monologue that had them dishing out compliments as though they were insults. Reviews were relatively kind to the hosts themselves, but critics didn't love the ceremony, and ratings were at their lowest since 2015.
Perhaps the creator of "The Office" can halt that slide in 2020. "Once again, they've made me an offer I can't refuse," Gervais said in the news release. And true to form, he poked fun at himself for having previously vowed to never host again before teasing what's to come: "But this is the very last time I'm doing this, which could make for a fun evening."