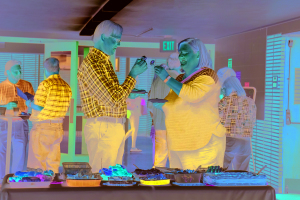 Jeff Hiller and Bridget Everett in "Somebody Somewhere"
The wait is over, and the fate of choir practice will finally be revealed for those who have been anticipating the return of the word-of-mouth hit dramedy, "Somebody Somewhere."
Season 2 premieres Sunday, April 23, on HBO and HBO Max, with Bridget Everett ("Inside Amy Schumer") reprising her role as Sam Miller, who has found her own community after moving back to her hometown of Manhattan, Kansas, to care for her dying sister.
Happiness can be hard to find until you choose to stop shooing it away — that's the lesson that Sam learned in the first season of "Somebody Somewhere." Grieving her sister and bristling against her other family members, fate intervenes at Sam's dead-end job in the form of Joel, portrayed by "American Horror Story" actor Jeff Hiller. Joel is a former high school classmate who remembers Sam as the standout performer in a show choir.
After initially brushing it off, Sam gives in to Joel's invitation to his church's "choir practice." It is not in fact an "officially sanctioned" church event, as Joel puts it, and with the exception of the permanent fixtures on Faith Presbyterian Church's walls, is not about worshipping the Christian faith. Joel's choir practice is really a sort of open mic cabaret, with all kinds of performers being welcomed onto the stage by local professor and natural MC, Fred Rococo (Murray Hill, "Life & Beth"). Performing successfully brings Sam out of her shell and helps her connect with the kind of outsiders she didn't know existed in her hometown. However, wracked with guilt over having lied to his pastor, Joel leaves the church and his set of keys behind, putting choir practice on an indefinite hiatus.
Joel is the kind of friend to Sam that everyone dreams of having in their corner. He sees Sam for the best of who she is, even if she doesn't always see it in herself. Joel's admiration for Sam doesn't keep him from being exactly himself with her, including imparting hard-earned wisdom when it's needed. That's something that series co-creator Hannah Bos ("Driveways," 2019) shared with Vanity Fair in a March interview, and now that Sam has begun to make a life for herself in Manhattan, she will continue to grow personally in the upcoming season. Bos explained, "She's dealing with this giant thing, which is: Is she worthy of love? This relationship with Joel, it's a big relationship for her — because he not only calls her out ... he also encourages her."
Bos and the writers of "Somebody Somewhere" crafted Sam and Joel's friendship with palpable affection while keeping the naturalistic tone of the rest of the series. Speaking about close friendship, Bos told Vanity Fair, "you love someone so much they teach you to love yourself. And then there are always consequences with those kinds of relationships, because they're so heightened." The grounded realism in the scripts and performances is something that Hiller also discussed in the Vanity Fair profile of "Somebody Somewhere," saying, "the mandate is authenticity — not getting too wacky, but also not getting too maudlin or sappy."
Bridget Everett in "Somebody Somewhere"
While Sam finds happiness by reaching out and making friends, she pushes her family members to deal with the tough stuff. Exacerbated by grief, Sam's mother's alcoholism begins literally hurting her family when Mary Jo (Jane Drake Brody, "Chicago Fire") runs over her husband Ed's (Mike Hagerty, "Friends") foot and very narrowly avoids setting a serious barbecue fire. Encouraged by Sam, Ed got Mary Jo to attend a facility to help herself, which is where, according to the Vanity Fair interview, she "grudgingly" remains in Season 2.
Sadly, Hagerty died in May 2022 before filming began for the upcoming season. The loss was a shock for the cast and crew of the series, and ultimately, they decided to keep Ed in the show but off-screen, with the idea that he's visiting his brother. Everett told Vanity Fair, "he brought so much heart to the show, so [we were] having to figure out all that stuff at the last minute while grieving his loss. We decided to honor him throughout the show, just in small ways."
Brought together by hardship after hardship, Sam and her other sister, Tricia (Mary Catherine Garrison, "Veep"), seemed to be in a good place in the finale, having bonded over their mother's inability to take treatment seriously and the revelation of a brutal secret. Of course, Sam had to be the one to see Tricia's husband in the act of cheating on her with none other than Tricia's best friend and business partner. Risking further complicating their adversarial relationship, Sam tells Tricia what she needs to know. Everett told Vanity Fair that Tricia "is so incredible in this season," so the new divorcee life is presumably treating Tricia well.
Don't miss the second season premiere of "Somebody Somewhere," airing Sunday, April 23, on HBO and and streaming on HBO Max.