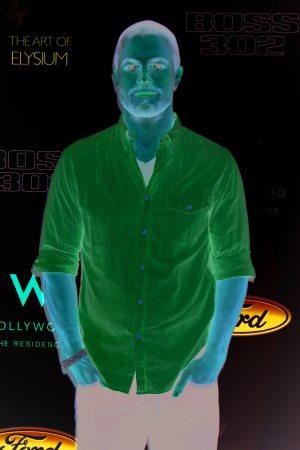 Stephen Amell will appear in an upcoming episode of "The Flash"
Over in a 'Flash': As the CW's "The Flash" kicks off its ninth and final season this Wednesday, Feb. 8, fans are gearing up for some last twists, storyline endings and star appearances during the series' final run.
One of the biggest pieces of news that had fans buzzing last month is that Canadian actor Stephen Amell, who effectively launched The CW's Arrowverse with his eight-season run as Green Arrow (and alter ego Oliver Queen) in "Arrow," is set to make a guest appearance in Episode 909 of "The Flash."
This won't be the first time Amell has appeared in "The Flash" — his vigilante archer Oliver Queen has popped up in eight episodes so far — but given the series is now ending, it looks to be his last.
"As soon as our final season was announced, we knew we wanted Stephen to come back and reprise his iconic role as Oliver Queen," executive producer Eric Wallace ("Teen Wolf") said in a statement. "After all, it was Oliver who originally launched Barry Allen [played by Grant Gustin, "90210"] on his heroic path. That's why everyone on Team Flash felt so strongly that it was important to create a full-circle moment with Oliver's return in the final season of 'The Flash.' The result is an epic-yet-emotional episode we hope Arrowverse fans will enjoy. It's all to say 'thank you' to everyone for watching and supporting our show throughout nine wonderful years. We absolutely cannot wait for everyone to see Grant and Stephen saving the world together again. And yes, there will be thrills, chills and tears."
So, it's official: viewers will get to see Barry Allen team up with Oliver Queen one last time this season. And they can expect to see a few more familiar faces over the coming weeks/months: David Ramsey ("Dexter") will also reprise his role as John Diggle/Spartan, as will Keiynan Lonsdale ("Love, Simon," 2018) as Wally West/Kid Flash, Sendhil Ramamurthy ("Heroes") as Ramsey Rosso/Bloodwork, "Supergirl's" Nicole Maines as Nia Nal/Dreamer and "Batwoman" actress Javicia Leslie as Red Death.
'Uncoupled' cancelled: Another case of conscious uncoupling in the TV world, perhaps?
Netflix has declined to renew "Uncoupled," the rom-com from Darren Star ("Emily in Paris") and Jeffrey Richman ("Modern Family"). That means the series starring Neil Patrick Harris ("How I Met Your Mother") is effectively done after just one season.
"Uncoupled" centred on Harris' character, Michael Lawson, a successful real estate agent who seemingly had it all — until his partner of 17 years unexpectedly leaves him on the eve of his 50th birthday. The series follows Michael as he confronts the reality of losing the person he believed was his soulmate, and his sudden status as a single gay man in New York City. Tisha Campbell ("Martin"), Brooks Ashmanskas ("Julie & Julia," 2009), Emerson Brooks ("The Last Ship") and Marcia Gay Harden ("So Help Me Todd") also starred in the series.
Apparently, Netflix's cancellation of "Uncoupled" is one breakup that didn't catch everyone by surprise — at least, not to industry analysts. According to trade papers such as The Hollywood Reporter, "Uncoupled" only registered on Netflix's weekly Top 10 ranking the week it came out (it premiered on July 29, 2022), and it didn't seem to make waves in the weeks that followed, either. Deadline also reported that there was speculation late last year that producer MTV Entertainment Studios was looking to move the series to a Paramount Global network, such as Showtime. But a new home doesn't appear to be in the cards — not at the time of writing, anyway.
However, the streamer is still firmly committed to series co-creator Star, whose other Netflix series, "Emily in Paris," continues to deliver big audiences and has already been renewed for a fourth season.
'Second' Hulu series: Actress Emma Roberts had a busy year in 2022 and she's undoubtedly trying to keep that momentum going.
Coming off the 2022 films "Abandoned" and "About Fate," the "American Horror Story" alum leads the star-studded cast of the rom-com "Maybe I Do," which was recently released in theaters.
But Roberts has a few more acting projects in pre-production right now, including Marvel film "Madame Webb," due out in 2024. She's also boarded a new Hulu series as both actress and producer, and it marks a reteaming with fellow "Tell Me Lies" co-producer, Meaghan Oppenheimer.
Their new project, "Second Wife," is being described as a dark comedy. It follows Sasha (Roberts), who is coming off a recent breakup and has decided to start over in London, where she quickly falls for divorced father Jacob, played by Welsh actor Tom Ellis ("Lucifer"). They impulsively decide to get married, and that's where it starts getting complicated as they realize they don't know each other quite as well as they thought they did.
Roberts comes to this project via her book club-turned-production company, Belletrist TV, which signed a first-look deal with Hulu back in 2020 and focuses on adapting books for television — books such as Carola Lovering's "Tell Me Lies," which made the leap to the small screen last September. The series has since been renewed for a second season.
As for Oppenheimer and leading man Ellis, who will also star in Hulu's upcoming limited series "Washington Black," "Second Wife" marks their first creative collaboration, but they're partners off-screen, as well — the two married in 2019.