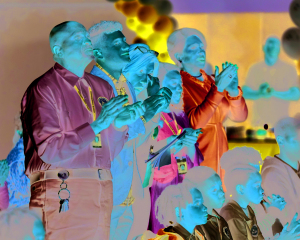 William Stanford Davis, Chris Perfetti, Lisa Ann Walter, Quinta Brunson and Sheryl Lee Ralph in "Abbott Elementary"
School lovers and school haters alike are talking about "Abbott Elementary." Created by Philadelphia-born comedian Quinta Brunson ("A Black Lady Sketch Show"), the half-hour sitcom has been celebrating educators and cleaning up at awards shows since its December 2021 premiere. Wednesday, April 19, marks the show's second-season finale on ABC, and judging by the series' immense popularity, the event is not one to miss.
Shot in the mockumentary style, "Abbott Elementary" is a workplace comedy worthy of the greats — "The Office," "Parks and Recreation" and "Superstore," to name a few from recent years. Set in a predominantly Black public school in Philadelphia, each episode (a total of 36 by the end of this season) follows the teachers of Willard R. Abbott Elementary, one of the country's many underfunded and overlooked educational institutions. While the teachers all differ hugely from one another in terms of culture, upbringing and sense of humor, they are brought together by one common bond: the well-being of their students.
Brunson herself stars as second-grade teacher Janine Teagues, a woman who, despite her own personal problems, strives to set her class up for success by promoting happiness and self-assurance. Joining Ms. Teagues on the faculty are Gregory Eddie (Tyler James Williams, "Everybody Hates Chris"), a substitute-turned-full-time teacher with a crush on Janine; Melissa Schemmenti (Lisa Ann Walter, "The Parent Trap," 1998), a second-grade teacher with potentially dodgy acquaintances; Jacob Hill (Chris Perfetti, "The Night Of"), a caring and supportive work ally; Barbara Howard (Sheryl Lee Ralph, "Moesha"), a no-nonsense, old school teaching legend who is all too familiar with the way the education system (and its funding) works in Philly; and Ava Coleman (Janelle James, "Central Park"), the school's often incompetent principal who makes Ms. Teagues' work life far more difficult than it needs to be.
William Stanford Davis ("Ray Donovan") also joined the cast this season as Abbott Elementary's quirky, overqualified custodian, Mr. Johnson.
Based on Brunson's own mother's four decades of experience as a Philadelphia educator, it's no surprise that many of the themes in "Abbott Elementary" ring true for many teachers, parents and probably a fair share of students as well. From seemingly arbitrary funding choices to children with behavioral challenges and larger-than-life parents, "Abbott Elementary" proudly exposes at least one kernel of truth in every scene.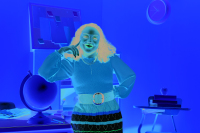 Quinta Brunson stars in "Abbott Elementary"
Now renewed for a third season ahead of April 19's Season 2 finale, the ABC sitcom has so far earned three Primetime Emmys to back up its 99 per cent rating on RottenTomatoes.com.
Hailed by critics as "a show that knows it's got the formula right" (Benji Wilson of the Daily Telegraph), "one of the most uplifting and quietly touching shows on TV" (Dan Eiman of the Financial Times) and "TV's best comedy" (Ammal Hassan of Esquire Magazine), perhaps The Ringer's Alison Herman put it best when she wrote, "'Abbott Elementary' is neither saccharine nor cynical in its treatment of systemic issues," calling it "an impressive balancing act that's actually earned the acclaim it deserves."
While Abbott's teachers and students have both grown immensely from the pilot to its sophomore finale, Season 2 hasn't been without its share of trouble (beware of spoilers ahead).
The season began with Janine in hot water as she faced the possibility of eviction in the face of a breakup. To make matters worse, her lesson planning took an unexpected turn when she and her colleagues received news that they are facing a staff shortage and a few classes of different learning levels must now be combined. To complicate matters further, the faculty has been grappling with funding limitations (what else is new?) in the face of a new student's physical disability, when trying to purchase a new computer and when the aging plumbing system failed to live up to the school's current needs.
Additionally, attack ads have nearly tarnished the school's reputation, a fire in the staff lounge managed to send everyone into a panic, and most threateningly, the discussion surrounding the privatization of the public school system has staff and parents alike questioning everything further. And while, as of writing, ABC has not released any information regarding the Season 2 finale, all signs point to a major shift coming down the pipe for Abbott regarding the influence of the Legendary Charters.
Regardless of what is to come, however, fans of the show can rest easy knowing there is plenty more on the way.
In an interview with Variety, Craig Erwich, president of ABC Entertainment, Hulu and Disney Branded Television Streaming Originals, praised "Abbott Elementary" for its success and looked ahead to the sitcom after Season 2.
"I think it just continues to grow creatively," Erwich said of Brunson's series. "Each of the characters are getting more dynamic and the situations are getting funnier, so there's years for this show to go. As for the future of 'Abbott,' I'm just constantly delighted and surprised by what Quinta [Brunson] and her team do."
Don't miss the Season 2 finale of "Abbott Elementary," airing Wednesday, April 19, on ABC and streaming on Disney .