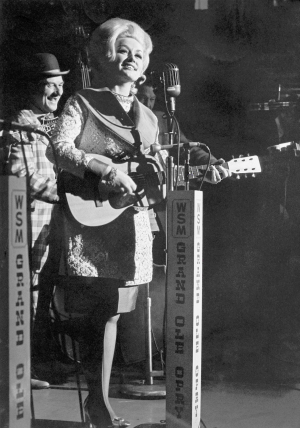 Dolly Parton at the Grand Ole Opry in 1969
Opry anniversary: She's a living legend who has written more than 3,000 songs, earned 47 Grammy nominations and received at least one nomination for each of the EGOT (Emmy, Grammy, Oscar, Tony) awards.
Last month, Dolly Parton celebrated her 50-year anniversary with the Grand Ole Opry with two performances at the revered venue. If you couldn't make it to one (or both) of the sold-out shows, give thanks for NBC this week: the network has combined the two sets into one TV special titled "Dolly Parton: 50 Years at the Grand Ole Opry." It airs Tuesday, Nov. 26.
The musical celebration brings you all the highlights of this golden anniversary, including all-star tributes, interviews and cover performances from veteran artists such as Emmylou Harris, Toby Keith, Lady Antebellum, Dierks Bentley and Hank Williams Jr.
Parton also performs some of her greatest hits, such as "Jolene," which has been recorded more times than any other Parton-penned song; "I Will Always Love You," which was famously (and beautifully) covered by the late Whitney Houston in 1992; and Parton's personal favorite, "Coat of Many Colors."
Another big hit is "9 to 5," the Grammy-winning/Oscar-nominated theme to the 1980 film of the same name that marked the singer's big-screen debut. The workplace comedy turns 40 next year, and while a planned sequel won't be moving forward, the "9 to 5" musical is still going strong in London's West End, where David Hasselhoff will soon step into the role of the villainous boss.
As for the NBC special, it should offer fans a nice retrospective of a career that already spans five decades and is still going strong. In fact, Parton, 73, seems as busy as ever. She co-hosted the CMA Awards earlier this month and she's at the center of the podcast "Dolly Parton's America." There's also her brand-new Netflix anthology series, "Heartstrings," which features stories based on Parton's famous songs. And to cap off a busy 2019, the singer has a cameo in the holiday film "Christmas at Dollywood," airing Dec. 8 on Hallmark Channel.
Good role: Showtime's highest-rated series has made a power move that will boost its star power.
The CBS-owned cable network recently announced that Julianna Margulies ("The Good Wife") has signed on for a recurring role in "Billions," which will return for a fifth season in spring 2020.
The award-winning actress -- she has won three Emmys, a Golden Globe and eight SAG Awards -- will appear in several episodes as Catherine Brant, a bestselling author and an Ivy League sociology professor. And while few other details are known about her character, you can be sure Margulies will more than hold her own on this viciously funny show.
Margulies' most recent TV projects were National Geographic's Ebola-themed miniseries "The Hot Zone" and AMC's "Dietland," which was canceled after a single low-rated series. And while there had been talk of reprising her "Good Wife" role on the "The Good Fight," Margulies balked after CBS offered her a guest-star salary and she spoke out against the gender pay gap.
Margulies isn't the only new addition to Showtime's fictional world of big-time powerbrokers. Corey Stoll, who earned a Golden Globe nomination for his turn as Congressman Peter Russo in "House of Cards," has also signed on for a season-long arc. Stoll will recur as business titan Michael Prince from small-town Indiana.
The two stars will star alongside series regulars Paul Giamatti ("Sideways", 2004), Damian Lewis ("Band of Brothers"), Asia Kate Dillon ("Orange Is the New Black") and Maggie Siff ("Sons of Anarchy").
'Mayans' coming back: FX has added another season of "Mayans M.C." to its future lineup, but it subtracted one of the show's creators.
The Disney-owned cable network has officially renewed the "Sons of Anarchy" spinoff, which has been averaging 4.6 million weekly viewers across all platforms (broadcast and digital). The series, which stars JD Pardo ("The Twilight Saga: Breaking Dawn – Part 2", 2012), Clayton Cardenas ("S.W.A.T.") and Edward James Olmos ("Stand and Deliver," 1988), is set in the same fictional universe as its parent series, but the focus has shifted from SAMCRO to the Mayans chapter operating near the U.S./Mexico border.
It was also announced that Elgin James will serve as sole showrunner when Season 3 of "Mayans M.C." revs up in fall 2020.
Until recently, James shared creator and executive producer credits with Kurt Sutter, who created parent series "Sons of Anarchy." (Sutter is also married to series star Katey Sagal, who played club matriarch, Gemma).
But Sutter was ousted from "Mayans M.C." in October, just a few weeks shy of its Nov. 5 season finale, with FX citing complaints about on-set behavior. In an interview with Deadline, Sutter also admitted that relations with FX's corporate parent had become strained.
So what does this mean for TV's famous motorcycle outlaws? "Mayans M.C." is still in experienced hands, especially since Sutter had favored a more "hands off" approach this season to encourage others to step up (although that reportedly contributed to his early exit).
As for the status of Sutter's overall deal with 21st Century Fox TV, it's probably complicated right now. Plans for his proposed "Sons of Anarchy" prequel, titled "First Nine," are up in the air since FX/Disney owns the property, and that means Sutter can't shop it around. But since his overall deal with the studio is (to date) still intact, you can't blame Sutter's fans -- and there are many -- for holding out hope that both sides could still work something out.