Terry Crews returns to host Season 16 of "America's Got Talent"
As things begin to open up for summer and Americans begin adjusting to life in the wake of the pandemic, it's time to start celebrating all the things that make us great. Two returning NBC shows are shining a spotlight on some of America's best athletes and performers just in time for summer.
First, daring contestants take on extreme obstacle courses as they compete for a shot at a $1-million prize in the return of "American Ninja Warrior," airing Monday, May 31. Then, entertainers from all walks of life perform for judges Simon Cowell (yes, he's back!), Heidi Klum, Sofia Vergara and Howie Mandel in the season premiere of "America's Got Talent," airing Tuesday, June 1. So, no matter your taste — athletics or arts and quirk — NBC has something for the fan in you!
Based on the Japanese TV series "Sasuke," NBC's "American Ninja Warrior" is a sports competition show in which contestants attempt to navigate extreme obstacles. The most successful competitors move on to the finals where they compete for cash -- not to mention bragging rights. However, "American Ninja Warrior" is not for the faint of heart.
Over the show's first 12 seasons, even extremely fit competitors struggle to complete the obstacle courses as they vie for the prize. Only a handful have ever conquered Mount Midoriyama, the show's daunting final course.
Mount Midoriyama wasn't even part of the equation last season because the pandemic required such stringent safety measures. In a break with tradition, Season 12 finalists faced the Power Tower instead.
Fans will be happy to know that the dreaded Mount Midoriyama course will return this season, and finalists will once again travel to the course in Las Vegas after competing in two other cities — Los Angeles and Seattle.
Co-hosts Matt Iseman and Akbar Gbajabiamila will also be back, along with sideline reporter Zuri Hall. Fans may also recognize a few other familiar faces. Some of the show's most popular competitors from past seasons have already announced they will take another crack at the title.
According to Veronica Bush of ScreenRant.com, Flip Rodriguez, Joe Moravsky, Meagan Martin, Jesse Labrek and Najee Richardson have all taken to social media to announce they'll be back.
Unfortunately, walk-ons will not be allowed to compete due to safety protocols, but the competition has opened up to younger competitors. While past competitors had to be at least 19 to appear on the show, news broke in January that this season could include competitors as young as 15. It remains to be seen whether anyone that young has made it through the audition process, however.
Season 13 is back to full strength with 16 episodes, unlike Season 12, which had to be cut short due to the pandemic and aired just half of its usual number of episodes. The prize money will also be increased over last season.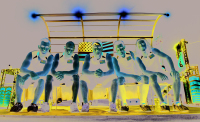 Team USA Ninja Warriors from "American Ninja Warriors: USA vs. Japan"
While Daniel Gil, the last Ninja standing in NBC's shortened Season 12, received $100,000, this season's winner could take home as much as $1 million. However, unlike some other series with such huge cash prizes, the $1 million is not guaranteed.
In the history of "American Ninja Warrior," only two contestants have ever walked away with that much money — Season 7's Isaac Caldiero and Season 11's Drew Drechsel. Fans will have to tune in to NBC beginning Monday, May 31, to see whether anyone has the strength and stamina to win this season's top prize.
And tune in to the network again the following night to catch an entirely different sort of competition when hopeful performers showcase their unique talents for a panel of expert judges in "America's Got Talent."
This season, series creator Cowell returns to the panel. During Season 15, he was forced to take a break from the show when he was hospitalized following an electric bike accident. Now back with Mandel, Klum and Vergara, who were all judges last season, they'll determine which acts will move on to compete in future rounds as contestants vie for a $1-million prize.
The judges may be familiar faces, but things will be a little different this time around.
Unlike past seasons that featured audition rounds in which performers took the stage in front of a live audience and the judges, Season 16's casting call asked acts to audition virtually via custom-built Zoom technology. Those who were deemed worthy of auditioning for the judges moved on to auditions in Pasadena, California. Seven audition-round episodes are slated to air before the live shows return in August.
"Brooklyn Nine-Nine's" Terry Crews will once again host the live shows, all of which will give American audiences the chance to weigh in and support their favorite performers.
As in past seasons, AGT Season 16 is expected to feature a wide variety of entertainers. From traditional musicians, comedians and dancers to more unconventional acts such as contortionists, animal performers and singing puppets, AGT always puts on a show.
Last season, spoken-word artist Brandon Leake became the first-ever poet to be crowned the AGT champion.
As TV viewers get ready to celebrate summer, they can enjoy a look at the best of America's best, thanks to shows such as "American Ninja Warrior" and "America's Got Talent."
Don't miss the action when they air new seasons beginning Monday, May 31, and Tuesday, June 1, on NBC.