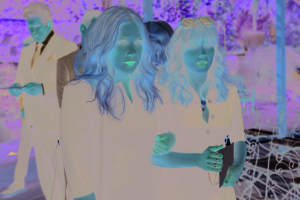 Christina Applegate and Linda Cardellini in "Dead to Me"
After a two-and-a-half-year wait, fans of Netflix's dark comedy "Dead to Me" are more than ready for Season 3. The return of the beloved series is bittersweet, however, as this season will be the series' last. "Dead to Me" returns to take its last breath Thursday, Nov. 17, on Netflix.
Not unlike one of its central characters, played by James Marsden ("Westworld"), "Dead to Me" appears to have returned from the grave to dish out more than its fair share of drama. But because of the long wait (and the ridiculous amount of turns that occur each season), it may be worthwhile to take a look back at the basic plot points of seasons 1 and 2 before jumping into what to expect for the show's last act.
Nominated for five Primetime Emmys across its first two seasons, "Dead to Me" begins with Jen (Christina Applegate, "Bad Moms," 2016), a newly widowed mother, seeking guidance in a local support group. Still clearly grappling with the shock and grief of losing her husband in a hit-and-run accident, Jen confronts her issues and feelings with a bitterly balanced spoonful of sarcasm and rage.
While at the group session, however, Jen meets Judy (Linda Cardellini, "ER"), an anxious woman whose life is a complicated mess. As the pair connect over their losses — and later, plenty of wine — Jen and Judy find comfort in their bond; a bond that seems all too perfect. Then the secrets begin to emerge. (Spoilers ahead for new viewers.)
After some confessions of various kinds and a girls retreat in Palm Springs, Season 1 sees Judy, who has fallen on hard times financially and emotionally, move in with her new-found friend. Not only does this move help Judy (more than anyone knows), but it also helps Jen to better raise her boys, who are understandably not coping well with their father's death.
As the seasons change from 1 to 2, however, audiences and characters alike learn that not only was Jen's husband having an affair, but Judy is the one who hit and killed him. As the truth comes to light, the women's friendship takes a nosedive and, in her desperation to make amends with Jen, Judy drudges up more problems for herself, namely, problems in the form of her scheming estranged husband, Steve (Marsden), whom (major spoiler) Jen kills and knocks into a pool in the season finale.
Naturally, Season 2 begins post-pool incident as Jen and Judy — now reunited by killing the other's significant other — deal with the events from the previous night. With a new investigation open regarding Steve's disappearance, the women realize just how difficult it is to get away with murder. Matters get even weirder when Steve appears to return from the dead.
From this point on, Season 2 capitalizes on Steve's story through a series of twists, turns and well-timed appearances. It is revealed that this new, resurrected Steve is actually his twin brother, Ben; Jen then enters into a romantic relationship with Ben, complicating matters further for all parties involved; and Judy begins a fling of her own with one Michelle Gutierrez (Natalie Morales, "Parks and Recreation"), who just so happens to be the ex-girlfriend of the detective on Steve's missing person case.
James Marsden in "Dead to Me"
Needless to say, things don't go smoothly for Jen and Judy in Season 2, and the whole season ends with a literal bang when Ben, who is drunk behind the wheel of his car, crashes into the best friends, who were driving home together. While Judy and Jen both survive the accident, Ben speeds off, unaware that they were in the car he hit.
While Netflix's official trailer shows plenty more high-stakes action this season, it was series creator Liz Feldman ("2 Broke Girls") who revealed that Ben goes on "quite a journey" in Season 3. While this could mean anything from learning his lover killed his twin, to getting roped into Steve's old money-laundering scheme, to realizing he nearly killed Jen and his sister-in-law in a hit-and-run, it's clear audiences will be seeing a lot more of Marsden's remaining character.
Audiences may also remember that Season 2 introduced a new threat: Jen's son Charlie (Sam McCarthy, "Condor"), who found the letter his mother wrote to Judy explaining her involvement in Steve's demise. Whether Charlie decides to expose his mother to the police or keep the letter as leverage in their relationship remains to be seen, but one thing the trailer does make clear is that there will be plenty of dark humor, surprises and F-bombs headed into the series finale.
Amid all the chaos, sarcasm and poor decision-making, "Dead to Me" is, at the end of the day, a show about the strength and resiliency of female friendship. Thanks to their fallibility, sense of humor and shared drive to protect one another, Judy and Jen are still by each other's side after all they've experienced. Now it's on Season 3 to determine whether that remains true in life, in death or in jail.
Don't miss the final season premiere of "Dead to Me" when it lands Thursday, Nov. 17, on Netflix.