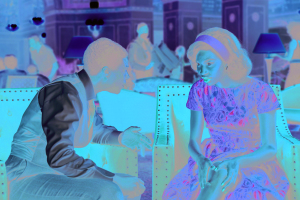 T.L. Thompson and Jaye Ladymore star in "4400"
As the trend of rebooting hit TV shows for modern audiences continues, one series stands out as more than just a rehash of the same idea. Its fresh perspective captivated viewers before the holidays, and it's returning early in the new year to continue the saga.
Thousands of marginalized and undervalued people who had gone missing over the past 100 years have suddenly reappeared in Detroit showing no signs of aging in "4400," which returns to CW with a midseason premiere on Monday, Jan. 17. With no memory of what happened to them while they were gone, many of them struggle to adjust to modern life, which is even harder when they discover they have newfound abilities such as telekinesis and healing powers.
The original "The 4400," created by Scott Peters ("V") and René Echevarria ("Star Trek: The Next Generation"), premiered on USA Network in 2004 with a similar premise and ran for four acclaimed seasons. In 2018, it was announced that CW was working on a new version of the series with "Limitless's" producer Taylor Elmore and series writer Craig Sweeny.
While the new show was pushed ahead, Ariana Jackson ("Riverdale") and Anna Fricke ("Everwood") eventually took over development of the project, which dropped the "The" from its title and is now known simply as "4400." Jackson and Fricke serve as executive producers for the CW show alongside Sunil Nayar ("CSI: Miami") and Laura Terry ("Relationship Status").
Viewers met the new group affected by the unexplained phenomenon when CW's "4400" premiered this past October. The new characters represent a wide range of economic and social classes, but they all have one thing in common. CW's new iteration of the cult hit sci-fi series looks at the world through a specific lens, which is what piqued the interest of executive Jackson.
"They wanted to do this reboot from a Black perspective, which is part of why I was so excited about it," Jackson told Entertainment Weekly's Sydney Bucksbaum in an October interview.
While the original show focused on the science fiction elements of the story, CW's "4400" concentrates on the characters. The ensemble cast offers viewers representation from various points in the past 100 years, highlighting the experiences of Black people through generations.
There is lawyer Shanice (Brittany Adebumola, "Grand Army"), who went missing shortly after giving birth to a baby girl and returns to find out her daughter is now a teenager; World War I-era surgeon Dr. Andre Davis (T.L. Thompson, "The Hunted: NYCSS"), who was once part of the Harlem Renaissance in the 1920s and is fascinated by modern medicine; Claudette (Jaye Ladymore, "Empire"), who was a 1950s housewife and influential Mississippi civil rights advocate; Rev. Isaiah Johnston (Derrick A. King, "Call Your Mother"), the son of televangelists from the 1990s, who believes his experience was a sign from God (even though he'd been having doubts about his church before the abduction); misunderstood reality TV star LaDonna Landry (newcomer Khailah Johnson), who only just disappeared in 2015; Mildred Bell (newcomer Autumn Best), a teen from the 1970s; and another teenager, Hayden (Amarr Wooten, "American Housewife"), who disappeared in the 1940s. Crystal Park also stars as young Korean woman Ji-Eun Jeong.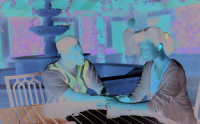 Derrick A. King and Crystal Park in "4400"
The characters' stories are told in flashbacks in this version of "4400," juxtaposed with how they are doing now. Viewers also find out how the people they left behind coped with their loss. The new take on the series allows viewers to see what kinds of challenges the characters have faced throughout time, shining a spotlight on what has changed and what has not, something executive producer Nayar pointed to in the same EW interview.
"Even though time has passed, a lot hasn't changed," Nayar said, "and the people are seeing that we have so much progress still to be made, even when we thought we were going to be making progress."
Other characters in "4400" include modern-day government workers tasked with containing the group and their stories as they try to solve the mystery behind the phenomenon. They include social worker Jharrel Mateo (Joseph David-Jones, "Nashville") and corrections officer Keisha (Ireon Roach, "Candyman," 2021).
Fans of the original series may also recognize a special guest star. Patrick John Flueger, who had the leading role of Shawn Farrell in the original, is set to guest star as a "charismatic figure" in Season 1 of the reboot. In fact, the gig will serve as a reunion for him and Peters, who has signed on to direct an episode featuring Flueger scheduled for later this season.
While the supernatural aspect may not be the biggest focus this time around, there is still plenty of mystery for fans of the sci-fi genre. No one really sees any of the abductions take place, and the only clue that appears to be a common thread is a green light that appears at the time of their disappearance. What's more, the characters try to make sense of their new seemingly magical abilities, adding to the show's intrigue.
With such a fascinating premise, a talented cast and a seasoned behind-the-scenes team, the time is ripe for such a socially conscious series. As the Black Lives Matter movement continues around the globe, this unique series takes a look at the history of Black people in America.
Don't miss the midseason premiere of "4400," airing Monday, Jan. 17, on CW.