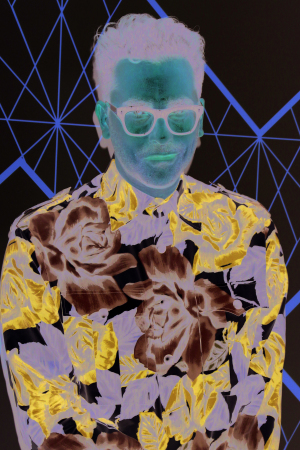 Former "Schitt's Creek" star Dan Levy is behind a new Hulu animated series
New comedy 'Standing By': Fresh off the success of his HBO Max competition series "The Big Brunch," Emmy winner Dan Levy ("Schitt's Creek") has teamed up with former "Schitt's Creek" story editor Ally Pankiw ("The Great"), and both are now headed to Hulu for their next TV project.
Levy and Pankiw are the creators of "Standing By," an upcoming angel-themed, animated comedy that has been ordered to series by Disney-run streamer Hulu. Levy also leads the stacked voice cast, which includes Glenn Close ("Fatal Attraction," 1987), Poppy Liu ("Hacks"), Samira Wiley ("The Handmaid's Tale"), Natalie Palamides ("The Powerpuff Girls") and "Doctor Who" star David Tennant, who is no stranger to sassy angel types after starring in Amazon Prime's "Good Omens" series. (Tennant played a demon opposite Michael Sheen's angel.) And Danielle Uhlarik ("Solar Opposites") has been tapped as showrunner.
In a joint statement, Levy and Pankiw had this to say about the series order: "'Standing By' is about the hilarity, embarrassment and melodrama of everyday life as observed by a team of judgmental, gossip-starved guardian angels. We are very excited to bring this world to life with the help of Hulu, 20th Television Animation and Bento Box Entertainment. Not to mention an insanely brilliant cast of actors."
Hulu will now be the streaming home for at least two Levy productions, since it also holds the streaming rights to "Schitt's Creek."
As for "Standing By," the animated comedy has reportedly been in development for a few years now, having originated under Levy's three-year overall TV deal with ABC Studios/ABC Signature. Levy signed that deal in 2019 just as "Schitt's Creek" was wrapping up its run on Pop TV, and before its big Emmy haul. That agreement has since expired, and last year Levy signed a multiple-year overall film and TV deal with Netflix, where he'll make his directorial debut with the upcoming film "Good Grief."
Order up: CBS is eyeing the future — specifically its 2023-24 programming lineup.
The network recently handed a series order to the drama "The Never Game," starring and executive produced by Justin Hartley of "This Is Us" fame. Based on author Jeffery Deaver's bestselling novel, the series is produced by Disney's 20th Television and falls under the overall deals signed by both Hartley and fellow executive producer Ken Olin ("Brothers and Sisters"), who also directed the pilot.
Hartley plays the lead character of Colter Shaw, "a lone-wolf survivalist who roams the country as a 'reward seeker,' using his expert tracking skills to help private citizens and law enforcement solve all manner of mysteries, while also contending with his own fractured family," according to CBS. Hartley leads a cast that includes Robin Weigert ("Deadwood"), Abby McEnany ("Work In Progress"), Eric Graise ("Locke & Key"), Fiona Rene ("I Know What You Did Last Summer") and Mary McDonnell ("Dances With Wolves," 1990).
CBS has already signaled its intention to include the new drama in its 2023-24 lineup. The timing isn't all that surprising given that the project was handed a pilot order in September 2021, and there were suggestions that the network was looking to develop it for this current season, until scheduling conflicts delayed production.
But that's all in the past, and now the Hartley-led series can look forward to its inaugural run as part of the network's fall/winter lineup.
In a statement, CBS Entertainment president Amy Reisenbach said, "I am overjoyed to give the first new show order for next season to this thrilling new series led by the incredibly talented Justin Hartley. 'The Never Game' is an excellent addition to our already successful drama lineup, and since our viewers love shows with action, intrigue, mystery and complex characters, they will love 'The Never Game' — it delivers on all fronts."
Be kind: Netflix has dealt Blockbuster yet another fatal blow, by canceling the original series "Blockbuster" after just one season.
Inspired by the last remaining Blockbuster store in Bend, Ore., the 10-episode comedy series humorously reimagined staff antics and the goings-on in the last store of the once-mighty video store chain. It starred Randall Park ("Fresh Off the Boat") as store manager Timmy and Melissa Fumero ("Brooklyn Nine-Nine") as his friend/employee Eliza. Olga Merediz ("In the Heights," 2021), Tyler Alvarez ("American Vandal"), Madeleine Arthur ("Devil in Ohio"), JB Smoove ("Curb Your Enthusiasm"), Kamaia Fairburn ("Holly Hobbie"), Leonard Robinson ("Wild 'n Out") and Keegan Connor Tracy ("Z," 2019) also starred.
Expectations were high going in, but "Blockbuster" didn't have the strongest debut. It didn't do too badly in Australia and Canada, but it never managed to crack Netflix's weekly Top 10 rankings in the United States — not upon its debut, and not a full week later, when word-of-mouth might have brought in some additional viewers. And that might have been part of the problem: critics didn't love what they saw on screen, and the show has a paltry 22 percent approval rating on popular ratings aggregate Rotten Tomatoes.
So the "Blockbuster" story — at least, the one in the Netflix-verse — ends with (caution, spoilers ahead) the store being destroyed by a solar storm-induced stampede, and a dejected Timmy walking out without hearing Eliza's admission that she has feelings for him.