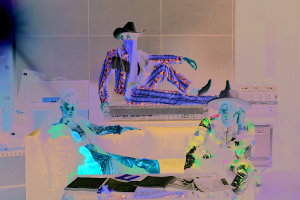 Mickey Guyton, Orville Peck and Jimmie Allen in "My Kind of Country"
Every country music superstar comes to Nashville, Tennessee, knowing (at least) three chords and the truth. Premiering Friday, March 24, on Apple TV , the brand-new reality competition series "My Kind of Country" sets out on a worldwide search for the next big hit in country. The series' scouts, Country Music Association Award-winning artist Jimmie Allen ("Best Shot"), trailblazing Grammy-nominated artist Mickey Guyton ("Home Movies") and Juno-nominated artist Orville Peck ("Take You Back"), have scoured the globe to find talented musicians to bring to Music City for the chance to win a covetable prize from Apple Music.
In an August 2020 news release announcing the series, Apple TV promised that "'My Kind of Country' will revolutionize the music competition genre with a fresh, new documentary sensibility." Taking a more focused approach in country music than some of its contemporaries like "The Voice" and "American Idol," the series aims to grow talent while expanding the boundaries of the genre. According to the news release, the competition "will break down cultural and musical barriers in the country music space."
So, music-loving viewers can expect "My Kind of Country" to look and sound different, but what about the thing it all comes down to, the grand prize for the ultimate champion? A more recent news release from January of this year didn't offer any specifics about what exactly Apple Music gifts the winner, other than its "life-changing" proportions, though there was also a mention of "unprecedented support and exposure on the platform."
Reese Witherspoon, star and executive producer of the Apple TV drama "The Morning Show," has teamed up with Album of the Year Grammy-winning artist Kacey Musgraves ("Space Cowboy") to executive produce "My Kind of Country." The darkly funny, clever and biting lyrics, mixed with a classic country music sound that make up most of Musgraves' discography, seem like a winning combination and they are — critically. However, Musgraves has been outspoken about her experiences with the limitations of her country music community, something that "My Kind of Country" seeks to correct.
By the time Musgraves was profiled by The Guardian in 2021, she had four Academy of Country Music Awards, six Grammys and seven Country Music Association Awards under her belt. But one of the most celebrated new artists in country music spoke about feeling like an outsider for her explicitly LGBTQ inclusive lyrics. Musgraves told The Guardian, "I was told that 'Follow Your Arrow' would tank on country radio and they weren't wrong, it did." On the bright side, she added, "it brought a whole legion of fans my way, so it was worth it."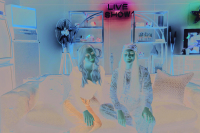 Reese Witherspoon and Kacey Musgraves serve as executive producers of "My Kind of Country"
A reality competition series alum himself, Allen has come a long way since his time as a contestant on "American Idol" in 2011. Ten years after his first brush with mainstream fame, Allen became the second-ever Black artist to win the New Artist of the Year award from the Country Music Association, after Darius Rucker's win in 2009. Allen's award-winning 2018 debut album "Mercury Lane" boasts two certified Platinum singles, and in 2022, not only did he embark on his first headlining tour, but his music career came full circle when he appeared as a mentor on Season 20 of "American Idol."
Guyton is well known for breaking barriers in country music, being the first Black female artist to earn a Grammy nomination for Best Country Solo Performance, to top the Canada Country chart, and to host the Academy of Country Music Awards, just to name a few. Like Musgraves, the threat of losing radio play over double standards loomed over Guyton's early career, being told her sound was too pop. She told The New Yorker, "I was trying to figure it out. You want me to put a fiddle on this song? Twang it out more? What do you want? Meanwhile, I'm watching the whole industry put out records that had all these R&B cadences, these R&B phrases."
After struggling to get her song "Black Like Me" released, Guyton told The New Yorker that during the aftermath of George Floyd's murder in June 2020, she reached out to her management, telling them, "I don't care what people think or may not think, we need to talk about releasing 'Black Like Me.'" The song topped Spotify's Hot Country playlist and skyrocketed Guyton to a new level of respect and recognition.
Peck's distinct look — always a fringed mask, often western shirts and cowboy boots — is what he is most immediately known for, but the voice behind the visuals is just as refreshing in a landscape of pop-country artists. His sound may be best described as if David Lynch's 1986 thriller "Blue Velvet" were a musician. With moody, saturated music videos set in the desert highlighting songs sung like tributes to Roy Orbison, Peck's path to country music stardom was paved with reverie for the genre's roots, while intentionally embracing a broader audience.
Get your dancing boots ready and tune in to the series premiere of "My Kind of Country," Friday, March 24, on Apple TV .