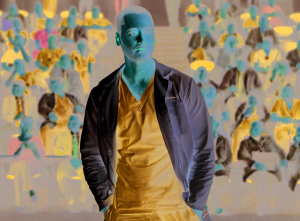 Ryan Eggold stars in "New Amsterdam"
Binge-watching old favorites can make for a nice rainy Saturday, but when it comes to prime time, there's nothing like a shiny new series for TV fans.
Broadcasters have lined up an impressive fall roster of rookie series, including a medical drama, a retro reboot, a mystery, a heart-wrenching ensemble show and a series about, well, a rookie.
Medical dramas have long been a sure bet in prime time, and NBC banks on the success of such a series with "New Amsterdam." Scheduled to premiere Tuesday, Sept. 25, the show stars Ryan Eggold ("The Blacklist") as Dr. Max Goodwin, a brilliant doctor who takes over as the medical director of New Amsterdam, one of the oldest public hospitals in America. Goodwin is determined to cut through bureaucracy and revive the understaffed, underfunded and underappreciated facility, which is reportedly based on New York's historic Bellevue Hospital.
The series also stars Freema Agyeman ("Doctor Who") as Dr. Hana Sharpe, Janet Montgomery ("Human Target") as Dr. Laura Bloom, Jocko Sims ("The Last Ship") as Dr. Floyd Pearson, and acclaimed Indian actor Anupam Kher ("Bend It Like Beckham," 2002) as Dr. Anil Kapoor. They'll face some stiff competition in the medical drama genre with ABC's "Grey's Anatomy" and "The Good Doctor," and "The Resident" over on Fox. Luckily, "New Amsterdam" has a great lead-in from NBC's megahit "This Is Us."
The peacock network is also gearing up to debut the new Robert Zemeckis ("Back to the Future," 1985) mystery- drama "Manifest," about an airplane that goes missing only to land safely more than five years later. The passengers are shocked to discover that what they felt was only a few hours has in fact been years. Scheduled to premiere Monday, Sept. 24, "Manifest" stars Melissa Roxburgh ("Valor"), Josh Dallas ("Once Upon a Time"), Athena Karkanis ("The Expanse") and J.R. Ramirez ("Jessica Jones").
This fall, CBS focuses on crime drama with the new series "F.B.I." and a reboot of the television classic "Magnum, P.I." The remake has caused a huge stir in the television industry as critics and fans alike wonder whether the new version will live up to the original, which aired on CBS from 1980 to 1988 and starred Tom Selleck. In February of this year, it was announced that actor Jay Hernandez ("Crazy/Beautiful," 2001) had been cast as Thomas Magnum in the series, which, like its predecessor, would be filmed in Hawaii. That's convenient, since there are plans for a crossover with another CBS remake, "Hawaii Five-0," which airs Fridays with the "MacGyver" reboot. The new "Magnum, P.I." is set to premiere Monday, Sept. 24.
On Tuesday, Sept. 25, CBS brings viewers a look at the inner workings of the Federal Bureau of Investigation with the premiere of "F.B.I." Created by legendary TV producer Dick Wolf ("Law & Order"), the drama about an elite New York unit earned a rare straight-to-series order for 13 episodes. Missy Peregrym ("Rookie Blue") stars as dedicated Special Agent Maggie Bell, who works alongside partner Special Agent Omar Adom OA Zidan (Zeeko Zaki, "Six"). Special Agents in Charge Dana Mosier (Sela Ward, "Sisters") and Jubal Valentine (Jeremy Sisto, "Six Feet Under") keep things running smoothly, while brilliant analyst Kristen Chazal (Ebonée Noel, "Still Star-Crossed") is the team's most valued resource.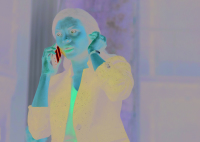 Ebonée Noel in "FBI"
A close-knit group is rocked by the suicide of one of their close friends in ABC's new drama "A Million Little Things," premiering Wednesday, Sept. 26. The tearjerker uses flashbacks to explore the story of the deceased while the others struggle to come to grips with what's going on in their own lives. Ron Livingston ("Band of Brothers"), David Giuntoli ("Grimm"), Romany Malco ("Weeds") and Grace Park ("Battlestar Galactica") are a few members of the show's ensemble cast.
ABC's "The Rookie" is set to debut on Tuesday, Oct. 16, the same night as the much-talked-about "Roseanne" spinoff, "The Connors." The police procedural features the return of Nathan Fillion, who was hugely popular in the network's hit "Castle." In his latest outing for the alphabet network, Fillion stars as John Nolan, a man in his 40s who decides to pursue his dream of becoming an LAPD officer. While some of the brass doubt he'll succeed, he uses his life experience and sense of humor to his advantage. "The Rookie" also stars Alyssa Diaz ("Zoo") as officer Angela Lopez, Afton Williamson ("Nashville") as officer Talia Bishop, Eric Winter ("Rosewood") as officer Tim Bradford, Richard T. Jones ("Judging Amy") as Nolan's nemesis Sgt. Wade Grey, Titus Makin Jr. ("Star-Crossed") as eager rookie Jackson West, Melissa O'Neil ("Dark Matter") as fellow rookie Lucy Chen, and Mercedes Mason ("Chuck") as Capt. Zoe Andersen.
As the networks jockey for position in the ratings game, TV viewers are the real winners. Check out this fall's freshman dramas for action, mystery and more.