Marcia Gay Harden and Andrea Brooks in "So Help Me Todd"
While plenty of family businesses thrive, working with your loved ones can be, well, challenging at times. However, a disgraced private investigator has no choice but to take a job at his mother's law firm in a new lighthearted CBS drama featuring an Academy Award winner.
Skylar Astin ("Zoey's Extraordinary Playlist") stars as Todd Wright, the aimless son of successful, no-nonsense attorney Margaret Wright, played by Oscar winner Marcia Gay Harden ("Mystic River," 2003), in "So Help Me Todd," premiering Thursday, Sept. 29, on CBS. Created by Scott Prendergast ("Silicon Valley"), the series will also be available to Paramount subscribers.
Despite genuine skill as an investigator, Todd has been struggling since his license was revoked thanks to his creative interpretation of the law a couple of years earlier. Meanwhile, Margaret can't seem to understand why Todd has not reached the same level of success as his siblings: an ER doctor and a governor's chief of staff. Frustrated that he hasn't been able to pull himself up by his bootstraps, she offers him a job as her firm's in-house investigator. Unfortunately for law-loving Margaret, her son's methods are somewhat unconventional and walk the line between legal and less-than-legal. But when his tech savvy and charm lead to results, she has to admit he's very good at what he does. As a result, "So Help Me Todd" offers TV viewers a mother-and-son odd couple in a drama that doesn't take itself too seriously.
"Could you speed up for once? This is technically a car chase," Todd complains as his mother calmly meanders down a street in the show's trailer.
The onscreen banter between Harden and Astin seems very natural, but they weren't the show's original dynamic duo. Astin has been with the series from early on, but fellow Oscar winner Geena Davis ("The Accidental Tourist," 1988) was initially tapped to play the role of the matriarch. In March, Deadline broke the news that Davis had left the show during the pilot stage, though no reason was given. Production paused to find a new actress to take on the role, and, luckily for Harden fans, she signed on to the project.
The award-winning actress is a huge get for the new series. Harden, whose career spans no fewer than four decades, is the recipient of two Oscars — one for the 2000 film "Pollock" and another for 2003's "Mystic River," as well as a Tony Award for her work in the play "God of Carnage." She has earned many accolades for her varied television career as well. Her credits include HBO's "The Newsroom," ABC's "How to Get Away With Murder" and CBS's "Code Black." She has earned Emmy nominations for her work on NBC's "Law & Order: Special Victims Unit," the TV movie "The Courageous Heart of Irena Sendler" and, more recently, Apple TV's "The Morning Show."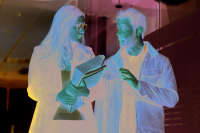 Inga Schlingmann and Skylar Astin star in "So Help Me Todd"
Actor and singer Astin first broke into the film industry in the musical movies "Pitch Perfect" (2012) and "Pitch Perfect 2" (2015). Before that, he originated the role of Georg in the musical "Spring Awakening" on Broadway. On the big screen, Astin has appeared in "Hamlet 2" (2008), "Cavemen" (2013) and "21 & Over" (2013). On the small screen, he took over the role of Gregg Serrano on the final season of CW's "Crazy Ex-Girlfriend" when actor Santino Fontana ("Frozen," 2013) left that series. Astin also starred in the NBC series "Zoey's Extraordinary Playlist" before signing on to "So Help Me Todd."
Of course, Harden and Astin are supported by some solid castmates in the new drama. Actress Inga Schlingmann portrays Todd's ex-girlfriend Susan, who happens to work at his mother's firm. It's clear that stylish Susan has moved on since their breakup. A relative newcomer, Schlingmann's other TV credit includes a guest-starring role on "Law & Order: Special Victims Unit."
Madeline Wise stars as Todd's sister, Allison, an ER trauma surgeon. She strives to keep the peace between her bumbling brother and their overbearing mother, and, despite her success, is dissatisfied with her seemingly perfect life. TV viewers may recognize Wise for her recent guest-starring roles in HBO's "Curb Your Enthusiasm" and "Star Trek: Picard" on Paramount .
Todd has at least one ally in Margaret's office. Rosa Arrendondo plays Francey, who's described as Todd's "Girl Friday," a term used to refer to a trusted female assistant. Arrendondo was a successful dancer before she transitioned to acting. In addition to roles in other successful CBS series such as "Blue Bloods" and "The Equalizer," the actress is known for her work as Michelle Valenti in the CW sci-fi series "Roswell, New Mexico."
Tristen J. Winger rounds out the supporting cast as Lyle, a licensed investigator at Margaret's firm. Winger made his TV debut in HBO's "Insecure" and appeared in the critically acclaimed web series "The Misadventures of Awkward Black Girl."
"So Help Me Todd's" behind-the-scenes team includes Amy York Rubin ("Dead to Me"), who directed the pilot, writer Prendergast and showrunners Liz Kruger and Craig Shapiro (both of the "Charmed" reboot).
With that kind of talent in front of and behind the camera, the show is definitely one to watch this fall. Don't miss the premiere of "So Help Me Todd," airing Thursday, Sept. 29, on CBS.