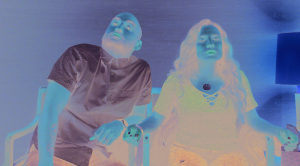 Alan and Evelyn, one of the couples in "Couples Therapy"
More 'Therapy': Showtime's "Couples Therapy" just wrapped up its first season on Nov. 1. Not surprisingly, given the reviews, the cable network moved quickly to avoid a breakup by ordering a second season.
Just don't confuse this "Couples Therapy" with the similarly titled VH1 series (2012-2015), which focused on participants with name recognition. No, Showtime's "Couples Therapy" involves everyday people whose relationships are in a crisis -- you just get to be the proverbial fly on the wall during a couple's therapy sessions.
Season 1 was a minefield of raw emotions as the poker-faced Dr. Orna Guralnik calmly and carefully peeled away the layers to expose the root of each problem. The participants (not "patients," since that distinction comes with a legally binding duty of confidentiality) approached the experience with remarkable candor. It helped that they weren't talking to the cameras, which were concealed behind one-way glass. Plus, there was no clear-cut villain: even the most likely candidate in Season 1 eventually disclosed a traumatic stress that shaped their behavior.
Whether you tuned in out of curiosity or a need to process emotions by projecting them onto others, it all added up to a fascinating study of intimacy. But viewers also knew these "weekly" sessions they were witnessing could have a real lasting impact -- good or bad -- on the participants' lives.
The series was inspired by producer Josh Kriegman's parents, or rather their experiences as therapists. Mind you, Kriegman and fellow showrunners Elyse Steinberg and Eli Despres all had previous experience dealing with complicated relationships: they collaborated on the 2016 documentary "Weiner," which looked at the derailed campaign of scandal-plagued politician Anthony Weiner through the lens of his marriage to Huma Abedin.
For the first season of "Couples Therapy," the production team put out an open call for couples of all ages, backgrounds and sexual orientation. They received more than 1,000 inquiries but whittled the field down to the final four, who consented to having their 20-week journey filmed and distilled into nine half-hour episodes.
The format for Season 2 will presumably be the same, and Guralnik will be back to counsel more couples. The premiere date hasn't been set yet, but look for this one to return in the summer or fall of 2020.
To the Max: WarnerMedia Entertainment is busy shoring up its streaming offerings ahead of HBO Max's big launch next spring. And as the streaming war heats up, it appears some big TV franchises past and present will be changing their address.
HBO Max has secured the exclusive rights to every episode of "Friends" (at a cost of $425 million), "Fresh Prince of Bel-Air," "The West Wing," "Pretty Little Liars" and "The Big Bang Theory" (reportedly part of a multibillion-dollar deal). It will also be the streaming source for a new "Grease" (1978) spinoff, plus it's the exclusive online home of CW's "Batwoman," and even "Doctor Who."
Here's where it starts impacting TV access: after this season of "Sesame Street" (its 50th), kids will be asking parents how to get to HBO Max, because that will be the new home of the children's series. The online streamer owns exclusive rights to all new episodes, specials and spinoffs (like "The Not Too Late Show With Elmo") for the next five years, plus it has access to the series' 50-year library. Episodes will then air on PBS affiliates at a later time, and, admittedly, that news isn't sitting well with some who are decrying the delayed free access to episodes featuring timely and topical themes.
A cult favorite, "Search Party," is also moving from TBS to the streaming platform next spring. The dark comedy starring Alia Shawkat ("Arrested Development") has been renewed for a third and fourth season. But unlike "Sesame Street," the move to a digital platform might actually help boost the series' fortunes since favorable reviews didn't really translate to strong ratings on TBS.
As it prepares to challenge Netflix's streaming supremacy, HBO Max seems to be announcing a new production or exclusive each week, including four new shows from talk show host Ellen DeGeneres. There's also been plenty of news about another HBO Max original, Kaley Cuoco's "The Flight Attendant," which recently added "Games of Thrones" star Michiel Huisman, "The Purge" star Colin Woodell and "Maniac's" Sonoya Mizuno to its cast of series regulars.
Move over, Maverick: Freddie Highmore, aka "The Good Doctor" (he's the star and co-executive producer of that ABC series), is hoping his production company's new scripted series will take flight.
It's currently in development, but if it gets a full series order from ABC, "Adversaries" would deliver a female-driven story with shades of "Top Gun" (1986).
It centers on Lara Bryer, a trailblazing female leader and pilot at the Navy's elite flight school in Key West, Florida. But aerial combat and training maneuvers are "nothing compared to the challenges she'll face on the ground, from navigating life as a newly single working mom to breaking through the glass ceiling," per Deadline (which also noted that "as of 2019, just 10% of all Naval pilots are women").
Highmore will serve as executive producer along with Sean Finegan and Claire Londy. The script comes from the "Shooters" writing team of Katie J. Stone and David Daitch, who lent his expertise as a lieutenant-commander in the Navy Reserve.