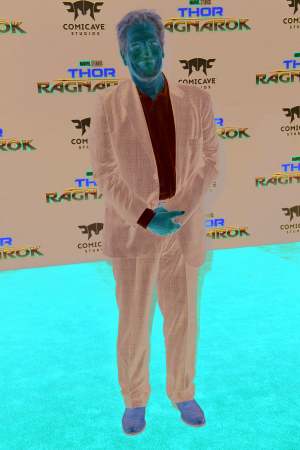 Clancy Brown has joined the cast of "The Penguin"
Mob justice (league): If you've seen 2022's "The Batman," you might have caught a reference (or several) to the character of Salvatore Maroni, whose arrest paved the way for Carmine Falcone's (John Turturro, "Severance") rise to power. And if you know a little about the comic book character, you're probably hoping to see the mob boss in the film's planned spinoff show, HBO Max's "The Penguin."
It seems your wish has been granted. Fresh off his appearance in "John Wick: Chapter 4" (2023), Clancy Brown recently boarded "The Penguin," and the always-busy character actor is set to recur as Gotham City's infamous crime lord.
The character of Sal Maroni was previously portrayed by Dennis Paladino in 1995's "Batman Forever," Eric Roberts in 2008's "The Dark Knight," and by David Zayas in the Fox series "Gotham." In the DC Comics universe, he's been around since 1942, and he's (in)famously the one who tossed acid at Harvey Dent, horribly disfiguring him and giving rise to Dent's gangster alter-ego, Two-Face.
Naturally, fans are wondering if this might be a way of bringing Two-Face into the story. However, the more pressing question is whether Maroni will appear in flashbacks or will next be seen mounting a criminal comeback, seeing as "The Penguin" will take place in the aftermath of the events featured in the film.
Produced by Warner Bros. Television and DC Studios, the drama centers on the titular character, Oswald "The Penguin" Cobblepot, played once more by Colin Farrell ("The Banshees of Inisherin," 2022). Cristin Milioti ("Palm Springs," 2020) will play Sofia Falcone, the daughter of Carmine Falcone. Other cast members include Rhenzy Feliz ("Marvel's Runaways"), Michael Kelly ("House of Cards"), Shohreh Aghdashloo ("The Expanse") and Deirdre O'Connell ("The Boy Downstairs," 2017).
As for Brown, this won't be his first portrayal of a DC supervillain: he spent years voicing Superman's nemesis, Lex Luthor, in various DC Animated Universe shows. He's even crossed over into the Marvel Cinematic Universe, having portrayed Ray Schooner in "Daredevil" and voiced Surtur in "Thor: Ragnarok" (2017).
An eight-episode limited series, "The Penguin" is expected to arrive on HBO Max sometime next year.
Five and done: It may be the longest-running drama on Paramount , but "Star Trek: Discovery's" reign will soon come to an end, sadly.
The streamer recently announced that the sci-fi series will wrap after Season 5, which should arrive on our screens in early 2024.
In an official statement, Tanya Giles, chief programming officer at Paramount Streaming, praised the series' storytelling while alluding to the streamer's plans for giving the series — its first commissioned original series and its first contribution to the ever-expanding Star Trek franchise — a proper sendoff.
"'Star Trek: Discovery' is a perennial favorite on the service, near and dear to the hearts of legions of Star Trek fans as well as all of us here at Paramount ," Giles said. "The series and its incredible cast and creatives ushered in a new era for Star Trek when it debuted over six years ago, embracing the future of streaming with serialized storytelling, bringing to life deep and complex characters that honor Gene Roddenberry's legacy of representing diversity and inclusion, and pushing the envelope with award-winning world-building."
Giles added: "This final season will see our beloved crew take on a new adventure, and we can't wait to celebrate the series' impact on the franchise leading up to its final season early next year."
Filming for the 10-episode season began back in June 2022, and principal photography recently wrapped, though Deadline reported some additional filming might be planned.
The fifth/final season will find the crew of the USS Discovery — including Captain Burnham (Sonequa Martin-Green, "The Walking Dead"), the first Black woman to captain a ship in the Star Trek universe — uncovering a mystery that sends them on a cross-galaxy hunt for a secret ancient power.
With "Star Trek: Picard" and now "Discovery" coming to an end, fans are already speculating about the new offshoot, "Star Trek: Starfleet Academy," which is reportedly in development at CBS Studios, as well as "Discovery" spinoff "Section 31," starring Michelle Yeoh ("Everything Everywhere All at Once," 2022). And, of course, there are more stories to come from current series "Star Trek: Prodigy," the animated "Star Trek: Lower Decks" and the upcoming second season of "Star Trek: Strange New Worlds."
Ray away: Yet another famous face is leaving daytime television.
CBS Media Ventures announced that the current 17th season of the syndicated daytime talk show "Rachael Ray" will be its last.
In a statement to Deadline, Ray said, "In my more than 20-plus years in television, I have had 17 wonderful seasons working in daytime television with 'Rachael.' However, I've made the decision that it's time for me to move on to the next exciting chapter in my broadcast career."
One of the first programs to resume filming (at home) during the pandemic, "Rachael Ray" features a mix of cooking, celebrity interviews, health and lifestyle tips, makeover segments and musical performances. Following its premiere in September 2006, it became the top syndicated strip show in its freshman year, and throughout its run, it earned 37 Daytime Emmy nominations, winning three times for Outstanding Talk Show.
The cancellation was announced the same day a report surfaced that Ray had launched Free Food Studios, a new production company.