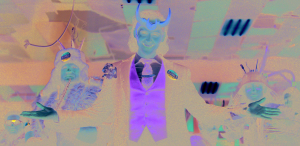 Tom Hiddleston as seen in "Loki"
The God of Mischief is back.
Loki (Tom Hiddleston,"Thor," 2011), the fan-favorite villain of the Marvel Cinematic Universe, finally gets the spotlight he deserves with his own solo series, appropriately titled "Loki." Coming to Disney on Wednesday, June 9, the series blends time travel, fantasy adventure and crime thriller, and is sure to provide the same excellence in superhero storytelling for which the MCU has become known.
Hiddleston's suave, scheming Loki won't carry the new series alone, however. He is joined by veteran actor Owen Wilson ("Midnight in Paris," 2011), who plays cool-but-cryptic Mobius M. Mobius, an agent for an interdimensional bureau known as the Time Variance Authority tasked with safeguarding our (human) timeline. For Agt. Mobius, this primarily means keeping Loki from damaging it further.
Other actors set to appear include Gugu Mbatha-Raw ("Black Mirror") and Wunmi Mosaku ("Lovecraft Country"), both of whom will play TVA agents alongside Wilson. As with any MCU project, "Loki" also carries with it the ever-present and tantalizing potential for a super-powered cameo or two.
For over 13 years — and with almost twice as many films and a number of television shows — the MCU has established itself as the go-to source for cinematic superhero entertainment. It has adapted hundreds of iconic characters from popular comics, all of them connected through shared continuity and an overarching story. The franchise is currently the largest interconnected movie universe (for number of films made) and the highest-grossing movie franchise of all time (and it's no surprise that such a boundless and beloved universe would produce its share of standout characters).
Though the MCU's heroes have always taken the lion's share of screen time and fan adulation, Iron Man (Robert Downey Jr., "Sherlock Holmes," 2009), Captain America (Chris Evans, "Knives Out," 2019) and Thor (Chris Hemsworth, "The Cabin in the Woods," 2012) are among the most notable, with several of their villainous characters having developed their own devout followings. In this realm, Loki, Norse God of Mischief and frequent scene-stealer, reigns supreme. Indeed, "Loki" marks the first time an MCU project has ever centered around one of its villains.
Loki has appeared in numerous MCU films, often flip-flopping his allegiance between that of the villain and the hero. The sly, surprising god vacillates freely between good and evil, benevolence and narcissism, and moroseness and wit. Perhaps what has made the character so beloved is just this; Loki is far from a one-note character, and his every moment on screen crackles with the potential for surprise and revelation.
It takes a supreme acting talent to display such tonal and emotional variety, giving life to so much nuance. In this, Hiddleston shines. The role of Loki brought Hiddleston mainstream American success, and rightfully so.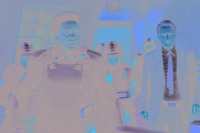 Wunmi Mosaku and Owen Wilson as seen in "Loki"
In 2011's "Thor," his sincere portrayal of Loki — bitter and jealous at being kept underfoot of his powerful older brother — brought him immediate attention. Then, in 2012's "The Avengers," Hiddleston helped cement the character as a major villain by bringing a quiet desperation and bubbling wrath to the role, spittle flying from the god's lips as he cursed his foes. When contrasted with his take on Loki in 2017's "Thor: Ragnarok" — a too-cool-to-care mouthpiece for a series of witty bon mots and the oily charm of a used-car salesman — Hiddleston's range appears limitless.
With "Loki," a series of six episodes at 40 to 50 minutes apiece, Hiddleston finally has a sizable enough vehicle by which to showcase the full gamut of his potential. The villain's chaotic history is not without consequence, however, and it is this cosmic reckoning around which the new series revolves.
After the convoluted time-travel caper of "Avengers: Endgame" (2019), a time-displaced duplicate of Loki — that is, (spoiler) not the "real" version killed off by the evil tyrant Thanos (Josh Brolin, "No Country for Old Men," 2007) at the beginning of "Avengers: Infinity War" (2018) — has escaped from his home timeline, and in doing so has damaged the very fabric of time itself. Wilson's Agt. Mobius and the rest of the TVA take exception to this and present Loki with two options: timeline reparation or his execution. Having accepted the offer he can't refuse, Loki attempts to repair and protect the timeline, thus taking him through time, space and alternate universes.
The reality-hopping adventure sees Loki in his element; the God of Mischief is best when chaos surrounds him. Just as viewers might languish in a drab, on-the-rails story, so, too, would the capricious, flamboyant mischief-maker Loki.
With the entirety of human history — and an infinite number of alternate histories — in which to play, the creators and stars of "Loki" have the potential to deliver something for which Loki was made: pure spectacle. And based on Hiddleston's track record and that of the MCU architects behind him, "Loki" is all but guaranteed to deliver on that potential.
Even if just for its premise and cast alone, "Loki" is a must-watch (even for those outside the sphere of superhero worship). So grab your popcorn and get ready for the Disney premiere of "Loki," coming this Wednesday, June 9.