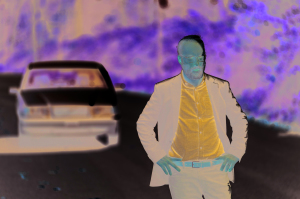 Bob Odenkirk in "Lucky Hank"
AMC is rebranding Bob Odenkirk. Now best known for his role as multi-faceted criminal lawyer Saul Goodman (a.k.a. Jimmy McGill) in the AMC-turned-Netflix series "Better Call Saul," Odenkirk stars in the network's newest dramedy, "Lucky Hank," as William Henry Devereaux Jr. (also known by the titular moniker, Hank), a curmudgeonly professor in charge of the English department at the local college. The series follows Hank as he embarks on a whirlwind midlife crisis.
"Lucky Hank" premieres Sunday, March 19, on AMC and the AMC streaming service.
While Odenkirk is without a doubt the biggest draw to the new series, AMC entices audiences with another tie to their famous Albuquerque-set dramas. In addition to Odenkirk himself taking on production duties, "Breaking Bad" and "Better Call Saul" producers Mark Johnson, Naomi Odenkirk and Marc Provissiero collaborate once more on "Lucky Hank." Additionally, "Silicon Valley's" Aaron Zelman and "The Office's" Paul Lieberstein, both also executive producers, serve as "Lucky Hank" showrunners. Two-time Oscar-winning director Peter Farrelly ("Green Book," 2018) also joins the team as an EP and as one of the directors alongside Daniel Attias ("The Wire") and Jude Weng ("The Good Place").
The new series, originally called "Straight Man," is based on the 1997 Richard Russo novel of the same name. The show's official synopsis describes Hank as "the unlikely chairman of the English department in a badly underfunded college in the Pennsylvania Rust Belt." Further categorized by AMC as "a born anarchist," the leading man is constantly tormented by "the fact that his department is more savagely divided than the Balkans."
Although a televised midlife crisis may sound anything but pleasant to watch, Russo readers will recall the author's wit and sense of humor in the face of seemingly impossible situations. Based on his own experiences teaching at Southern Connecticut State University, Penn State Altoona and Southern Illinois University Carbondale, Russo's input on the production side of "Lucky Hank" will only help to back up the source material's already laugh-out-loud situations.
Like the book, "Lucky Hank's" first season plans to follow Hank throughout one particularly bad week in his life. As he comes face-to-face — or rather, fist-to-face — with an angry co-worker on campus, Hank reflects on his upbringing, family dynamic, past experiences, a smattering of bad decisions and more. To make matters worse, he begins to wonder if his wife, Lily (Mireille Enos, "The Killing"), is having an affair with the dean and tries to make heads or tails of a potential seduction plot involving peach pits. Needless to say, Hank is having a no-good, terrible week, and it culminates in a bizarre threat to a goose on local TV.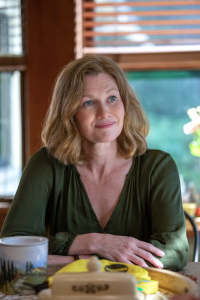 Mireille Enos in "Lucky Hank"
With such eccentric plot details to work with, "Lucky Hank" creators required an outstanding cast. While Odenkirk was tied to the series fairly early on (thanks to his former AMC successes), a few more familiar faces round out the all-star cast.
Oscar Nunez, best known for his role as accountant Oscar Martinez in "The Office," takes on the role of Jacob Rose, a friend of Hank's and the dean of Ralston College, with whom Hank accuses his wife of having an affair.
Hank's wife, Lily (Enos), meanwhile, is described as both "emotionally grounded" and "unflappable." As the vice-principal of their rural Pennsylvania town's high school, Lily is accustomed to the ins and outs of teaching in the local school system. This is what makes Hank's outrage, frustration and snark particularly hard for her to understand. While she is able to maintain a fairly level head with regard to her job, watching her husband spiral out of control leads Lily to call her own life choices — namely, her marriage — into question.
"Twin Peaks," "Portlandia" and "Desperate Housewives" star Kyle MacLachlan plays Hank's biggest professional rival, Dickie Pope. The president of the college, Pope is constantly stifling the professors on campus and looking for new ways to save a buck — even if it means sacrificing the more important aspects of higher education.
Chris Diamantopoulos ("Silicon Valley") stars as Tom, one of Lily's exes, while Tom Bower ("Die Hard 2," 1990) adds an extra layer of complication to the plot as Hank's estranged but controlling father — a man who "threatens to move close to Hank and his mother" (per Rick Porter of The Hollywood Reporter).
Jacki Gunn ("Woke"), Jackson Kelly ("V/H/S/99," 2022), Shannon DeVido ("Difficult People"), Olivia Scott Welch ("Fear Street: Part One - 1994," 2021), Chris Gethard ("The Dictator," 2012) and Diedrich Bader ("Office Space," 1999) also star.
To set the new series off on the proper foot, AMC released an official trailer for "Lucky Hank" in mid-February. While the show's first-person narrative isn't obvious from the one-minute, 38-second video, the tone of the series is plain as day. Complete with thick sarcasm, entitled college students, family drama, suspenseful music and a unique brand of self-awareness on the part of the main character, "Lucky Hank's" trailer shows TV audiences exactly what to expect without giving any of the details away — a good tactic for drawing the right crowd in from the get-go.
If you were a fan of Odenkirk's other AMC series, his 2021 film "Nobody," or if you simply can't stop watching the "Lucky Hank" trailer on repeat, chances are AMC's newest series is right up your alley. Don't miss the Sunday, March 19, premiere of "Lucky Hank," on AMC and AMC .