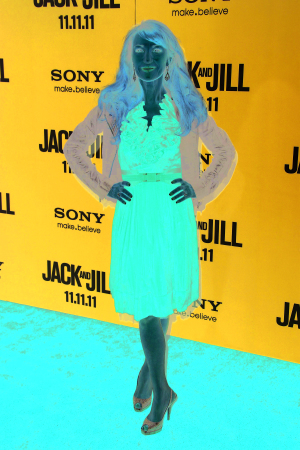 Jane Seymour to star in "A Christmas Spark"
Sparks Fly: A "Dr. Quinn, Medicine Woman" reunion? Not quite.
More than two decades after the wildly popular frontier drama ended its run (1993-1998) on CBS, the series' star couple — or rather the actors who played the two characters — is reuniting for a new Lifetime holiday movie.
Produced by singer Toni Braxton ("Braxton Family Values"), "A Christmas Spark" stars Jane Seymour, who played the titular Dr. Michaela "Mike" Quinn in the classic TV series. But in this modern-day Christmas movie, Seymour plays recently widowed Molly, who has "lost her zest for life and given up on ever finding love again," according to the official logline.
Molly decides to visit her daughter for Christmas, and while there, the former drama teacher reluctantly agrees to direct the town's Christmas pageant. Molly soon finds herself falling for her leading man, Hank, who is also the town's most eligible bachelor. Hank, of course, is played by actor Joe Lando, best known for his star turn in the '90s as Sully, Dr. Quinn's love interest.
Understandably, this romantic reteaming is exciting news for fans, though "A Christmas Spark" isn't their first TV pairing since their "Dr. Quinn" days. The former co-stars, who are good friends off-screen, also appeared together in the 2011 Hallmark movie "Perfectly Prudence" and the 2020 movie "Friendsgiving."
"A Christmas Spark" is one of several Lifetime movies that are part of the upcoming "It's a Wonderful Lifetime" holiday lineup, which includes "Merry Swissmas," starring Jodie Sweetin ("Full House") and Tim Rozon (Mutt from "Schitt's Creek"); and "Kirk Franklin's The Night Before Christmas," starring Naturi Naughton ("Power") and Luke James ("The Chi").
'Sugar' cast: Now that "Better Call Saul" has wrapped up its sixth (and final) season, the cast of the "Breaking Bad" prequel is moving on to new projects — including one that features stars from both series.
Apple TV announced it had added a few more names to the cast of its upcoming series "Sugar," which hails from creator/executive producer Mark Protosevich ("I Am Legend," 2007).
Dennis Boutsikaris, who had a recurring role as lawyer Rick Schweikart in "Better Call Saul," has been tapped as one of the series regulars, along with Alex Hernandez ("Invasion") and Lindsey Pulsipher ("True Blood"). And Anna Gunn, who played Skyler White in "Breaking Bad," is set to have a recurring role, as will Emmy winner James Cromwell ("American Horror Story: Asylum").
Apple has remained tight-lipped about any of its characters, and it certainly hasn't released many details about "Sugar," except to tease it as a "genre-bending series" and "a moving, character-driven science-fiction drama." Reportedly, it will be some sort of private eye story starring Colin Farrell ("The Lobster," 2015), who is attached as both series lead and executive producer. Kirby Howell-Baptiste ("Killing Eve") and Amy Ryan ("Only Murders in the Building") have also been cast.
'King of the Hill': According to series co-creator Mike Judge, the classic animated series "King of the Hill" has "a very good chance of coming back." But according to a more recent report from The Hollywood Reporter, any revival wouldn't happen at Fox, where the series originally ran for 13 seasons.
There has been talk of relaunching the beloved series for a while now. In 2017, Dana Walden, then-chairman and CEO of Fox Television Group, indicated that the network had had "a very preliminary conversation" with creators Judge and Greg Daniels, but quickly clarified, "It was one meeting and I hope to revisit it." But speculation really ramped up last year after writer Brent Forrester revealed on Reddit that the creators were "in hot negotiations to bring back" the series. And then there was the promising update from Judge, who made the comment during a panel at San Diego's Comic-Con.
But The Hollywood Reporter recently quoted Fox Entertainment president Michael Thorn as saying any possible revival is "not going to be with Fox." "We love that team, and we love that show," Thorn explained. "It's obviously part of our animation legacy. But where we're really focusing on animation is launching the kind of the next wave of our signature animated series, while still having our great legacy shows."
Ownership seems to be the issue here. The original series was produced by 20th Century Fox TV, which is now owned by Disney, and it seems the Fox network wants to focus on projects it partially or wholly owns. "And on a show like 'King of the Hill,' which we love, there's really no opportunity for us to have an ownership stake in that show," Thorn explained. "It's not a move that we can make as we grow out our next wave of animation, where ownership is so, so crucial to the long-running success of these series."