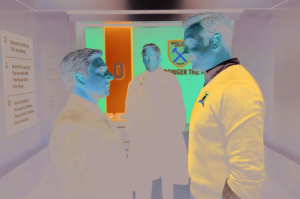 Nick Mohammed, Anthony Head, Jason Sudeikis in "Ted Lasso"
On the small screen, the best things tend to burn short and bright.
In the tradition of positive and inspiring television shows, such as "The Good Place" and "Quantum Leap," the binge-worthy "Ted Lasso" has proven in its first two seasons that kindness and camaraderie never go out of style; and in a sea of dark and serious programming, the Apple TV series has been a palette cleanser, thanks to its fun and motivational narrative. Is it any wonder, then, that the program raked in so many Emmys in 2021 and 2022?
And now the Diamond Dogs crew and AFC Richmond are mounting up for a third and final season. Season 3 of "Ted Lasso" launches on March 15, when the "Outstanding Comedy Series" Emmy winner begins streaming weekly on Apple .
Fans are abuzz, as the Season 2 finale set up an impossible conflict for the third season's 12-episode run. Without spoiling too much for those playing catch-up ahead of the third season premiere — after all, that Season 2 ending packs quite a punch — let's just say some new rivalries have emerged, and the pitch won't ever be the same for AFC Richmond.
"Ted Lasso" is helmed by "Saturday Night Live" alumnus Jason Sudeikis ("Horrible Bosses," 2011) in the titular role, one that earned him the Outstanding Actor in A Comedy Series Emmy in 2022. In the first season, the American college football coach was recruited to coach English Premier League soccer/football club AFC Richmond, despite not having a clue about the sport. That didn't stop Lasso and his assistant/best friend, Coach Beard (Brendan Hunt, "Horrible Bosses 2," 2014), from introducing their inspirational tactics to the team, both on and off the field.
Where the character of Ted Lasso shines the most is in his ability to motivate and rally the characters around him. With a positive and inspirational demeanor, Lasso spouts pop culture references, uses endearing nicknames and bakes biscuits. While they may be puzzled by him at first, everybody Ted Lasso encounters eventually gets on board the "Lasso Way" because of his infectious attitude, including the viewers. He's smart and understands human nature, despite sometimes struggling with his own at times, as we saw in Season 2.
Hiring an inexperienced manager for the position was no mistake, however, as club owner Rebecca Welton (Hannah Waddingham, "Les Misérables," 2012) set out to exact revenge on her ex-husband, Rupert (Anthony Head, "Merlin"), by driving his beloved football club into the ground in Season 1. Flanked by the lovable Director of Football Operations Leslie Higgins (Jeremy Swift, "Downton Abbey"), Rebecca has come to realize that Ted Lasso is an exceptional ally, one who brings a renewed purpose to her and the club — and a much-needed one, given that Rupert plays a bigger role in Season 3.
The cast of "Ted Lasso"
In an interview for The Hollywood Reporter's "Behind the Screen" podcast, the show's Emmy-nominated editors, A.J. Catoline and Melissa McCoy, teased that Rebecca and Nate (Nick Mohammed, "Christopher Robin," 2018) are two of the characters with the biggest arcs in Season 3. "Nate the Great" Shelley started out as Richmond's often-ignored kit man who busied himself with the tasks assigned to him but harbored a deep understanding of football tactics. Given an unexpected opportunity to rise above his position in the first season, Nate's journey in "Ted Lasso" is probably the most compelling, if somewhat tragic, of the series so far, and all eyes will be on him in Season 3.
"Ted Lasso" allows all of its characters to shine, so those aren't the only two characters to watch. "Jason [Sudeikis] is so very generous as a producer and creator," Catoline explained during the interview. "He gives all of the characters a storyline. I think that's why [the episodes] are so full. ... He wants every character to have an arc."
We've seen franchise player Jamie Tartt (Phil Dunster, "Humans") humbled in Season 2, while model-turned-PR consultant Keely Jones (Juno Temple, "The Dark Knight Rises" 2012) and captain-turned-assistant coach Roy Kent (Brett Goldstein, "Doctor Who") seem to be on divergent paths. And there are a lot of questions about where Sam Obisanya's (Toheeb Jimoh, "London Kills") personal and professional journey will take him in Season 3, playing alongside fellow teammates such as Isaac McAdoo (Kola Bokinni, "Two Pigeons") and Dani Rojas (Christo Fernandez, "Spider-Man: No Way Home", 2021).
In a surprise move, "Ted Lasso's" third-season premiere was announced on Valentine's Day, and the release date was much sooner than anticipated, much to fans' excitement. A short teaser video was also released, reminding us how much we love and miss all of these characters and how much we need to "Believe" (Ted Lasso's mantra).
From the very beginning, "Ted Lasso" was envisioned as a three-season series, but as the recipient of so many accolades, you'd expect Apple to extend its run. However, its creators — Sudeikis, Hunt and Bill Lawrence ("Spin City") — seem to be sticking to the three-act structure, with no plans to extend the main story past Season 3.
Could we see a "Ted Lasso" spinoff? Maybe. But for now, Channing Dungey, chairperson of Warner Bros. Television, told Deadline that the series "ends beautifully," even if it will be hard to say goodbye.
"Ted Lasso" returns on March 15 and will stream weekly on Apple .