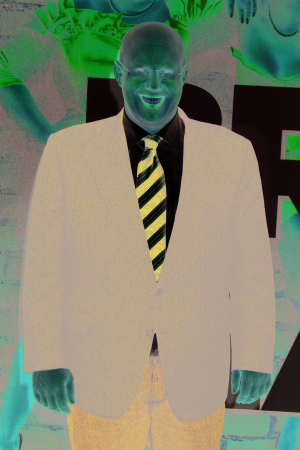 Matt Lucas is leaving "The Great British Baking Show"
Kneading a change: After three series (or seasons, for North American viewers) as co-host of "Great British Bake Off" ("The Great British Baking Show" in Canada and the U.S.), British comedian Matt Lucas has announced, "I am cheerfully passing the baguette on to someone else."
Lucas broke the news of his departure in the nicest possible way, stating, "It's been a delicious experience and I can't imagine a more fun way of spending my summers, but it's become clear to me that I can't present both [his Sky series] 'Fantasy Football League' and 'Bake Off' alongside all my other projects."
He followed it up with an expression of gratitude and appreciation for the crew and bakers, and in turn, the show expressed gratitude for Lucas' time, talents and involvement. A statement from Love Productions, producers of the show, was posted on the official Twitter account (@BritishBakeOff): "We've loved having Matt Lucas brighten up our Tent for the last three years, especially when laughter and smiles were so much in need. We appreciate everything he's done for 'Bake Off,' from working in COVID bubbles to supporting the bakers."
Lucas joined "The Great British Bake Off"/"The Great British Baking Show" in 2020 for its 11th season, replacing Sandi Toksvig after the former co-presenter left to focus on other work commitments. While critics praised the casting, his tenure has admittedly drawn mixed reviews online, with some fans praising his humorous interjections and others criticizing his penchant for off-color puns.
His colleagues, however, had nothing but praise for Lucas. Dame Prue Leith thanked him for "bringing so much laughter and fun to the test," while co-presenter Noel Fielding posted, "I will really miss your spark and huge smile in the tent, and I will miss your kindness as a person and to all the bakers."
At the time of writing, no replacement host had been announced.
Entering 'The Palace': BAFTA-winner actor Hugh Grant ("Love Actually," 2003) earned an Emmy nomination for his star turn in the 2020 HBO limited series "The Undoing," and he recently boarded another HBO limited series.
Grant has joined the cast of "The Palace," starring Kate Winslet ("Mare of Easttown"), Belgian actor Matthias Schoenaerts ("Rust and Bone," 2012) and Andrea Riseborough ("Birdman or (The Unexpected Virtue of Ignorance)," 2014).
From "Succession" writer/executive producer Will Tracy, the limited series was ordered to series in July, and it chronicles a year under an authoritarian regime as it begins to unravel.
Reportedly, Grant will have a guest role, though story and character details are being kept largely under wraps for now. Behind the scenes, "The Undoing" marks a reunion for Grant and director Stephen Frears: the two worked together on "Florence Foster Jenkins" (2016) and "A Very English Scandal," and the latter was a particularly fruitful TV collaboration that earned them both Emmy nominations.
Grant, of course, is coming off a recent cameo in "Glass Onion: A Knives Out Mystery," which debuted Dec. 23 on Netflix. He will next be seen in this year's "Dungeons & Dragons," due out in theaters in March. He'll also star in the upcoming "Unfrosted: The Pop-Tart Story," starring and directed by Jerry Seinfeld ("Seinfeld").
'Monarch' deposed: Sad news if you're a fan of Fox's country music drama "Monarch." The network has officially canceled the series after just one season — and it did so immediately following the season finale, which is now the series finale.
Set in the world of country music and created by lawyer-turned-writer/executive producer Melissa London Hilfers ("Blasphemy," 2019), "Monarch" told the story of a country music dynasty headed by Albie Roman, played by real-life country music star Trace Adkins ("The Lincoln Lawyer," 2011), and Dottie Cantrell Roman, played by Susan Sarandon ("Dead Man Walking," 1995). Anna Friel ("Pushing Daisies") played their eldest daughter, Nicolette "Nicky" Roman, who was ready to do whatever needed to be done in order to safeguard her family's position of power within the country music scene.
Unfortunately, the soapy series had a tumultuous inaugural year. Before even airing a single episode, the series was supposed to premiere roughly this time last year, with the NFC championship game serving as its lead-in to boost its chances of succeeding. But just a few weeks before it was scheduled to air, the premiere was pushed to the fall, with Fox citing concerns about a possible pandemic-related production delay that would have interrupted its momentum.
"Monarch" did eventually premiere on Sept. 11, following Fox's NFL coverage, and it drew in a decent-sized audience, based on the numbers. But critics weren't wowed — in fact, Entertainment Weekly called it "a hilariously miscast melodrama" — and viewers didn't follow the show to its regular time period on Tuesdays. The series ended up averaging just 4.1 million viewers across all platforms, and those numbers suggested Fox's big bet on its first fully owned scripted series in recent years was a bust. In the end, even cameo appearances by country stars such as Shania Twain and Little Big Town couldn't save "Monarch."