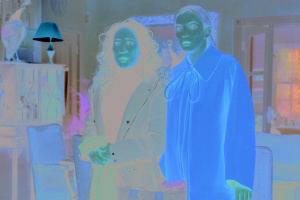 Sandra Oh and Jodie Comer star in "Killing Eve"
Killing 'Killing Eve': It's official. BBC/AMC's award-winning cat-and-mouse thriller, "Killing Eve," will be returning for a fourth season, but alas, it will be the last one. The series is set to bow out in 2022.
"Killing Eve" stars Emmy winner Jodie Comer ("Doctor Foster") as assassin Villanelle and Golden Globe winner Sandra Oh ("Grey's Anatomy") as MI6 agent Eve Polastri. Both leads will be back, and like the three previous seasons, Season 4 will consist of just eight episodes (it is a British series, after all).
So what happens after that? Does this mark the end of the Killing Eve universe? Maybe not. Production company Sid Gentle Films is already working with AMC Networks to explore possible spinoffs. Just don't expect them to revolve around Eve or Villanelle — any future series will reportedly focus on the series' supporting characters instead.
"'Killing Eve' exploded in popular culture and attracted a dedicated and committed fan base from its very first episode," Dan McDermott, president of original programming at AMC Networks, said in a recent statement. "Phoebe Waller-Bridge's brilliant adaptation of the source material, the unforgettable characters given life by Sandra Oh and Jodie Comer, and the entire cast, along with our partners at Sid Gentle Films, have delivered a one-of-a-kind roller-coaster ride that has taken our breath away. … We look forward to what is sure to be an unforgettable final season and to exploring potential extensions of this compelling universe."
The series was created by "Fleabag's" Phoebe Waller-Bridge, whose overall deal with Amazon didn't factor into AMC's decision to end "Killing Eve." Waller-Bridge oversaw the first season and remains on board as an executive producer, but Laura Neal ("Sex Education") will be taking over the reins as showrunner and head writer for Season 4. Production on the final eight episodes will begin this summer in Europe for a 2022 premiere.
Keanu comics: Like the characters he portrays in the John Wick and The Matrix movie franchises, there is just no stopping Keanu Reeves.
The film actor made his comic book debut last month with the release of the first issue of "BRZRKR." The 12-issue limited series was created by Reeves, who worked with Eisner-nominated writer Matt Kindt to develop the story. It is illustrated by Marvel artist Ron Garney, with colors by Bill Crabtree, letters by Clem Robins and character designs by Rafael Grampá.
The launch was a big success, but the bigger news here is that "BRZRKR" is already headed to Netflix — the streamer has snapped up the screen rights and is developing a feature adaptation, as well as an anime spinoff.
Per Netflix and BOOM! Studios, which published the indie comic, "BRZRKR" is the story of "an immortal warrior's 80,000-year fight through the ages. The man known only as 'B' is half mortal and half god, cursed and compelled to violence, even at the sacrifice of his sanity. But after wandering the earth for centuries, B may have finally found a refuge: working for the U.S. government to fight the battles too violent and too dangerous for anyone else. In exchange, B will be granted the one thing he desires: the truth about his endless blood-soaked existence … and how to end it."
Reeves will star in both the feature adaptation and the anime spinoff, which will expand on the BRZRKR universe. The actor will also serve as a co-producer. There's no news yet on a possible premiere date, but Reeves has plenty of work to keep him occupied: his next movie, "The Matrix 4" is scheduled for release this December, while production on "John Wick 4" is due to begin soon.
Atwood at Hulu: Season 4 of Hulu's flagship series, "The Handmaid's Tale," is scheduled to premiere later this month — April 28, to be exact — and the Emmy-winning series has already been renewed for a fifth season. The streamer also owns the TV rights to Margaret Atwood's followup novel, "The Testaments," and now there's talk of a third collaboration with the Canadian author.
Deadline was the first to break the news of Hulu's planned adaptation of Atwood's "MaddAddam" and of writer Michael Lesslie's ("Assassin's Creed," 2016) exit from Peacock's planned "Battlestar Galactica" reboot. Lesslie had previously been announced as the creator, writer and executive producer of the sci-fi series. Instead, he has seemingly shifting his focus to penning the pilot script for "MaddAddam" and serving as an executive producer.
A dystopian tale that touches on corruption, corporate domination, sinister genetic-engineering and young love, "MaddAddam" is actually a trilogy of novels by Atwood: "Oryx and Crake," published in 2003; "The Year of the Flood" in 2009; and "MaddAddam" in 2013.
It's the story of a bioengineered pandemic that has brought civilization to the brink of collapse and has practically wiped out humankind. The series recounts the events that led to this global crisis, which is largely the work of a brilliant but complicated man named Crake. Crake was so disturbed by injustices in this world that he dedicated his life to developing a virus that would attack humans and allow a new species of hominid to flourish. In the books, that big moment is known as the "waterless flood," but the series will also look at its consequences and who/what "shall inherit the earth."
In the meantime, Hulu is still working with MGM on an adaptation of "The Handmaid's Tale" sequel novel, "The Testaments." There hasn't been a lot of news on it since the streamer acquired the rights in 2019. But last year, Craig Erwich, Hulu's senior vice-president of scripted originals, offered this update: "We've acquired the rights to 'The Testaments,' which … is an incredible novel. Ultimately, Bruce [Miller], Warren [Littlefield] and Elisabeth [Moss] are trying to figure out what is the best way to take the real estate and the creative landscape of that novel and weave it into 'The Handmaid's Tale' and where it fits in the universe. But we're thrilled to have Margaret [Atwood's] next work."
It remains to be seen if "The Testaments" will form the basis for a spinoff or if the story will be integrated into future seasons of "The Handmaid's Tale."