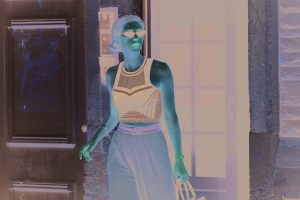 Hermione Corfield in "We Hunt Together"
When a lethal cult of personality forms around one woman at the center of a web of murders in Britain, DI Jackson Mendy (Babou Ceesay, "Wolfe") and DS Lola Franks (Eve Myles, "Little Dorrit") are hot on the case in "We Hunt Together." They try harder than ever to get to the bottom of a series of killings in the show's Season 2 finale, airing Sunday, July 24, on Showtime.
The dark crime drama began in 2020 as Freddy Lane, portrayed by Hermione Corfield ("The Misfits," 2021), meets Baba (Dipo Ola, "Landscapers") in the bathrooms of the club where he works. When Freddy's date attacks her and Baba quickly intervenes, the two become bound to each other by his protection of her.
The "partners in crime," as Freddy names herself and Baba, team up — Season 1 spoilers ahead — to eliminate those who set Freddy's life on a path of survival throughout her troubled upbringing. They begin with her date, ambushing him in his own home, before taking on the task of eliminating another man, to whom Freddy must repay a loan. But when a third man drunkenly stumbles upon their staged crime scene, Baba is forced to take drastic action.
Confident that she and Baba are making smart enough moves to evade police capture, Freddy underestimates the equally skilled pair of investigators on their trail. Jackson and Lola are immediately suspicious of Freddy and narrow their investigation in on her despite orders from their doubting superior officer, DSI Susan Smart (Vicki Pepperdine "Getting On").
Hunting the hunters, Jackson and Lola pick up on clues that Freddy and Baba don't realize they've left behind, and together uncover a story from Freddy's path that she's been keeping from Baba — something that changes everything.
Instantly devoted to Freddy, Baba is seemingly intoxicated by her attention. With an even more difficult past behind him, Baba is inclined to protect Freddy and right the wrongs she's endured despite his own pain and trauma. While they do share a connection built on violence and secrets, Freddy rewrites some of her own history to keep Baba on her side.
Deep into their first-season killing spree, Freddy brings Baba with her to confront an abusive teacher in her hometown who was involved in the death of her childhood best friend. Though Freddy is hiding the truth about her friend's murder, Baba learns of her deception too late. The two disagree on the next steps, but Freddy, as usual, gets her way and her former teacher joins their list of victims.
With the police closing in on them, Freddy and Baba are forced to flee into the woods, leading to the tragic shootout in the Season 1 finale.
Equally mysterious and twisting, "We Hunt Together's" second season sees Freddy become a martyr in the wake of Baba's mass-murder confession moments before his death. Still unable to pin anything on her directly, Jackson and Lola keep a close eye on the exonerated Freddy, who is now running a charity and working with a ghostwriter on her tell-all crime memoir.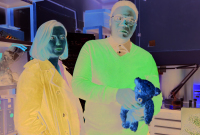 Eve Myles and Babou Ceesay in "We Hunt Together"
A disturbing call to Freddy's phone from an unknown number in the middle of the night, however, marks the beginning of yet another series of murders. As Jackson and Lola take up this new addition to the case, Freddy is excited by her twisted new secret admirer and courts him to get what she wants: the death of several people.
The brutal killer responsible for doing Freddy's dirty work in "We Hunt Together" commits his crimes while wearing a pigeon mask, earning him the moniker "The Birdman" in the media. As Freddy's cult following gains steam, one of her former employers even throws a Birdman-themed opening-night party, requiring a pigeon mask for entry. With several likely pigeon-mask owners now in the city, the real Birdman's identity is murkier than ever.
Haunted by everything that happened with Baba, Freddy sees him everywhere in Season 2. An obvious deep longing for her former "partner in crime" hangs over Freddy even though she's romantically strung along her dead best friend's brother, Henry, portrayed by Angus Imrie ("Star Trek: Prodigy").
Difficult, sharp, murderous women like Corfield's Freddy have become a powerful force in several prestige crime dramas of recent years, including unforgettable performances from Jodie Comer as Villanelle in "Killing Eve" and Ruth Wilson as Alice Morgan in "Luther." As with "We Hunt Together," both these hit series also featured the killers' cheeky, close relationships with the detectives who know them best.
In an interview with Collider, Corfield spoke about the challenges and delights of bringing such a terrible person to life on screen.
"I found her really liberating to play, in that she's completely unafraid," Corfield said. "I think her fearlessness, and her direct and unapologetic way of getting what she wants, are things that I learned to like about her."
The actress does admit, however, "There were definitely moments, with her manipulative tendencies, that I found it hard to be empathetic towards her."
Don't miss the final attempt to unmask The Birdman in Season 2 of "We Hunt Together." The finale airs Sunday, July 24, on Showtime. Both of the series' seasons are also currently available to stream on the Fubo and Showtime apps.