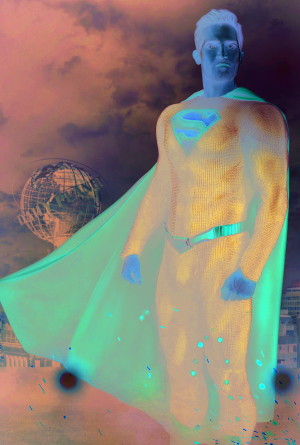 Tyler Hoechlin stars in "Superman & Lois"
Race to your couches "faster than a speeding bullet" this week and be sure to leap over any tall buildings that stand in your way because the second episode of the new Arrowverse series "Superman & Lois," is airing Tuesday, March 2, on CW.
Leading up to its two-hour premiere last week (Feb. 23), the new series had already garnered a lot of attention; not surprising considering the undying popularity of the Man of Steel and his out-of-this-world back story. Adapted several times into comic books, film franchises — like the Christopher Reeve ("Above Suspicion," 1995) tetralogy of the '70s and '80s and those of recent days that saw Henry Cavill ("The Witcher") donning the infamous tights — not to mention television versions — such as the hit '90s series "Lois & Clark: The New Adventures of Superman" starring Dean Cain ("Vendetta," 2015) and Teri Hatcher ("Desperate Housewives") and the 10-season Tom Welling- ("Lucifer") led TV series "Smallville" — this newest iteration breaks free from previous plotlines to tell a brand-new story for its fans.
Featuring Tyler Hoechlin ("Teen Wolf") and Elizabeth Tulloch ("Grimm") in the title roles, this new series explores the married life of Clark Kent, aka Superman (Hoechlin), and his journalist wife, Lois Lane (Tulloch), as they deal with the struggles of raising two sons while tending to quotidian duties and saving the world.
Forced to leave Metropolis and return to Clark's hometown of Smallville in order to tend to some family business, the Kent-Lanes run into all manner of threats and characters from Clark's past while trying to make a new life for themselves back on the family farm. Among them are none other than Clark's first love Lana Lang (Emmanuelle Chriqui, "Entourage"), her husband, Kyle Cushing (Erik Valdez, "Graceland"), and their rebellious daughter, Sarah (Inde Navarrette, "13 Reasons Why"); and self-made media mogul Morgan Edge (Adam Rayner, "Tyrant") who, coincidentally, is a childhood friend of the infamous villain Lex Luther. Additionally, Clark also has Lois's father, Gen. Sam Lane (Dylan Walsh, "Nip/Tuck) to contend with as he frequently exploits his connections to Superman while searching for some timely villain vanquishing of his own.
While revisiting their pasts through the host of characters who are, once again, a part of their lives, Clark and Lois have also been grappling with the secret they've been keeping from their sons, Jonathan (Jordan Elsass, "Little Fires Everywhere") and Jordan (Alex Garfin, "Law & Order: Special Victims Unit") — you know, the whole "your dad is Superman" thing. Finally deciding that the boys should know the truth about their father, Lois and Clark end up having to manage the fallout of that choice alongside the strong possibility that their half-human, half-Kryptonian teenage boys could develop their own set of superpowers very soon (if they haven't already).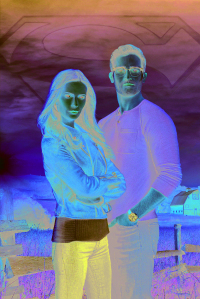 Elizabeth Tulloch and Tyler Hoechlin as seen in "Superman & Lois"
Despite all the super-strength, vindictive villains and otherworldly interjections of the series, "Superman & Lois" is, at its heart, a family show; something that was incredibly important to the cast and the writing team led by showrunner Todd Helbing ("The Flash").
"We talked a lot about shows like 'Everwood' and 'Friday Night Lights,'" Helbing said during a panel discussion. In speaking to the new Arrowverse show's originality, however, he went on to add that, "whenever you do any of these shows, you want to make them slightly different."
Series star Tulloch gave her own interjection at the panel chat as well, saying, "Part of what I am hoping audiences respond to in our show is that this couple — even though she's this dynamic journalist and even though he is Superman — are incredibly relatable and they are dealing with the same issues that normal people deal with." And if there's anything Superman knows about it's being there when times are tough.
Since the hero was first brought to life on the pages of DC comic books in 1938, Superman has been an icon of freedom, security and safety for his fans. Preaching "Truth, justice and the American way," the figure was fashioned at a time when the world was on the brink of the Second World War, and he has been revived time and time again when the world needed him most. So, given his knack for a timely arrival and his track record for acting as somewhat of a harbinger of hope, it should come as no surprise that CW would choose now — amid a global pandemic and a state of heightened civil and political unrest — to breathe new life into the famous character.
So, no matter how you're feeling, what you're doing during the pandemic or how recent world events may have been getting you down, just remember that Superman is there. After all, Lois Lane said it best in the promotional trailer when she announced: "the world will always need Superman" — right now is no different.
Don't miss the Man of Steel when he flies onto screens across the globe for a second episode of the new series "Superman & Lois," airing Tuesday, March 2, on CW.