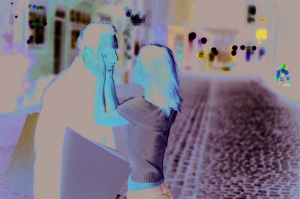 Andrew Lincoln and Keira Knightley in "Love Actually"
It's the most wonderful time of the year, and ABC is celebrating the season with a new slate of holiday programming beginning Sunday, Nov. 27, and continuing into December. Including new family specials, animated content, returning reality series and a look back at one of the most popular — and recently criticized — holiday films of the past two decades, the alphabet network kicks it all off with the animated special "Mickey Saves Christmas."
A comforting fixture for young and old alike no matter the season, Disney's most well-known rodent, Mickey, returns this winter with an all new special. Co-produced by Disney Television Animation and Stoopid Buddy Stoodios, "Mickey Saves Christmas" is the first Disney Television Animation special to air on ABC in nearly a quarter-century (the last one being 1999's "Winnie the Pooh: A Valentine for You").
The special follows Mickey (voiced by Bret Iwan, "Mickey Mouse Funhouse") and Minnie (voiced by Kaitlyn Robrock, "Minnie's Bow-Toons") in stop-motion animation, as they and their best friends try to throw the perfect Christmas celebration together at a snowy cabin. However, when an excited Pluto (voiced by Bill Farmer, "A Goofy Movie," 1995) accidentally causes Santa to lose all the presents on his sleigh, Mickey, Minnie and the crew must abandon their own relaxing plans for the adventure of a lifetime: travel to the North Pole and help save Christmas.
Also featuring Donald Duck (voiced by Tony Anselmo, "Mickey's Once Upon a Christmas," 1999), Daisy Duck (voiced by Tress MacNielle, "The Simpsons") and Goofy (also voiced by Farmer) as a major part of the festive fun, this new release makes TV history as the first Disney special to ever be created in stop-motion. (It is important to note, however, that Mickey and friends have appeared in the animated format once before, three years earlier — although this was for two short Christmas episodes on Disney Junior.)
The special will be simulcast across ABC, Disney Channel, Disney Junior and Disney XD and will also be available to stream on demand the following day (Nov. 28) via Disney .
Immediately following "Mickey Saves Christmas" on ABC is the 2017 special "Olaf's Frozen Adventure," and then another new holiday special: "The Wonderful World of Disney: Magical Holiday Celebration."
Taped between Nov. 11 and 13 at Disney World's Magic Kingdom Park in Orlando, Florida, this annual special marks its seventh iteration this season. Featuring all-new musical performances and unique lighting events, last year's event, while still enjoyable, contained many COVID-19 pandemic precautions as co-host Derek Hough ("Dancing With the Stars") tested positive for the virus prior to the event. As a result, he hosted from his home via video conference, while his sister, talented dancer and actress Julianne Hough ("Footloose," 2011), and Broadway-turned-film star Ariana De Bose ("West Side Story," 2021) hosted from the park.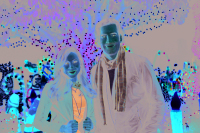 Taniya Nayak and Carter Oosterhouse host "The Great Christmas Light Fight"
This year's lineup has been kept fairly quiet as of writing, but given last year's performances — which included everyone from Gwen Stefani ("The Voice") to Chance the Rapper (2018's "Work Out") and beyond — there's no doubt there will be plenty of talent, entertainment, holiday fun and excitement for the whole family. In fact, fans of the annual special can likely expect something closer to pre-pandemic events, if all goes according to plan.
The week continues with the premiere of another season of the fan-favorite holiday reality series "The Great Christmas Light Fight," Monday, Nov. 28. Once again hosted and judged by designer Taniya Nayak ("Battle on the Beach") and former model Carter Oosterhouse ("Trading Spaces"), this 10-season series follows Christmas fanatic people and their families as they go above and beyond while decorating their homes for the holidays.
In each new, hour-long episode, the production team takes viewers on a trip across the United States to witness the beauty and joy of various impressive holiday lighting displays. Audiences can sit cosily on the couch in awe of the magic while Nayak and Oosterhouse judge the winner of the $50,000 prize for the best lighting display.
"The Great Christmas Light Fight," which has also been renewed for an 11th season in 2023, runs for each of the three weeks leading up to Christmas.
The new festivities close out Tuesday, Nov. 29, on ABC as the network takes a look back at the popular British film "Love Actually" (2003), which prepares to celebrate its 20th anniversary.
In "Love Actually: 20 Years Later," ABC News anchor Diane Sawyer ("20/20") takes a look behind the camera at the making of the now-somewhat-controversial holiday film.
Following a selection of Londoners in various situations leading up to the holidays, the film — which stars, among others Keira Knightley ("Pride & Prejudice," 2005), Emma Thompson ("Nanny McPhee," 2005), Alan Rickman ("Die Hard," 1988), Liam Neeson ("Taken," 2008), Andrew Lincoln ("The Walking Dead"), Colin Firth ("The King's Speech," 2010) and Hugh Grant ("Notting Hill," 1999) — has recently been accused of aging poorly due to its outlook on women's bodies and lack of agency, marriage, "creepy" subplots and more. Regardless, it remains one of the most watched films of the holiday season.
Don't miss the beginning of the festive season as ABC wraps the month of November in a bow and presents it to viewers for the holidays. It all begins Sunday, Nov. 27, with "Mickey Saves Christmas," airing on ABC and all three Disney channels before making its way to Disney on Nov. 28.