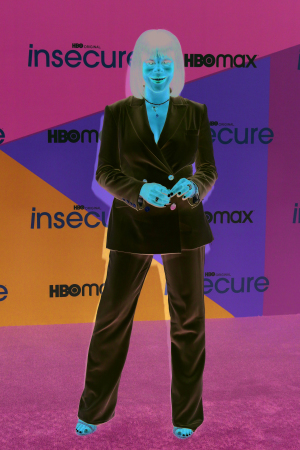 Christina Elmore to star in "The Girls on the Bus"
Hitting the trail: While creator/executive producer Issa Rae has revealed she's still "ruminating" on a possible "Insecure" spinoff, former cast member Christina Elmore has booked her next TV gig.
Elmore, who played Condola in the HBO series and Marie in BET's "Twenties" (also on CBC Gem), has joined the cast of the HBO Max/Warner Bros. TV drama series "The Girls on the Bus." She'll star as a lead opposite Melissa Benoist ("Supergirl") and Natasha Behnam ("American Pie Presents: Girls' Rules," 2020).
A political drama, "The Girls on the Bus" is based on a chapter in writer/executive producer Amy Chozick's memoir, "Chasing Hillary: Ten Years, Two Presidential Campaigns and One Intact Glass Ceiling," and also counts "Vampire Diaries" creator Julie Plec as one of its executive producers.
Per Deadline and Warner Bros. TV, the series centers on Sadie McCarthy (Benoist), a journalist who romanticizes the original "Boys on the Bus" and has scrapped her entire life for a shot at covering a presidential campaign. She hits the trail and eventually bonds with three female competitors: Lola Gabriel (Behnam), an influencer known for her TikToks about politics; Kimberlyn (Elmore), an Ivy League-educated Regan Republican and a reporter for Liberty News; and Grace, a character who had yet to be cast when Elmore officially boarded the series.
Despite their differences, the four women become "a found family with a front-row seat to the greatest soap opera in town: the battle for the White House."
"The Girl On The Bus" is one of several upcoming shows co-helmed by producer Plec since CW put the Vampire Diaries franchise on pause (at least for now, given that Plec told Entertainment Weekly "there's more to do" within that universe).
Plec has five new scripted shows — "Clifton," "Douglass Medical," "Freeman," "Stay Gold" and "This Savage Song" — in development at Universal Television, and several others that are set to premiere later this year, including Peacock's "Vampire Academy."
Martin's move: Bad Boys franchise actor Martin Lawrence has stuck mostly to films since his '90s sitcom "Martin" ended, but that is about to change.
Lawrence, who will next appear in the film "Mindcage" opposite John Malkovich ("Space Force") — no release date yet — is already set to star in an English-language version of the popular Israeli series "Nehama."
The U.S. adaptation, which was announced last fall, is the story of a happily married father of five (Lawrence) who quits his IT job to pursue his dream of being a stand-up comedian. But after his wife suddenly dies, Lawrence's character is forced to decide between his passion and his kids, who are struggling in the face of tragedy.
In a more recent move, Lawrence has been tapped to play a "key" recurring role opposite Okieriete Onaodowan ("Hamilton," 2020) in the six-episode series "Demascus," coming to AMC and AMC next year.
Created by playwright Tearrance Arvelle Chisholm ("Boomerang"), "Demascus" is named for its lead character, a 33-year-old Black man (Onaodowan) who embarks on a journey of self-discovery using an innovative new technology that allows him to experience alternate versions of his life.
Lawrence will play Uncle Forty, described as "a man who has seen better days." Despite his failing health, Uncle Forty is eager to be acknowledged as the patriarch of the family.
Of course, Lawrence is also tied to "Bad Boys 4," which is currently in preproduction, according to IMDb. Earlier reports suggested that Sony Pictures had put the Will Smith ("The Fresh Prince of Bel-Air")/Lawrence re-pairing on hold after Smith's Oscars outburst, but in May, studio chairman Tom Rothman insisted the movie has "been in development and still is."
Lawrence himself recently told Ebony, "We got one more at least."
Low-key casting: According to Deadline and online chatter, "Blindspotting" (2018) actor Rafael Casal may play a major role in the upcoming new season of Disney 's Marvel series "Loki."
This casting news is a little tricky (fittingly) because Casal's involvement with Season 2 hasn't been officially announced, but a recently leaked photo taken from the "Loki" set showed Casal walking alongside series stars Tom Hiddleston (who plays Loki) and Owen Wilson (who plays Mobius).
That photo sparked tons of speculation online, where fans have theorized that Casal might play Zaniac, a lesser-known Thor villain and alien entity who possesses humans.
Everything is pure speculation at this point, though, since studio executives and representatives are keeping mum about the whole thing — pretty typical for Marvel projects.
Casal is best known for co-writing, producing and starring in "Blindspotting," which he developed with his collaborator, Daveed Diggs. The pair also teamed up for Starz's TV spinoff of the film, which has been renewed for a second season.
As for "Loki," Season 2 started shooting in London in June. While a premiere date hasn't been announced as of writing, the new season will likely drop sometime in 2023.