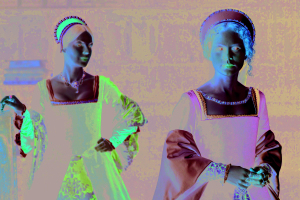 Jessica Raine and Alicia von Rittberg in "Becoming Elizabeth"
One of the most tumultuous chapters in the history of the British monarchy has been blessed with the period drama treatment, reanimating the final Tudor queen's ascension to the throne. "Becoming Elizabeth" airs its Season 1 finale Sunday, July 31, on Starz, highlighting the teenage and young adult life of Elizabeth I, portrayed by "Genius" actress Alicia von Rittberg.
It is no secret that the ever-changing politics of the court greatly impact the opinions of the head of any monarchy or leadership, and this is precisely from where "Becoming Elizabeth" builds its gripping intrigue. The series begins moments after Elizabeth and her brother Edward, played by young "War of the Worlds" actor Oliver Zetterström, receive news of the death of their father, the notorious Henry VIII.
Next in the line for the throne, 9-year-old Edward is made King of England in 1547 and serves until his death in 1553. He is quickly sidled by his power-hungry uncle, Edward Seymour, portrayed by "Dickensian" star John Heffernan, also known in title as the Duke of Somerset. The boy king's legacy, meanwhile, remains largely tied to his involvement in the English Reformation.
King Edward is remembered for furthering the bloody splintering of the Church of England from the Roman Catholic faith under the Pope to Protestant Christianity, a tradition carried on from his father's ambitions to be the ultimate authority over England. Following Edward is the nine-day reign of his named successor, Lady Jane Grey (Bella Ramsey, "Game of Thrones"), unseated by Mary I (portrayed by Romola Garai, "Atonement," 2007), a Catholic who earned the moniker "Bloody Mary" through her crusade to reverse Edward's Protestant reforms.
This is "Becoming Elizabeth," however, and young Elizabeth craves power and influence of her own. As viewers get to know her in the series, Elizabeth's desires are stunted by the limitations of her status and her naïveté.
After her half-brother is crowned King, Elizabeth is sent to live with her stepmother, King Henry VIII's widow Catherine Parr, portrayed by "The Last Post" actress Jessica Raine, at her home in Chelsea, but she quickly and unknowingly becomes a pawn in Catherine's game with her lover, Thomas Seymour, played by "Downton Abbey" actor Tom Cullen. Typical of the tangled web of British nobility, Thomas is Edward Seymour's brother and they are both brothers to Jane Seymour, the third wife of Henry VIII. (Still following?)
Planning to keep Elizabeth close while they get what they want, Catherine and Thomas seek a speedy, King-approved marriage while Thomas begins a flirtatious repartee with Elizabeth as a mask for his other ambitions. What begins as manipulation becomes a very real affair between Thomas and Elizabeth, becoming still more complicated when Catherine dies during labor in 1548 and leaves him begging his brother, ever in the King's ear, for permission to marry Elizabeth. This permission is denied.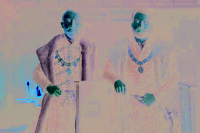 John Heffernan and Tom Cullen in "Becoming Elizabeth"
The picture "Becoming Elizabeth" paints of the eventual queen may seem at odds with the public legacy of the "Virgin Queen," but the title contemporaneously — and now contextually — refers to her lifelong unmarried status and portrayals in the art of the time as god-like. Carrying the weight of having been Anne Boleyn's daughter and having once been determined an illegitimate child of Henry VIII, Elizabeth had to forge her own legacy.
The series creator behind "Becoming Elizabeth," playwright Anya Reiss ("EastEnders"), set out to imagine an Elizabeth Tudor that was of this world, using what we know about her real life.
"I don't think I set out to reshape the way anyone thought about Elizabeth," Reiss told Time magazine of her intentions for the show. "I set out to portray her as a real human person," adding, "People think she's iconic. I wanted to undeify her."
In order to portray Elizabeth, German actress von Rittberg did some serious research on the Tudor queen, including some out-of-the-box coaching.
"You have to give it so much time that it just becomes something natural," von Rittberg told W Magazine of the process she underwent to master the accent, posture and movements of the would-be queen. "I did start to work with a movement coach half a year before ... like how to turn in that much fabric and such heavy clothes, how to move fast, or be more [or less] focused as a 14-year-old."
Having garnered both audience and critical praise, "Becoming Elizabeth" clearly scratches an itch for fans of a certain fantasy drama TV adaptation. Combining terrible boy kings, backstabbing, upwardly mobile advisers and land and faith wars, it's easy to make a comparison to one of the last real appointment-TV phenomena, "Game of Thrones" (however dragonless this series may be).
For anyone suffering the gap between the May 2019 "Game of Thrones" finale and the projected August 2022 premiere of its sister series, "House of the Dragon," it might be time to dip a toe into the "Becoming Elizabeth" waters.
Dust off your throne and set out a feast for the dramatic season finale of "Becoming Elizabeth," airing Sunday, July 31, on Starz.